US Air Force B-1 bomber overflight in Horn of Africa marks celebration of Veterans Day
by
Chad Garland
Stars and Stripes
November 11, 2021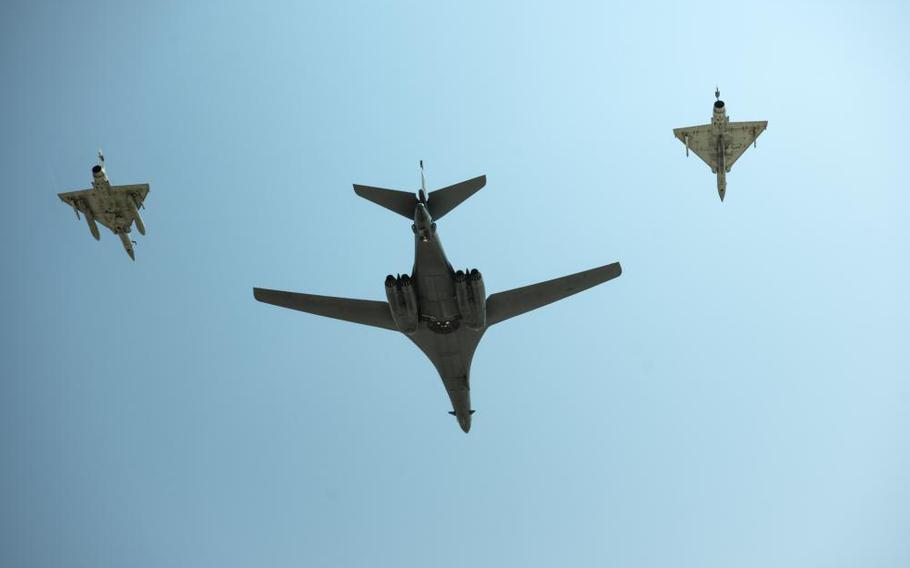 A pair of Air Force B-1 Lancers, flanked by six fighter jets, made a low pass over the only permanent U.S. military base in Africa on Thursday, in what officials said was a symbol of allied commitment to the region.
The bombers from the 9th Bomb Wing out of Dyess Air Force Base, Texas, flew over Camp Lemonnier, Djibouti, alongside two French Mirages and four F-35 Lightning fighter jets from the British Carrier Strike Group's HMS Queen Elizabeth — two of the stealth fighter jets were British and two American — U.S. Africa Command said.
The low approach coincided with an Allied Appreciation Day celebration on base, AFRICOM said in a statement. About 200 guests and senior leaders from Djibouti, the United States, France, Britain, Spain, Japan and Italy gathered to mark Veterans Day, which is celebrated as Armistice Day and Remembrance Day in other countries.
"Today's bomber task force mission served as a visual representation of the international participants' collective commitment to stability and security in the Horn of Africa," said Maj. Gen. Gregory Anderson, AFRICOM director of operations. "It further demonstrates Djibouti as a leading security partner in the region."
The U.S. sees the tiny country in East Africa as a model ally in a region where Washington is competing for influence with Beijing and Moscow. Small U.S. investments on the continent now could pay big dividends later, U.S. officials say.
"Our future security, prosperity and ability to project power globally rest on free, open and secure access in and around Africa," Gen. Stephen Townsend, head of U.S. Africa Command, told Congress in April.
The bombers flew to Djibouti from RAF Fairford, about 35 miles north of Oxford, England. The air crews worked with U.S. and French joint terminal attack controllers to provide simulated close air support at Djibouti's Grand Bara Range before overflying Camp Lemonnier in the country's capital city.
The American F-35s were from among 10 from Marine Corps Fighter Attack Squadron 211, which deployed in May with the British carrier strike group and the Royal Air Force 617 Squadron — the first time U.S. F-35s have been embarked on a foreign country's carrier.
Thursday's overflight event highlighted some of the United States' oldest alliances, symbolizing "mutual involvement for peace in Horn of Africa, as in other parts of Africa, particularly the Sahel," said Air Division Gen. Stephane Dupont, commander of French Forces in Djibouti, which was a colony and overseas territory of France until 1967.
Royal Navy Commodore Steve Moorhouse, the strike group commander, said the symbolic flight "further demonstrates that the strike group and this deployment is truly international by design."
---
---
---