US B-1B Lancer bombers swoop Down Under to train with Australian refuelers
by
Seth Robson
Stars and Stripes
November 9, 2021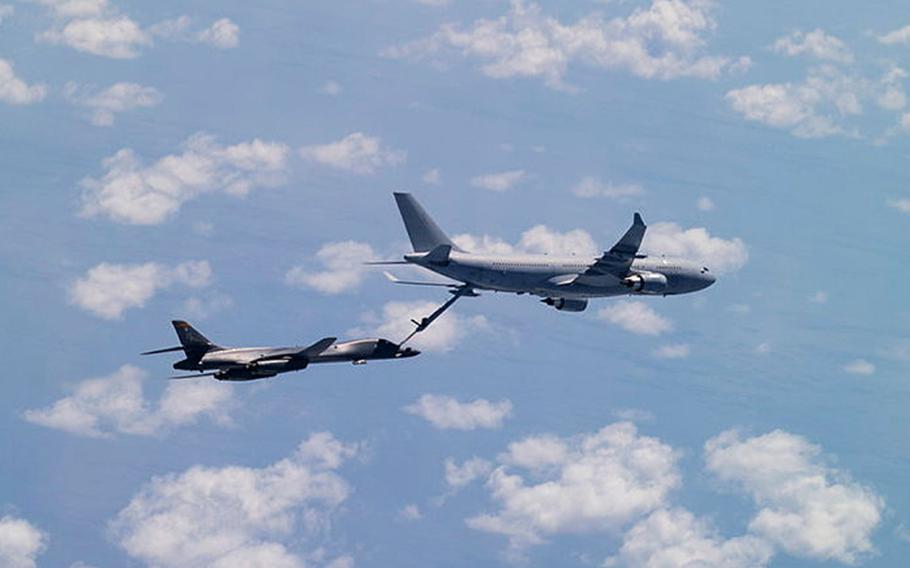 A pair of Air Force B-1B Lancer bombers flew over northern Australia during a training mission Monday, according to Australia's Department of Defence.
The bombers flew 3,700 miles from Diego Garcia in the Indian Ocean for drills at Royal Australian Air Force Base Darwin in the Northern Territory, the department said in a statement Tuesday.
They worked with P-8A Poseidon maritime patrol planes and KC-30A multirole tankers, according to the statement.
The drill allowed U.S. and Australian aviators to work together in challenging conditions, Air Commodore Stephen Chappell, director general of Australia's Air and Space Operations Centre, said in the statement.
The B-1B is the backbone of America's long-range bomber force and can carry a conventional payload of up to 37.4 tons of guided and unguided ordnance.
Australian aviators trained with B-1B crews on Guam in 2020, according to the Australian statement.
"While we have conducted similar long-range training activities together in the past, this activity differed," Chappell said. "The allied crews executed important training and air-air refueling mission sets over several hours and many thousands of square kilometers."
The B-1Bs rendezvoused over the Timor Sea with two Australian tankers, which transferred fuel to them at an altitude of 30,000 feet, according to the statement.
Expect to see more B-1Bs in Australia in future, according to Ross Babbage, a former Australian assistant defense secretary.
The AUKUS defense pact announced by Australia, the United Kingdom and the United States in September includes provisions to make it easier for allied ships and aircraft to operate Down Under, he said in a telephone interview Tuesday.
Darwin, the capital of the Northern Territory, is the base for a 2,500-strong air-ground task force of U.S. Marines during the southern hemisphere winter.
Northern Australia provides easy access to Southeast Asia and beyond. It includes a broad logistics and industrial support base, plenty of air space and ranges for training and a friendly local population, Babbage said.
"There is substantial expansion of fuel and other capabilities being built in northern Australia to support these types of operations," he said.