Australian warship stops at Navy base in Japan to replace helicopter lost at sea
by
Alex Wilson
Stars and Stripes
November 1, 2021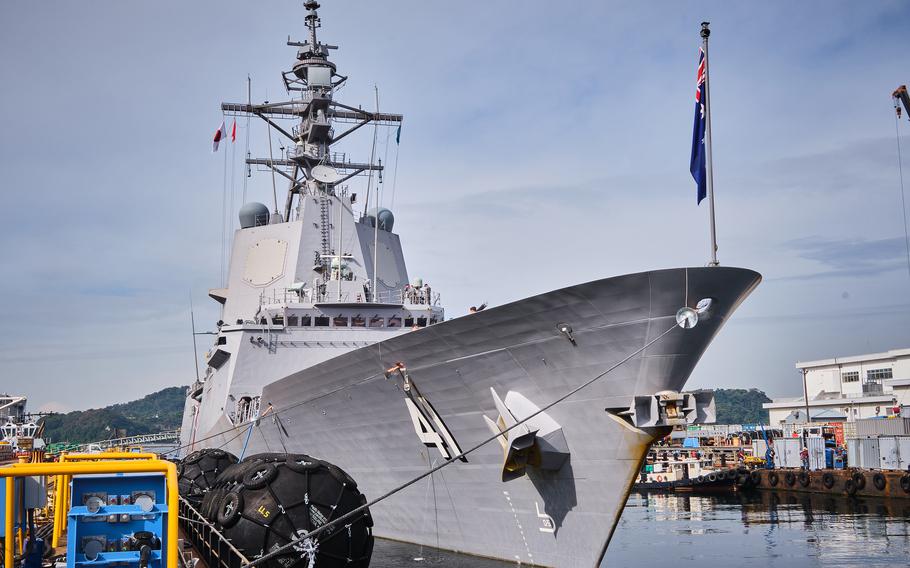 YOKOSUKA NAVAL BASE, Japan — The crew members of an Australian warship have been enjoying U.S. Navy amenities as they await delivery of a new helicopter.
The guided-missile destroyer HMAS Brisbane steamed into the homeport of the U.S. 7th Fleet for the first time on Friday. On Thursday, the crew expects delivery of an MH-60R Seahawk helicopter to replace one lost at sea last month.
The aircraft is being prepped for the trip at Yokota Air Base, the U.S. airlift hub in western Tokyo, where it arrived Saturday from Naval Air Station Nowra aboard an Australian C-17 Globemaster III.
A Seahawk aboard the Brisbane was ditched in the Philippine Sea during a military exercise Oct. 13, the Australian Department of Defence announced the next day. All three crewmembers were rescued within 20 minutes and treated for minor injuries.
The cause of the crash is under investigation, Brisbane's skipper, Cmdr. Aaron Cox, told Stars and Stripes on Monday. He said a team of investigators recently came aboard the ship to collect evidence gathered by his crew.
"And they've returned to Australia this morning to continue their investigations," he said.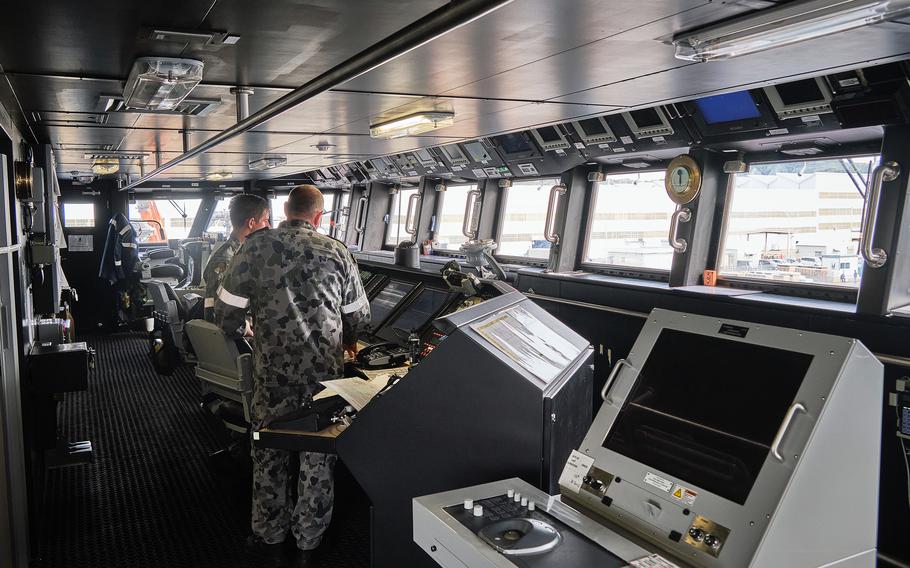 The Australian government agreed to a $985 million deal to purchase another 12 Seahawks from the U.S. on Oct. 8, according to a same day announcement from the U.S. Defense Security Cooperation Agency. Australia currently has 24 Seahawks, which it purchased for approximately $2.2 billion, according to the Australian Navy website.
The Brisbane's crew members have several more days before they get underway again, Cox said, but they're keeping themselves busy.
The ship shares many features with the U.S. Navy's Arleigh Burke-class destroyers, and Cox described the Brisbane as a "mini Arleigh Burke." The most obvious similarity is that both carry the Aegis Combat System, which can detect, track and target with missiles more than 100 targets simultaneously, according to Navy.mil.
"Being able to come to a port like this, where all the expertise resides for those systems, it's a fantastic opportunity halfway through our deployment," Cox said.
Despite their short stay in Japan, the crew has found time for recreational activities. They can't leave base due to COVID-19 restrictions, but they could shop the Navy Exchange and frequent other facilities at Yokosuka, Cox said.
"We were fortunate enough to have been provided some limited opportunities ashore on the base to visit the NEX and some of the eateries in a COVID-safe manner," he said.
Cox said the Brisbane is on "its first major deployment."
The ship left Sydney, Australia, on Sept. 22, for three to five months. So far, Brisbane has visited ports in Malaysia and South Korea. It's expected to call at Sasebo Naval Base, and South Korea for a second time, before returning home.
---
---
---