Fort D.A. Russell Days brings Buffalo Soldiers' history to life at F.E. Warren AFB
by
Niki Kottmann
Wyoming Tribune-Eagle
July 25, 2021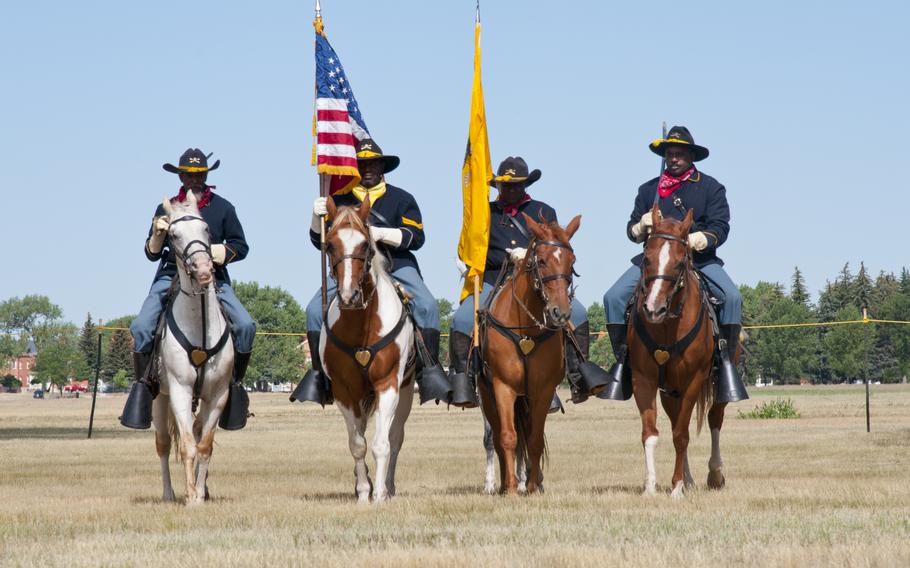 CHEYENNE, Wyo. (Tribune News Service) — Fred Applewhite thought he knew his fair share of Black history. That's why, with a long career as a high school principal in Commerce City, Colorado, under his belt, the former educator was shocked when he had to ask the man next to him at a parade who the Black men on horseback were.
"It was a white guy next to me, and he said, 'Those are the Buffalo Soldiers,'" he recalled. "And I was like, 'You're telling me you know who those Black men riding horses are, and I'm a Black man and don't know?'"
He'd never heard about the men who these reenactors were honoring: the more than 200,000 African-American servicemen who fought during the Civil War in all of the African-American regiments formed in 1866 (aka the 9th and 10th Cavalry and the 38th, 39th, 40th and 41st Infantry regiments). So he did his research.
That journey to discover who the Buffalo Soldiers were — and a school colleague who connected him to the nonprofit — led Applewhite to join the Buffalo Soldiers of the American West, a Brighton, Colorado-based historical reenactment group performing educational demonstrations at Fort D.A. Russell Days at F.E. Warren Air Force Base this weekend.
"That's how I got involved, and then I fell in love [with it]," said Applewhite, who's been doing this for 16 years now. "When you have a passion for something that you believe in, especially as an educator, you want to tell everybody about it. So I'm gonna do that as long as I'm above the ground."
Fellow reenactor Scott Johns became a historian when he retired from the military. His interest in history led him to start doing reenactments and playing the outlaw, which is how he got involved with Buffalo Soldiers reenactors a couple of years ago.
The joy of keeping this story alive, and the ability to help share this important piece of Black history as a white man, keeps him motivated.
"If we learn more about how our histories are actually joined, then maybe we can come together more and stop some of this other divisive conversation that's going on in the public sector," Johns said.
This weekend, Applewhite and his fellow reenactors are teaching visitors of all ages about this important group of Black soldiers. Their presentation highlights mounted cavalry riding and weapons drills, and just like all of Fort D.A. Russell Days, it's entirely free and open to the public.
Paula Taylor founded Fort D.A. Russell Days in 1994 when the base was going through a series of changes. One of the colonels at F.E. Warren Air Force Base knew she did 1870s and 1880s history reenactments, and he asked if she could create something on base as an open house during Cheyenne Frontier Days.
"We decided we were going to try to reenact different time periods," Taylor said. "Nobody in the reenacting career or realm had meshed time periods; this was one of the first events where that was done ... so we decided to do the development of the military in the U.S."
The base has been doing it ever since, despite a pandemic-induced cancellation last summer. COVID-19 also caused organizers to scale back the event significantly this year, but today's festivities still include living history camp demonstrations, "stick mule" races for children, a Buffalo Soldiers presentation, a Trotters Calvary performance of precision riding drills and the Warren Spouses' & Balfour Beatty Communities Historic Homes Tour.
Warren ICBM & Heritage Museum Curator/Director Danieka Long said, ultimately, the purpose of the event is to showcase the base and its military history, as well as share some history about the region. All these little historical snippets — from the blacksmith demonstrations to kids getting to try their hand at axe throwing — brings this heritage alive.
The event takes about six months to plan, Long added, but she said it's always worth it, especially when you see the twinkle in the children's eyes as they discover an aspect of history they never knew about.
"It's important to know your history, as it shaped your past, it shapes who you are, and it will shape your future," Long said. "And as a kid, this is a fun way to learn history because you're walking around instead of sitting in a static classroom ... it's a good way to supplement your classroom education with an activity."
(c)2021 Wyoming Tribune-Eagle (Cheyenne, Wyo.)
Visit Wyoming Tribune-Eagle (Cheyenne, Wyo.) at www.wyomingnews.com
Distributed by Tribune Content Agency, LLC.