Peace activists to gather outside Ramstein Air Base for weeklong protest starting July 4
by
Marcus Kloeckner
Stars and Stripes
June 30, 2021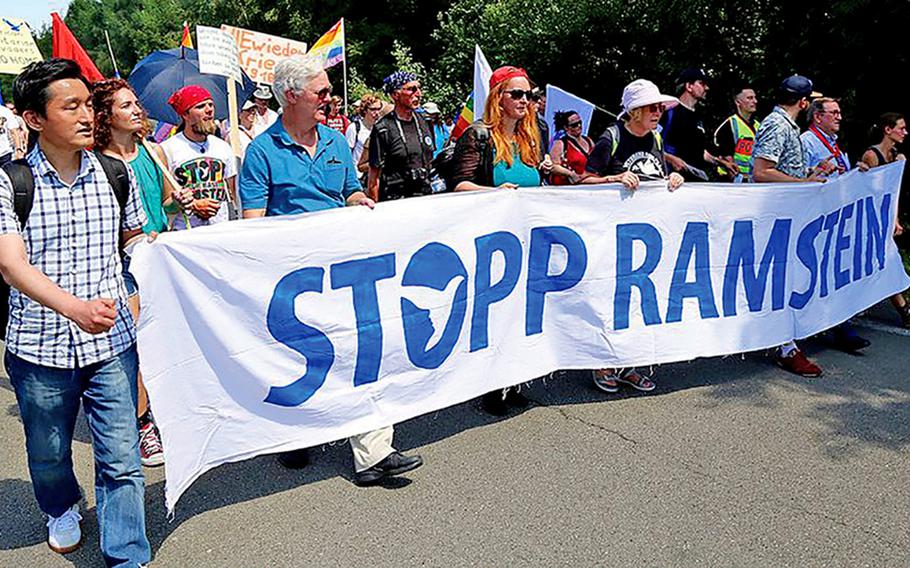 KAISERSLAUTERN, Germany — An annual peace protest outside Ramstein Air Base will start for about a week beginning Sunday, following last year's cancellation due to the coronavirus pandemic.
The activists from the Stopp Air Base Ramstein Campaign will set up a "peace camp" near the base through July 11, the group said in a statement.
On July 10, about 150 people are expected to gather in Kaiserslautern at the main train station around 11 a.m., said Andreas Wildberger, a Landstuhl police spokesman. When the protest was last held in 2019, thousands were expected to participate, police said at the time.
The protest will move to a rally near the air base around 1 p.m., Wildberger said. Afterward, the demonstrators are planning to ride bicycles around the perimeter of the base.
Traffic delays can be expected near the base on July 10, due to the protest and because of scheduled construction on the Einsiedlerhof bridge, Wildberger said.
Drivers heading on base that day should avoid the street between Ramstein and Mackenbach, Wildberger said.
Under their slogan "We are back again!" the group will protest what they say are illegal wars. They are demanding an end to what they say is the use of the air base to relay telemetry to drones that collect information on terrorist groups and attack designated targets. The attacks on suspected terrorists and militants are extrajudicial and have killed civilians, the group has said.
Air Force officials have denied for years that any data is relayed through Ramstein for drone operations.
However, a German high court in 2019 determined that there were "substantial indications" known to the German government that U.S. drone missions assisted from Ramstein are at least in part "violating international law."
"All this happens with the knowledge and the toleration of the (German) federal government," the activist group said in a recent statement.
The protest has been peaceful in the past and is expected to be again this year, Wildberger said.
Air Force officials were not immediately available for comment Wednesday, but have said in the past that they respect the rights of the protesters, and want to ensure that everyone involved and nearby remains safe.