Pew survey: Vets' support of Trump as commander exceeds public's, but some question his military judgment
by
Neil Fotre
September 10, 2019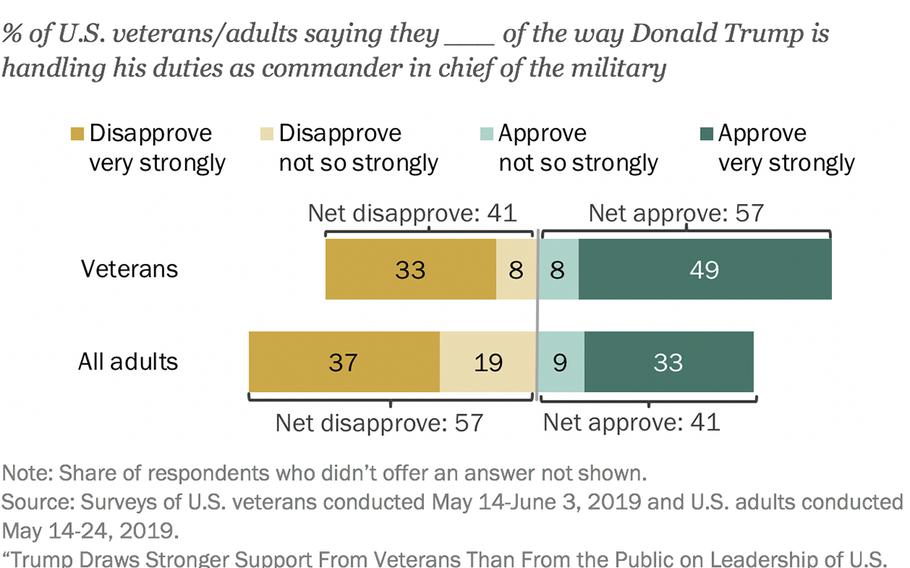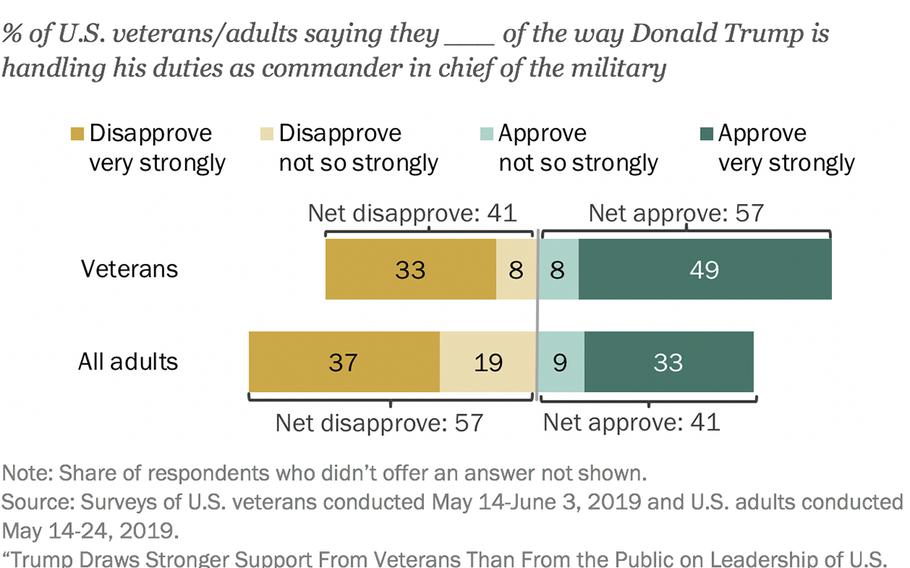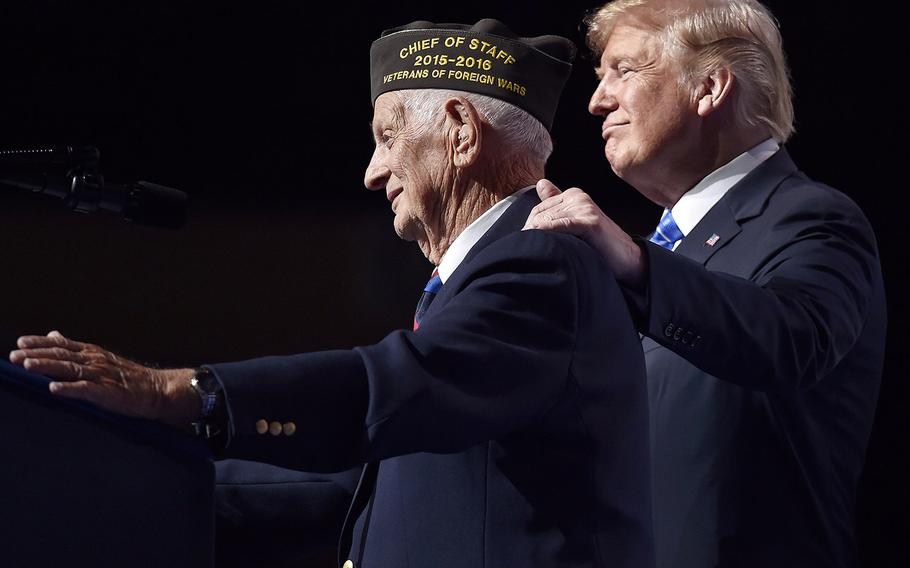 WASHINGTON — A majority of veterans surveyed recently said they support President Donald Trump as leader of the armed forces, though some of them question his ability to make the right decision when using military force and nuclear weapons, according to a recent report by the Pew Research Center.
The center, a nonpartisan think tank based in Washington, based its results on an online survey of 1,284 military veterans. The survey results from the summer were compiled before the most recent tensions between the United States and Iran. In 2018, Trump pulled the U.S. out of a nuclear deal with Iran that has heightened tensions between the two nations and has led to several incidents recently in the Persian Gulf region, including the downing of an unarmed U.S. drone.
The purpose of the study was to gauge whether there is a difference in opinion between the veteran community and the general public on the performance and judgment of Trump, according to report. Overall, the survey results show veterans generally have a more favorable rating of Trump than the general public does. The survey of veterans found 57% approve of Trump in his execution of duties as commander in chief. Almost half, or 48%, said they believe Trump administration policies have made the military stronger. That is more than the Trump administration's approval rating of approximately 41% among the general public, according to the survey results.
The majority of veterans surveyed, 58%, said they trust Trump to make the correct decision about the use of military force and the use of nuclear weapons, but just more than 40% said they do not. When asked whether they trust Trump to make the right decisions about the use of nuclear weapons, 36% of veterans surveyed said they trust Trump a great deal, while 30% said they do not trust Trump at all.
More so, 45% of veterans said Trump is listening too little to his military leaders.
The survey also asked veterans to identify whether they had significant or traumatic emotional experiences while in combat. Fewer veterans who said they had such experiences, roughly 27%, trust Trump to make the right decisions about the use of military force and nuclear weapons than the veterans who did not.
Opinions about Trump also varied based on generations. Veterans who served in uniform before 9/11, approximately 38%, are more likely to trust Trump regarding the use of nuclear weapons than veterans of the post-9/11 generation. Only 30% of the post-9/11 generation trust Trump's judgment on nuclear weapons.
The Trump administration has been seen as largely supportive of troops and veterans. His administration's policies have supported The Veterans Community Care Act, which allows eligible veterans greater access to medical care from private doctors. Trump also has pushed increased spending in the defense budget, including a military pay raise of 2.6%.
The margin of sampling error for the veteran respondents is plus or minus 3.9%.
fotre.neil@stripes.com Twitter: @Neil_Fotre