Obituary
Sergei Tolstoy, 'bohemian' descendent of Leo Tolstoy, dies at 99
by
Bart Barnes
The Washington Post
January 11, 2022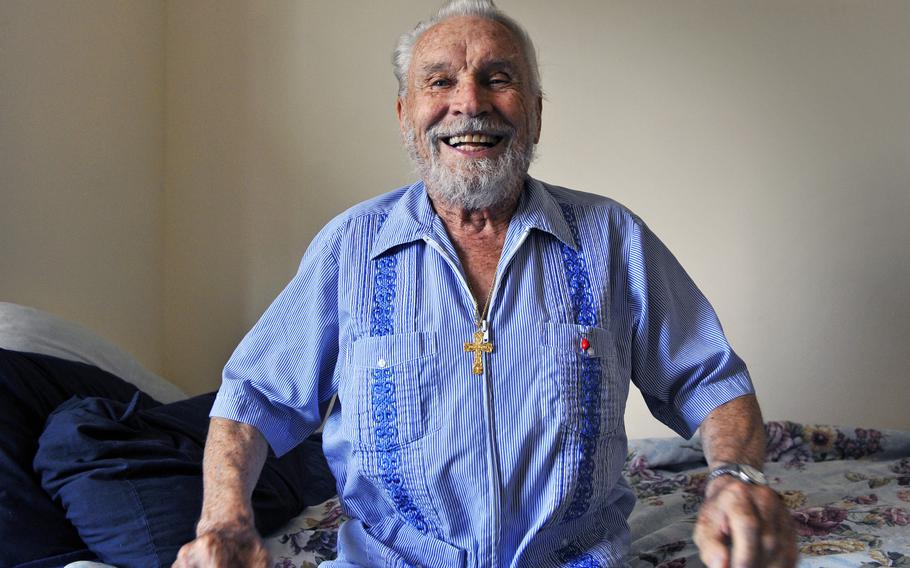 Sergei Tolstoy, a great-grandson of the Russian literary giant Leo Tolstoy who said he made and then squandered a fortune on horse-betting at Maryland racetracks, died Jan. 4 in a hospice center in Bethesda, Md. He was 99.
He had heart and swallowing disorders, failing hearing and eyesight, and he may have suffered a stroke, said Mary Kay Canarte, who holds power of attorney.
Silver-haired and with a level of old-world charm, Tolstoy (who also was known as Serge) was among more than 200 lineal descendants of his accomplished ancestor, a nobleman of Imperial Russia who wrote "War and Peace" and "Anna Karenina" and whose family had been awarded the title of "count" by Peter the Great. Leo Tolstoy had 13 children before he died in 1910. Most of them fled Russia after the 1917 Bolshevik Revolution that led to the murder of Czar Nicholas II and his family as well as the slaughter of thousands of Russian aristocrats.
After spending much of his life in Europe, predominantly gambling, Tolstoy became a Washington, D.C.-area resident by the late 1960s. And he proceeded to lose most of whatever money he had betting on horses, The Washington Post reported in 2010, noting his presence six days a week at the Laurel, Bowie, Timonium and Pimlico tracks. "I made my bread and butter at the track," he said. "Many rich ladies wanted to marry me and become Countess Tolstoy. It is too late now, but I could have been a millionaire."
For three decades, he lived in a low-income, assisted-living apartment in the District of Columbia's Foggy Bottom neighborhood. Before that, he had been thrown out of a high-rent apartment where he had been living beyond his means. He rakishly referred to himself as "the homeless count."
Sergei Tolstoy was the only son of Vera Tolstoy, one of the author's grandchildren who fled Russia in 1920. She settled in what then was Yugoslavia, where she became a secretary to a Czech lumber baron, Odo Bakovsky. They married in an Islamic ceremony and had a son, Serge, born Oct. 20, 1922.
Within a short time, Bakovsky had lost much of his fortune, and Vera Tolstoy began working in a Prague beauty shop. The marriage became quarrelsome, according to a press account at the time of their divorce in 1926 - reportedly granted on bigamy charges because Bakovsky was legally wed to another woman at the time.
Worsening matters, Bakovsky absconded with Serge to Czechoslovakia, but the boy was soon returned to his mother. Tolstoy became Sergei's surname. His mother was reputed to have said at the time that she considered herself an aristocrat and her husband a proletarian, and that she would rather raise her son alone as "an illegitimate Count Tolstoy than a legitimate Bakovsky."
"From the start, my life was kind of strange," Sergei Tolstoy told the Baltimore Evening Sun six decades later. "Who is kidnapped? Who has no father? I remember, my first toy was four or five matchboxes, to make a train. There was no money."
He attended boarding schools in France and traveled with his mother for a while. During World War II, he told the Sun, he was recruited on a special mission for the U.S. Army to conduct intelligence work against the Russians based on his language skills. To explain why he was ineligible for military benefits, he said he did his assignment under the name "Captain Longfellow."
He spent the post-war years in Paris, befriending Prince Aly Khan and other jet-setting playboys who frequented casinos. He told the Sun he had no aptitude for a real job but taught Russian and prospered for a short while in the import-export business. He also was a movie extra in the Normandy invasion drama "The Longest Day" (1962), in which he played a German soldier.
At the behest of his mother, who lived in Washington and had become a Russian language specialist with Voice of America, Tolstoy emigrated to the United States. She disapproved of his dissolute lifestyle, he said, and forced him to marry. The woman's name was Natasha, and she was another Russian emigre, but he was hard to domesticate. The marriage lasted seven weeks, he told the Sun, because she only enjoying cooking and fixing her hair. "That's all," he said. "I didn't pay too much attention."
Tolstoy told The Post in 2010 that his income consisted only of a $213 monthly check from Social Security, of which $64 went toward his rent at St. Mary's Court, the low-income facility where he lived for 30 years.
"I'm living like a bohemian," he told The Post. "I beg, borrow and steal."
His mother died in 1999, and he had no immediate survivors.
Late in his life, Tolstoy made periodic visits to family reunions at Yasnaya Polyana, the estate 200 kilometers south of Moscow where Leo Tolstoy spent most of his life. The estate was nationalized by the Soviet government in 1921 and is operated as museum where his writing is still revered as a Russian cultural treasure, despite the author's aristocratic status.
In recent years, Tolstoy had suffered serious injuries in a fall near his home and had been cared for in an apartment in Rockville, Md., by Canarte.
There he pondered his longevity. "They tell me that's because I have blue blood," he told The Post in 2016. "But every time I check, it's red."
---
---
---
---