Obituary
Richard Marcinko, first SEAL Team 6 commander, dies at 81
by
Corey Dickstein
Stars and Stripes
December 27, 2021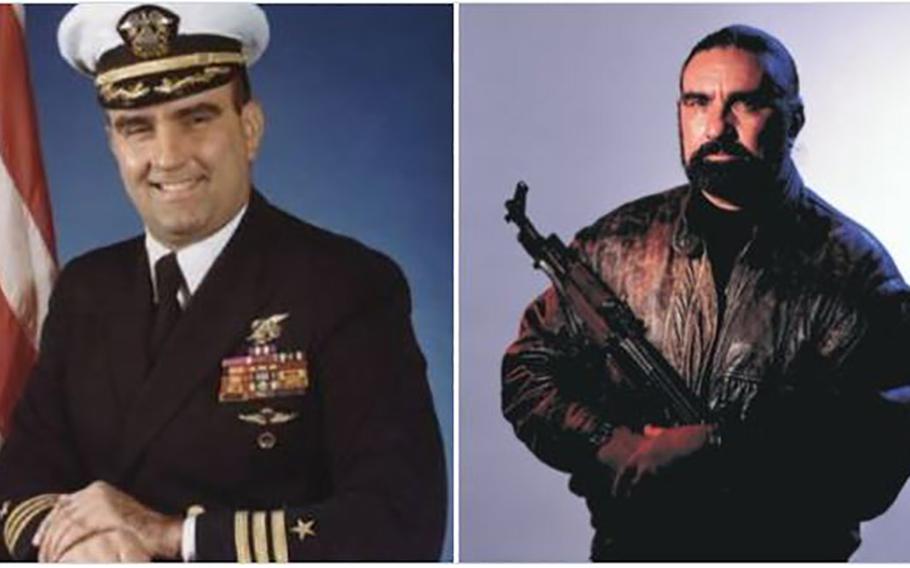 Richard Marcinko, who founded the Navy's SEAL Team 6 after earning accolades as a SEAL leader during two tours in Vietnam, died Christmas Day at age 81, the National Navy SEAL Museum has announced.
With the Navy needing an elite unit dedicated to counterterrorism after the Pentagon's failure to rescue American hostages in Iran in 1980, Chief of Naval Operations Admiral Thomas B. Hayward hand-picked Marcinko to stand up the new SEAL team, according to the Fort Pierce, Fla., museum. Marcinko, known as "Demo Dick," commanded SEAL Team 6 for about three years, retired from the Navy in 1989 as a commander and went on to write a series of nonfiction and fiction books based on the Navy SEALs. 
"Dick Marcinko played a very unique part in SEAL history, leaving a legacy like no other," the SEAL Museum wrote in a Facebook post Sunday announcing his death. "'Demo Dick' is considered the United States' premier counterterrorism operator. We send our deepest sympathies to his family, teammates, and friends."
His family confirmed his death at his home in Fauquier County, Va., in a message on Twitter.
Marcinko, the son of Pennsylvania coal miner, enlisted in the Navy in 1958 after dropping out of high school, according to his 1992 best-selling autobiography "Rogue Warrior." He completed underwater demolition training as an enlisted sailor before commission via Officer Candidate School in 1965. He deployed less than two years later to Vietnam with SEAL Team 2.
In Vietnam, Marcinko became known for leading successful SEAL assaults, including a May 1967 raid on Ilo Ilo Hon, which the SEAL Museum described as the Navy's most successful SEAL operation in the Mekong Delta. 
"Because of his strong leadership and great success, the North Vietnamese Army placed a bounty on his head, payable to anyone who could capture and kill him," according to the SEAL Museum. "Marcinko was never caught."
He led a SEAL platoon in a second Vietnam deployment, eventually earning the Silver Star and four Bronze Star Medals with combat "V" for valor, according to the museum.
Marcinko was serving at the Pentagon during the April 1980 rescue attempt by U.S. special operators to free 52 American diplomats and citizens taken hostage five months earlier by Iranian college students supporting the Iranian Revolution. Operation Eagle Claw's failure — including the deaths of eight American service members — prompted the Pentagon to rethink how it responded to crises around the globe.
"It was embarrassing to think this almighty nation couldn't get 50-some of their own people out of Iran," Marcinko said in a 2019 interview with the special operations-focused online publication SOFREP. "Everybody got egg on their face … and it was some retired admirals and generals went and looked at all the things that screwed up and basically came out and said we should … have a standing dedicated force for counterterrorism."
Hayward, the CNO, charged Marcinko with designing the unit, selecting its members, training them and serving as its initial commander. He picked the best SEALs and underwater demolition specialists to build what would become the Navy's most elite and famous unit. He told SOFREP he even used the opportunity to mess with the Soviet Union — naming the unit Team Six even though only two SEAL teams existed at the time.
"We didn't have a [SEAL Team] three, four or five," he said. "I picked six as a lucky number — let the Soviets figure out where the rest of them are."
After leaving the Navy, Marcinko went to work in business, did motivational speaking and authored some 20 books, including multiple best-sellers. After writing about his Navy career in his autobiography, Marcinko wrote a series of novels, in which he was the protagonist. 
Jim DeFelice, who co-wrote six of those books with Marcinko, called his co-author an "American hero," in a Twitter post on Monday.
"As far as I know, Dick and his warriors never traveled to Hell itself, but if they had, I'm sure the Devil would have found a place to hide rather than confront them," DeFelice wrote. "Dick's indomitable courage was legendary, but his sense of humor and his generosity were just as deep. He was a man who never took 'no' for an answer, or ever faced a challenge he could not master. We haven't just lost a warrior; we've lost a great man."
---
---
---
---