Bill Emerson, banjoist who founded Navy's country-bluegrass ensemble, dies at 83
by
Terence McArdle
The Washington Post
August 31, 2021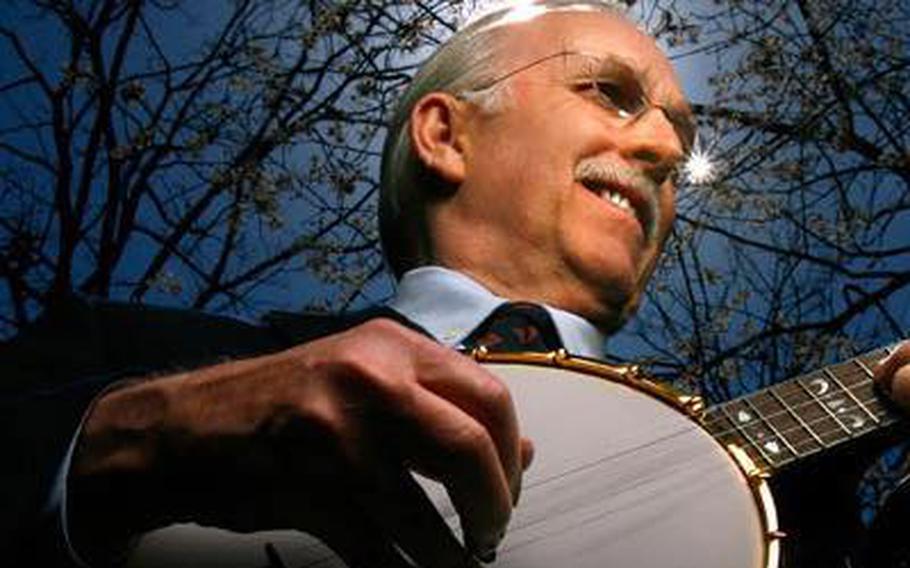 Bill Emerson, an acclaimed banjoist who co-founded the Country Gentlemen, a venerable band that helped bridge the gap between bluegrass music and urban folk music, and established the U.S. Navy Band's country-bluegrass ensemble, died Aug. 21 at a hospital in Fairfax County, Va. He was 83.
The cause was pneumonia, said his son Bill Emerson III.
The Country Gentlemen literally formed because of an accident. In 1957, the Washington-area bluegrass musician Buzz Busby and members of his band the Bayou Boys were returning from a musical date on Maryland's Eastern Shore when several members were seriously injured in a car wreck.
Busby was initially — and mistakenly — pronounced dead by an ambulance driver. As he recovered, Busby asked Emerson, who was a member of the group and was traveling in another vehicle, to put together a pickup band to cover subsequent engagements for several months.
He lined up guitarist and baritone singer Charlie Waller, who had played with the Bayou Boys, and Emerson's boyhood friend John Duffey, a mandolinist and high-tenor singer. Taking its name from a Chet Atkins guitar instrumental, the band performed as the Country Gentlemen for another 47 years. Dozens of musicians passed through the outfit, and its repertoire embraced the music of Bob Dylan, the Beatles and Gordon Lightfoot, greatly broadening the audience for bluegrass.
Invoking a seminal name in the genre, Washington Post music critic Richard Harrington wrote in 1996 that the Country Gentlemen "probably made more bluegrass converts in the '60s than Bill Monroe himself."
Emerson's initial tenure with the Country Gentlemen was brief — just one year. However, he played on its earliest records in 1958 and rejoined the group 12 years later at its peak popularity and pushed it to add pop classics such as "Yesterday" and "Proud Mary" to set lists. In bluegrass parlance, he often sang "high baritone" and "low tenor," the middle harmony parts.
Throughout the '60s, Emerson worked with groups including the Stoneman Family and the Yates Brothers, but he achieved prominence while touring with Jimmy Martin and the Sunny Mountain Boys, with whom he performed on the Grand Ol' Opry. His instrumentals such as "Theme Time" and "Sweet Dixie," recorded by Martin's band, became touchstones for aspiring banjoists.
As a disciple of banjoist Earl Scruggs, Emerson could play blazingly fast but was also a sensitive accompanist on slower tempos. He credited Martin, a hard taskmaster, with telling him to "match what I'm doing on my guitar and stop playing like a typewriter."
"Music floats; it slows down, speeds up, the volume rises and falls; that's dynamics," he told the publication Banjo Newsletter in 2009. "I learned how to support a singer by using the basic principle of fill the holes and take the melody to the next chord."
In 1967, he teamed with singer Cliff Waldron to form Emerson and Waldron, a group that brought the song "Fox on the Run" into the bluegrass canon in 1968. Its doleful lyrics — "She took all the love that a poor boy could give her/ And left me to die like a fox on the run" — and haunting melody made the song, originally recorded by British rock band Manfred Mann, a bluegrass standard. (Many listeners mistakenly believe the song to be a traditional folk song.)
In 1973, he was recruited by the Navy to organize the Country Current. With a lineup that included drums and electric instruments such as pedal steel guitar, it was the first military band devoted to country and bluegrass music. Emerson's hitch lasted 20 years, and he retired with the rank of master chief petty officer. The job also gave him something many musicians never have — a pension.
"We went to China with President Bush senior one time when they flew a whole Texas barbecue over there and we played during that," he once said. "We played at a lot of bluegrass festivals, but mostly we did two tours a year to help with U.S. Navy recruiting. It's like the Navy can't bring a submarine or a Navy aircraft carrier to Iowa, so they would send us instead."
In later decades, Emerson recorded with leading figures in bluegrass including Del McCoury, Tony Rice and Tony Trischka. He started a new band, Sweet Dixie, in 2007. In live performance, the group reverted to the style of the earliest bluegrass bands by having the entire group gather around one microphone for their vocals and solos.
"I believe the more an audio engineer has to do, the greater his margin of error," he told Banjo Newsletter in 2009. "A solo mic for every voice and instrument might be overkill for a bluegrass band, especially with one band after another coming on stage. Combine all that with on-stage monitors and the engineer has his hands full."
William Hundley Emerson Jr. was born in Washington on Jan. 22, 1938, and grew up in Bethesda, Md. His father owned a car dealership. As a teenager, Emerson became enthralled by Monroe.
He soon traded an electric guitar — a Christmas gift that he barely played — for a banjo. His childhood friend Duffey taught him basic techniques. Within three months, he was proficient enough to enter — and win — local picking contests. By 1956, he had begun working professionally with Busby.
Emerson was inducted into the International Bluegrass Music Association Hall of Fame and the Virginia Folk Music Music Hall of Fame.
In the 1980s and '90s, he produced records with his son John for Webco Records, a label founded by Busby's brother Wayne Busbice (Busbice was Busby's actual surname). The Emersons later purchased the label from Busbice.
In addition to his son Bill, a guitarist who performed with him, survivors include his wife of 58 years, the former Lola Ashley, both of Vienna, Va.; another son, Mike Emerson of Hillsboro, Va.; a sister; seven grandchildren; and two great-grandchildren. His son John died in 2013.
Emerson's advice for aspiring performers included trying not "to astound the audience."
"Just do your thing," he told Banjo Newsletter. "For me, it's all about satisfying me. If I feel good about what I did, it's better than a thousand people on their feet applauding. I never try to amaze myself and others by experimenting or improvising in front of an audience."
"There have been times when I thought I played great and when I came off the stage not a single person said one word," he added. "Other times, I know I played bad, but people came up to me in droves to tell me how much they enjoyed it. Hello! That's when I learned to stop trying to please the audience."