Federal labor union starts petition urging VA secretary to replace chief negotiator
By
Stars and Stripes
September 8, 2022
---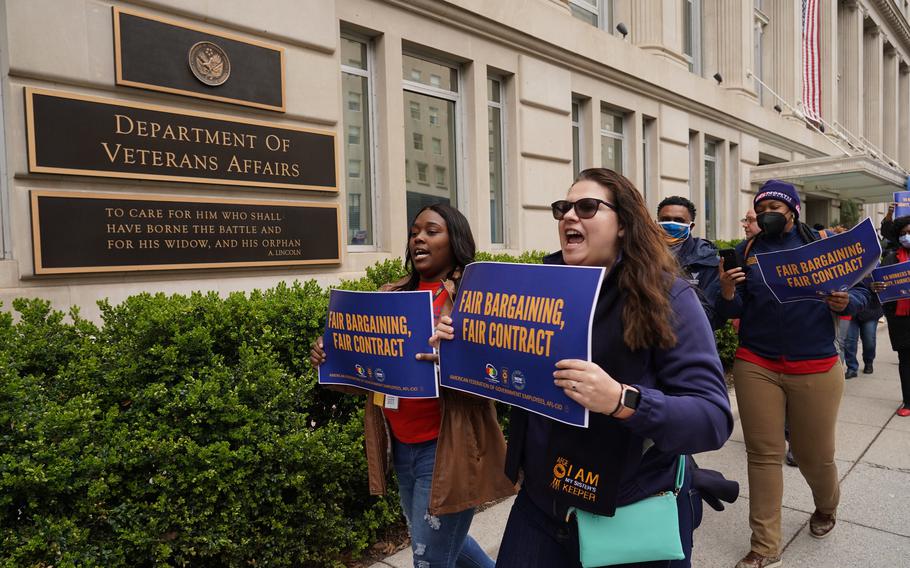 WASHINGTON — A labor union representing federal workers has begun a campaign and petition urging the Department of Veterans Affairs secretary to replace its chief negotiator after the union accused the agency of delaying negotiations.
"We are calling on you to take immediate action to protect VA workers by replacing the VA chief negotiator with a leader who will comply with President [Joe] Biden's labor policy to empower workers, expand collective bargaining rights, and make VA a 'model employer,'" according to the American Federation of Government Employees' petition to VA Secretary Denis McDonough.
The American Federation of Government Employees on Aug. 22 began its campaign and petition to replace Kurt Martin, the VA's chief negotiator. Martin, a Marine veteran, also previously served as the director of investigations of VA's Office of Accountability and Whistleblower Protection and as an assistant U.S. attorney on the Organized Crime Drug Enforcement Task Force, according to his LinkedIn webpage.
The labor union also created #ReplaceKurt on social media to spread the petition. The petition has more than 4,200 signatures.
The AFGE represents an estimated 283,000 VA employees, according to the union. The VA has more than 400,000 workers, according to the agency.
The VA's contract with the American Federation of Government Employees has 66 articles, and the labor union reopened 12 when the two began renegotiating in March. Bill Wetmore, executive vice president of AFGE's National VA Council, said the articles that they are renegotiating include employee awards and recognition, specialized training and cross-training to support and advance underrepresented minority and women employees within the VA, and technology issues that track and measure an employee's work.
However, since then, the AFGE filed two grievances to VA's Office of Labor-Management Relations – the agency in which Martin works – regarding bad-faith bargaining. The two parties had discussed eight articles and exchanged 50 proposals but reached zero agreements, according to AFGE's news release issued Aug. 22.
Wetmore said Martin has tried to insert former President Donald Trump's executive orders that limited checks and balances, and federal employees' rights to legal representation and collective bargaining.
"They attempted to deny our rights to bargain, to name our representatives, not have reasonable time and places to meet," Wetmore said. "They refuse to recognize [Federal Labor Relations Authority] precedent."
The Federal Labor Relations Authority is an agency that allows federal employees to organize, bargain collectively, and participate in labor unions of their choice concerning decisions affecting their employment.
In January 2021, Biden signed an executive order that reversed Trump's executive orders. Still, Wetmore said Martin's attempt to follow Trump's executive orders had delayed the negotiations between the labor union and VA.
"We are aware of the petition," Terrence Hayes, VA press secretary, said in a prepared statement. "However, we remain laser-focused and committed to actively engaging AFGE to best serve veterans."
In April 2021, McDonough told the AFGE in a virtual joint conference that he is committed to implementing Biden's executive order and will protect and empower the VA workforce by supporting and encouraging collective bargaining.
"The VA's career civil servants are the backbone of the federal workforce," McDonough said at the time. "We owe it to the nation — especially during the pandemic — to protect, empower, and rebuild the federal workforce."
The labor union's petition said the VA's negotiator does not share the secretary's sentiments.
"As secretary, you are responsible for the positions that your negotiators take at the bargaining table," according to the petition. "Your chief negotiator, Kurt Martin, is not fulfilling President Biden's pro-worker promise or the 'union reset' you vowed to oversee when you were confirmed."
The AFGE and VA will meet again this month, and Wetmore said the labor union will ask McDonough about replacing Martin.
"We hope they don't duck it," Wetmore said. "We hope that they give us a good answer as to why Kurt Martin, who seems to be acting against the expressed interest of the president of the United States and the secretary of the Department of Veterans Affairs, is still being given a chance to do that."
---
---
---
---