Advocates lobby for psychedelic drugs to address veteran suicides in Missouri
By
St. Louis Post-Dispatch
September 1, 2022
---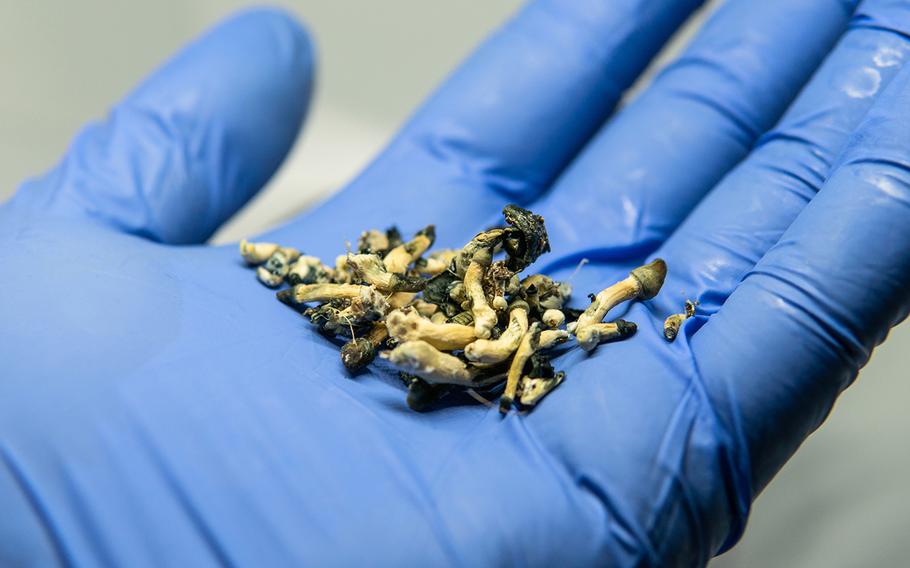 JEFFERSON CITY (Tribune News Service) — Lawmakers seeking ways to address a suicide crisis among Missouri military veterans heard Wednesday from several advocates who said psychedelic drugs could provide an answer.
Among them was Dr. Rahul Kapur, a Kansas City doctor, who said Missouri could consider making plant-based drugs like psilocybin mushrooms legal for the treatment of mental disorders.
"So far the safety data has been very encouraging," Kapur told members of the House Interim Committee on Veterans Mental Health and Suicide.
The panel is meeting against the backdrop of Missouri leading the nation in veterans suicides. In 2021, for example, 146 veterans died by suicide.
According to the U.S. Department of Veterans Affairs, Missouri's veteran suicide rate was 43.4 per 100,000 in 2019. Nationally, the rate is 31.6 per 100,000. Only seven states had a higher rate of veteran suicide than Missouri in 2019.
Overall, suicide is the 10th-leading cause of death in Missouri, claiming 1,230 lives in 2020, according to the American Foundation for Suicide Prevention.
Committee chairman Dave Griffith, R- Jefferson City, said previous discussions about legalizing psilocybin have not been well received in the Republican-controlled Legislature.
"Many of us have a preconceived notion of what that is," Griffith said.
Kapur agreed, but said studies show the drug helps people who have post-traumatic stress syndrome, which is common among war veterans.
"We need to work to remove the stigma of these things," Kapur said.
Rep. Mike Stephens, R- Bolivar, said a hearing in the spring to discuss legislation that would legalize the drug raised more questions than answers.
"It did not go well," Stephens said.
But, Stephens said attitudes may be changing.
"I do expect we will be revisiting this subject," Stephens said.
In addition to Kapur, Will Wisner, executive director of the Grunt Style Foundation, said he was deeply affected by his combat experience. He said his dreams at night were vivid and traumatic.
"I dreaded going to sleep," Wisner said.
He was skeptical of using an alternative medicine, but said it worked.
"What I found was nothing less than miraculous," Wisner said.
Under a proposal sponsored by Rep. Tony Lovasco, R- O'Fallon, people with approved conditions could use certain plant- or fungus-based psychedelics.
The measure, which could be reintroduced in January, identifies patients with treatment-resistant post-traumatic stress disorder or depression or who have a terminal illness as eligible recipients. People with other conditions could petition the Department of Health and Senior Services to expand the list.
Oregon passed a similar measure in 2020 and is the only state to have legalized some psychedelics for therapeutic use. Several cities and Washington, D.C., have decriminalized various psychedelic drugs.
Elaine Brewer, a military spouse from Chesterfield, said psychedelic therapy through plant medicine is the "most effective" treatment for PTSD.
"We deserve the right to try any and all options," Brewer told the committee.
The hearing was marked by a series of organizations that outlined how they are attempting to address the high suicide rate among veterans.
"There is something deeply wrong with this epidemic that we are watching," said Kevin Weaver, president of the Warrior's Journey, a Springfield-based advocacy group for military veterans.
Nicole Pingle, a clinical therapist with the Virginia-based Ohana Homefront Foundation, said the organization wants to help veterans in crisis by reducing the stigma associated with mental health problems.
She said the military doesn't do enough to prepare soldiers for their return from war. In addition to opening a bricks-and-mortar counseling facility, Pingle said the group plans to train people to help veterans in need.
(c)2022 the St. Louis Post-Dispatch
Visit the St. Louis Post-Dispatch at www.stltoday.com
Distributed by Tribune Content Agency, LLC.
---
---
---
---