Lost WWII Marine laid to rest in East Wenatchee, Wash.
By
The Wenatchee World, Wash.
August 31, 2022
---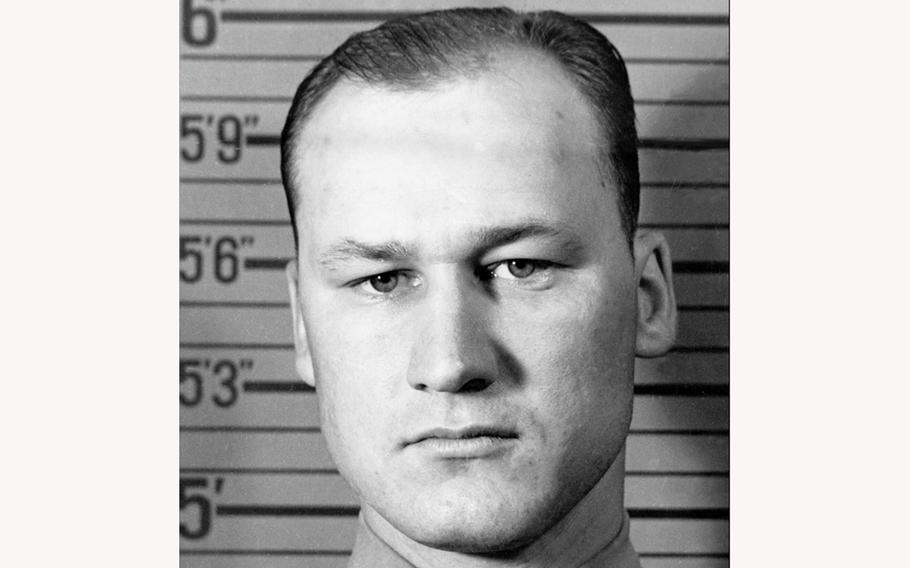 EAST WENATCHEE (Tribune News Service) — Gunnery Sgt. Arthur Summers was 27 when he was shot and killed while fighting Japanese soldiers in the 1943 Battle of Tarawa. For 76 years, his remains were lost on a small island among hundreds of missing Marines.
A non-profit group that specializes in finding missing servicemembers recovered his body in 2019 and on Tuesday Summers' remains were interred at Evergreen Memorial Park & Mausoleum in East Wenatchee.
"I think that Uncle Arthur deserves that," said Don McCannel. "It's the least we could do after 78 years, show some respect."
McCannel and his twin brother, David, both of whom live in the Wenatchee Valley, are Summers' closest living relatives.
"We're his closest family," Don McCannel said. "In a way, you could say I was selfish about it because I wanted to be able to come visit without driving 800 miles."
The brothers were accompanied at the funeral by cousin Lynne Summers, who was presented a flag by a Marine Corps honor guard.
The funeral was attended by about 100 people, including members of the American Legion Post 10, American Legion Auxiliary, Veterans of Foreign War Post 3617, VFW Auxiliary, Sons of the American Revolution Mid-Columbia Chapter, Patriot Riders, East Wenatchee Police Department and Wenatchee Valley firefighters.
Battery P, 5th Battalion, 14th Marines of Yakima provided an honor guard and delivered Summers' casket to the grave.
"Having him be a Marine and having the Marines be the honor guard and having the Marines for pallbearers was special," said Bob Ashford, a former Marine and Vietnam era veteran.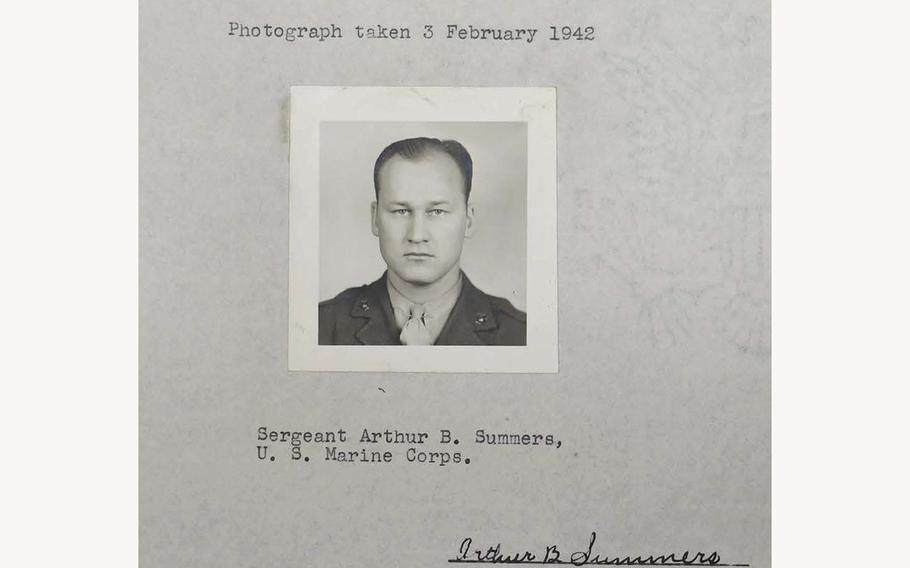 Summers was born in 1916 and raised in Poplar, Montana, and worked as a farm hand before enlisting in the U.S. Marine Corps in 1936. His first deployment was to China where he served as a guard at the U.S. Embassy.
At the time of his death, Summers served with Company I, 3rd Battalion, 6th Marine Regiment, 2nd Marine Division.
Summers was killed in action Nov. 23 or 24, 1943 on Betio Island during the Battle of Tarawa. More than 1,000 marines and almost 4,700 Japanese were killed in the 76-hour battle on the small atoll northeast of Australia.
When the battle was finished, a small number of troops, including members of the U.S. Naval Construction Battalions, commonly known as Navy Seabees, remained on the island, according to a historical report prepared for the McCannels by the federal Defense POW/MIA Accounting Agency.
The Seabees modified grave sites and cemeteries, and errantly unorganized the island's buried servicemen.
Memorial markers were erected in the center of large cemeteries and each grave received a cross. But the Seabees also shifted cemetery markers without shifting graves; and as a result, the crosses no longer corresponded with the original grave site, the report said. Adding to the confusion, crosses were often given to Marines whose remains hadn't been recovered, were buried at sea or buried elsewhere on the island.
"As a result, the names on the crosses no longer corresponded with the names of those originally believed to be buried in the cemetery," the report said. The report added,
"When the Seabees were finished, instead of 153 graves (the original number of individuals believed to be buried in the cemetery), there were almost 400 white crosses in Cemetery 33, including one for (Summers)."
In 1949, a review board declared his remains "non-recoverable."
In 2009, non-profit group, History Flight, began excavating a cemetery on Betio Island and in 2019 recovered remains that the Defense POW/MIA Accounting Agency determined to be that of Arthur Summers.
"It's kind of disgraceful that they could lose him for that long," David McCannel said in a June interview with The Wenatchee World. "It's almost unbelievable."
For 20-year Navy veteran Rich Cronin, the funeral reverberated the toll paid by servicemembers.
He lamented that stories of war are often seen in the media, but Summers' funeral offered a "real, honest dose of reality."
"When you're standing by the casket — that ain't no story," Cronin said, lamenting the young man who died long ago.
(c)2022 The Wenatchee World (Wenatchee, Wash.)
Visit The Wenatchee World at www.wenatcheeworld.com
Distributed by Tribune Content Agency, LLC.
---
---
---
---