Volunteers clean 800 veterans' headstones on a mission to remember NJ's fallen soldiers
By
nj.com
August 27, 2022
---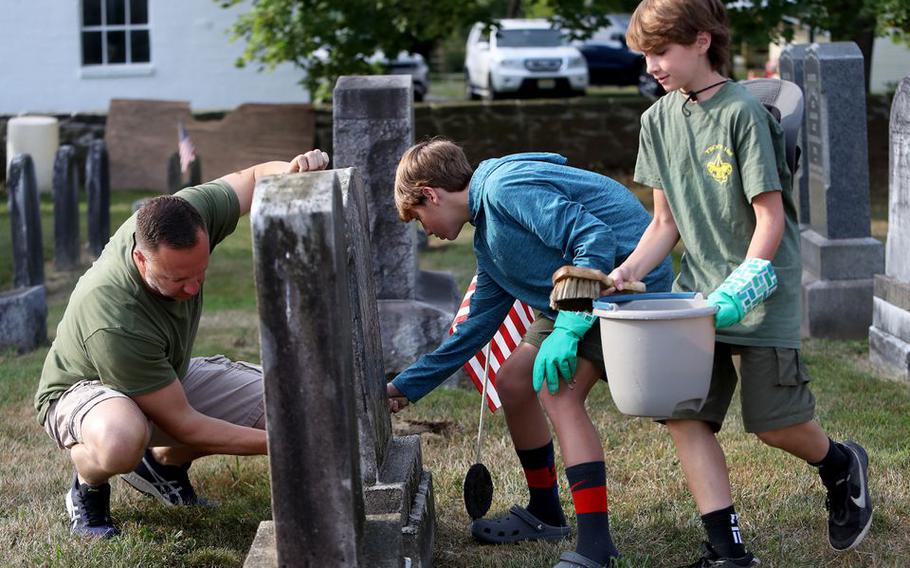 (Tribune News Service) — Ron Haselman and his grandchildren spent a recent morning at a cemetery cleaning the headstone of a veteran who was buried hundreds of years ago, attempting to make out the name carved into the aging marker.
The plot is estimated to date back to the 1700s and after two hours of cleaning the aging headstone, they could only make out the fallen veteran's first name — Joseph. But, thanks to their hard work, the long-lost soldier was no longer anonymous.
Haselman and his grandchildren were among 28 volunteers who showed up at Rosemont Cemetery in Delaware Township on Aug. 21 to help county officials clean 280 veterans' headstones.
"I didn't serve myself, but it's a chance to give back and I think it's great," said Haselman, who has volunteered at all eight of Hunterdon County's headstone cleaning events. "I bring the grandkids along and they learn a little bit about the country's history."
He said he noticed more and more volunteers showing up at each event.
"Every time I've come, there's been more people," Haselman said. "There's almost 30 here today and that's pretty good for a Sunday at 8 o'clock in the morning."
The program was launched in November 2021 and since then volunteers have cleaned the headstones of more than 800 fallen veterans across Hunterdon County.
"In a country where patriotism is waning, I think this rallies the troops and brings us together," said Ruthi Cass, advanced public information officer for Hunterdon County.
Cass launched the program in Hunterdon County after seeing a guest on "Live with Kelly and Ryan" who spoke about his nonprofit organization, called By Memorial Day, which focuses on cleaning the headstones of veterans around the country.
After watching the show, Cass decided to call the guest, Trae Zipperer, and he helped her develop a similar program in Hunterdon County.
"This is a calling for me," said Cass, who comes from a large military family dating back to the Revolutionary War. "Obviously I work for Hunterdon County, but it's a lot more than that. It's very honorable for me."
Cass said she found volunteers easily in Hunterdon County.
"We got really lucky because we're in a wonderful county that is very patriotic," she said.
The volunteers used a heavy duty degreaser and toothbrushes to get the headstones clean. Hunterdon County Veteran Services Officer Richard Booth said the solvent was very effective in cleaning some of the oldest headstones.
"When we were down at one of our other events in Lambertville, we had a Civil War headstone that we could barely read," Booth said. "We sprayed this stuff on and within 10 minutes, we could read all the letters. It was really neat."
In some instances, the grave markers don't come clean as quickly, so volunteers leave the degreaser on the headstone for about a week before returning to finish cleaning the grave.
Booth, a Navy veteran and board member of the National Association of County Veterans Service Officers, believes the headstones at the cemetery had never been cleaned before Sunday.
"These are probably the first time these have ever been cleaned and there's some veterans who were buried here over 100 years ago," he said.
As a veteran, Booth said he was honored to be cleaning the headstones of fallen service members.
"Words can't describe how it feels to be doing this," he said. "I could be buried here one day and someone could be cleaning my headstone. To me, it's all about respect and remembrance."
Beth Anne Brogan, who started volunteering in early 2022, became so involved in the program that she recently designed her own t-shirt that reads "taking care of our men and women."
"I think it's awesome," she said. "I think it's very rewarding and I hope the momentum keeps going and we get even more people who can help."
Brogan's father was in the Army and her brother, nephew and son-in-law have since joined the military.
"My parents were very patriotic and it was also something we did when we were younger," she said. "We took care of our own family's plots."
The volunteers have six more cemeteries to visit before the program concludes, including the final event on Veterans Day in November. The dates and locations of the upcoming events have not been finalized, county officials said.
They also plan to revisit some of the cemeteries to clean headstones they didn't get to and to return every three years to maintain the headstones.
Hunterdon County Commissioner Susan Soloway is speaking to commissioners in Somerset County to try to get them to join in a similar effort in their county.
"This is a new initiative and we're hoping it catches on and we can get other counties involved," Soloway said. "I would love for this to eventually be a national event."
Booth is also planning on mentioning the program at the National Association of County Veterans Service Officers board meeting in October.
"This is something I had never really thought about before, but after speaking to Mr. Zipperer, I was like, 'that's really cool,'" Booth said. "Something so simple can be so rewarding."
©2022 Advance Local Media LLC.
Visit nj.com.
Distributed by Tribune Content Agency, LLC.
---
---
---
---