Ceremony honors veterans buried without family present at Bakersfield National Cemetery
By
The Bakersfield Californian
August 25, 2022
---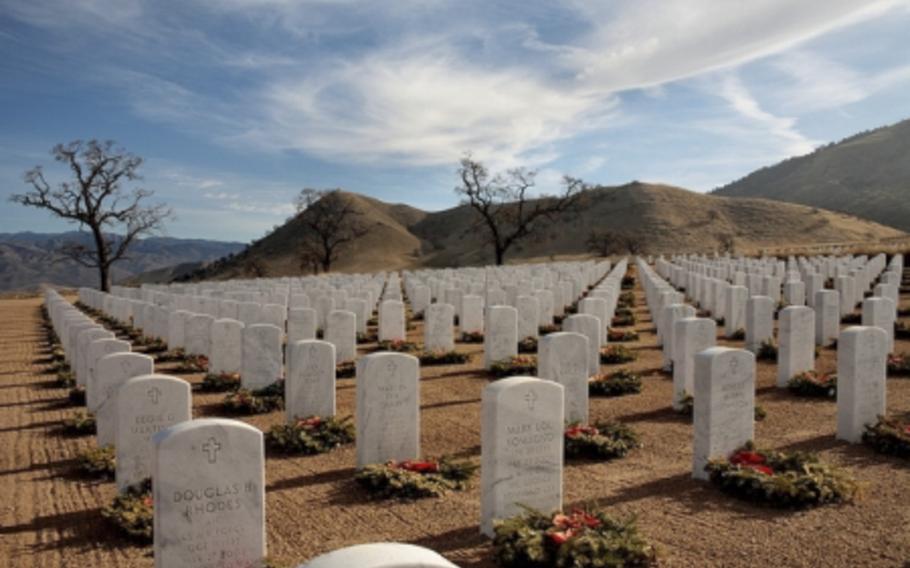 (Tribune News Service) — It must be an awfully lonesome feeling seeing a military veteran laid to rest with no family or friends present to say goodbye.
Nearly 100 people, including scores of veterans, were happy to stand in as family and friends as seven deceased military veterans were honored at the Unaccompanied Veterans Ceremony held Wednesday morning at Bakersfield National Cemetery.
"As difficult as it is to accept, sometimes our nation's heroes die with no known next of kin or insufficient funds," Cemetery Director and U.S. Army veteran Cindy Van Bibber told the gathering Wednesday.
While the U.S. Veterans Affairs Department's goal is to help veterans before they die or become indigent, Van Bibber said, sometimes veterans outlive both their families and their financial means.
"That's why national cemeteries across the nation hold ceremonies just like this throughout the year," she said.
Jim Rice, a Vietnam veteran who served at Wednesday's ceremony with the Bear Valley Springs Veterans Association Honor Guard, said his reasons for being there were not complicated.
"The bottom line is we're all veterans — and we love each other," Rice said.
That honor and respect, he said, comes naturally.
After the Veterans Family Band performed the national anthem, Cemetery Administration Specialists Pete De Los Santos and Teddy Greevebiester read the names of the seven "unaccompanied" veterans.
They were: Chris Latronis, U.S. Army; Connie Beth Johnston, U.S. Army; Anthony E. Anderson, U.S. Navy; Robert Wayne Brandt, U.S. Army; Steven McCaslin, U.S. Army; Bobie Lyn Swanson, U.S. Air Force; and John Edward Ardoin, U.S. Army.
As the crowd stood quietly, three riflemen with the honor guard fired three volleys into the air in honor of the seven.
Then, as taps was played, two honor guard members folded a large American flag into a tight triangle for presentation to a member of the audience.
"The veterans we are honoring today ... represent the very best of American citizenry," Van Bibber said. "What is left to us, the living, is to honor them, to honor their service and their sacrifice.
"So today, I thank you," she told the gathering, "because today, you are here to represent and stand in as their family for the seven veterans we are honoring today, to help ensure they are given the send-off they deserve, and most importantly, that they're never forgotten."
Wednesday's event was the first time since 2019 they were able to gather without restrictions on the number of people present — and it made a noticeable difference in the energy and tone of the ceremony.
Pastor Darius Walden, who has served as the lead pastor at the Southwestern Christian Center in Bakersfield since January 2020, gave Wednesday's eulogy. A decorated U.S. Army Gulf War veteran, Walden quoted from President Abraham Lincoln's Gettysburg Address delivered during the American Civil War on Nov. 19, 1863.
The final section of the address, Walden said, may help place Wednesday's ceremony in context.
"It is for us the living, rather, to be dedicated here to the unfinished work which they who fought here have thus far so nobly advanced," Walden said as he recited Lincoln's immortal words.
"It is rather for us to be here dedicated to the great task remaining before us — that from these honored dead we take increased devotion to that cause for which they here gave the last full measure of devotion ... ."
A nation that had been torn asunder, split by the scourge of slavery and regional rivalries, would ultimately be saved and healed again, thanks in no small part to the blood spilled and sacrifices made by the soldiers, many who died on the battlefield upon which Lincoln spoke.
"... That we here highly resolve that these dead shall not have died in vain, that this nation, under God, shall have a new birth of freedom, and that government of the people, by the people, for the people, shall not perish from the earth."
(c)2022 The Bakersfield Californian (Bakersfield, Calif.)
Visit The Bakersfield Californian at www.bakersfield.com
Distributed by Tribune Content Agency, LLC.
---
---
---
---