Louisiana GOP senators claim glitch led to opposition of bill to help veterans
By
The Advocate
July 30, 2022
---
(Tribune News Service) — Louisiana's U.S. senators Friday said they voted with fellow Republicans to delay passage of health care for military personnel exposed to toxins while on duty because of certain language in the legislation that they say could lead to a portion of the funding being used for other purposes.
Louisiana Republican U.S. Sens. Bill Cassidy, of Baton Rouge, and John Kennedy, of Madisonville, both recently had supported the Promise to Address Comprehensive Toxics Act — better known as the PACT Act.
But on Wednesday night, both voted not to cut off debate, effectively postponing a final vote on legislation that would provide comprehensive health care for as many as 3.5 million veterans who came home with a number of illnesses, including terminal cancers, related to exposure to toxic fumes from burn pits, radiation and Agent Orange herbicide.
"On behalf of Louisiana's 283,000 veterans and their families, we are extremely disappointed to see the U.S. Senate's action that could jeopardize the final passage of a transformational bill that would provide health care to veterans exposed to burn pits and toxic hazards in all of America's wars," said Joey Strickland, secretary of the Louisiana Department of Veterans Affairs. He served combat tours in the Vietnam War, and his two sons both served in Iraq and Afghanistan.
"I have reached out to both Sen. Kennedy's and Sen. Cassidy's offices to request that they step up to help complete this mission before U.S. senators go home for their August recess."
The legislation would create a permanent fund of $285 billion over 10 years that would pay for toxic exposure care. But one portion of the bill's language was written in a way that could be interpreted as a way to possibly shift $40 billion a year for 10 years into another pocket fund that could possibly be used for other purposes. Republican Sen. Pat Toomey, of Pennsylvania, offered an amendment to fix the language that wasn't considered before the cloture vote.
A Cassidy spokesperson cited the issue as the reason for his opposition.
" Sen. Cassidy supports the legislation like most of his GOP colleagues — in fact, he voted for a previous version," said spokesperson Ty Bofferding. " Republicans are only asking for a vote on an amendment that will fix the $400 billion drafting error in the text to ensure the bill is implemented as intended. Congress needs to fix this issue and can pass the bill next week."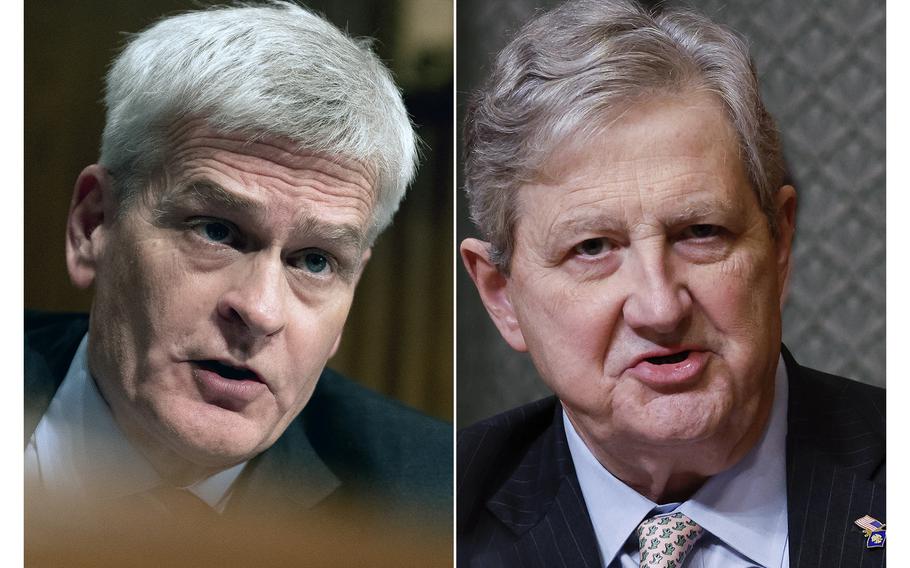 A Kennedy aide said the senator had much the same viewpoint.
"Sen. Kennedy has always supported veterans and does not disagree with the policy of the bill (since he voted yes for it previously)," said one of his aides who asked not to be identified. "But in order to make sure resources actually go to helping veterans, there needs to be a technical fix in this budget. Right now, there's a budget gimmick in the text that could spend $400 billion not on veterans. We want to see that fix happen to make this an effective bill for veterans."
A substantially similar bill passed the Senate 84-14 last month; both senators voted yes. It was returned to the House. The bill then passed the House 342-88 on July 13. U.S. Reps Troy Carter, D- New Orleans; Garret Graves, R- Baton Rouge; and Julia Letlow, R- Start, voted yes. Congressmen Clay Higgins, R- Lafayette; Mike Johnson, R- Benton; and Steve Scalise, R- Jefferson, voted no.
"We understand that this is a speed bump," retired U.S. Navy Cmdr. John B. Wells, who is chair of the Slidell-based Military Veterans Advocacy organization, said of the recent Senate vote. "Apparently there are some cost and amendment issues that need to be resolved before the bill moves to the floor. I spoke with one senator who voted no, who assured me that the bill will be passed."
The vote launched a firestorm of protest from veterans groups, including the American Legion and the Wounded Warrior Project.
American Legion Legislative Director Lawrence Montreuil said in a Thursday news conference that "this delay continues because of political games. ... This bill's genesis came from the fact that 70% of veterans with illnesses related to burn pits were being denied, and as a result couldn't access health care.
"Sick veterans couldn't meet the burden of proof. Every day that this delay goes on, veterans are unable to receive care. This is wrong."
U.S. Army veteran Aleks Morosky, of the Wounded Warrior Project, said, "Passing the PACT Act today would have finally kept that promise for veterans with toxic wounds. But instead, that promise is still being broken."
Comedian Jon Stewart, who also advocated expanded health care for 9/11 rescue workers, gave expletive-riddled criticism from the U.S. Capitol grounds.
"Their constituents are dying and they're going to get it done in recess," Stewart said. "This is disgrace."
___
(c)2022 The Advocate, Baton Rouge, La. Visit The Advocate, Baton Rouge, La. at theadvocate.com Distributed by Tribune Content Agency, LLC.
---
---
---
---