Kentucky WWII vets honored with special flight
By
The Sentinel Echo, London, Ky.
July 21, 2022
---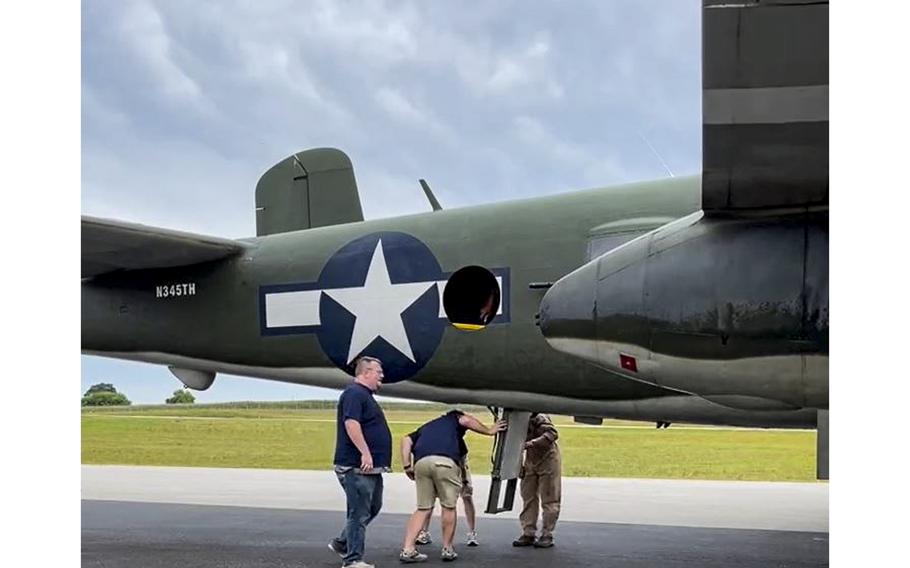 (Tribune News Service) — Touted as the generation that changed the history of the world, three local World War II veterans took to the skies for a special honor.
The flight, centered at the London-Corbin Airport, was aboard a 1945 B-25 bomber — a model used by combat troops during the war against Japan.
The three veterans honored were Abel Cunagin and George Calvert Sr., both of London, and Paul Jones of Corbin. They were part of the Honor Flight of the Bluegrass "Barnstorming Tour."
"We owe our WWII veterans everything," said coordinator Jeff Thoke. "They changed the course of history all for the good almost 80 year. Of the 16 men and women who served during WWII, there are only about 200,000 left. So these are true American heroes, true living legends.They went over not as conquerors but as liberators. They went overseas, when they were 18 and 19 and came back as 21-year-olds."
The three veterans had some ironically similar attributes. Cunagin is 100 years and 3 months old; Jones is 3 months from being 100, and Calvert is 3 months shy of being 99 years old.
Cunagin and Calvert both served in the U.S. Army's 24th Infantry, although Calvert was in that brigade a year after Cunagin had moved on. Cunagin was first stationed at Camp Atterbury, Indiana — which was the place from which Calvert was discharged. Currently, both Cunagin and Calvert are residents at Village Heights in London.
Cunagin is quite emphatic when telling his age.
"I'm 100 and 3 months," he said.
Cunagin, whose full name is William Abel, was first stationed at Camp Atterbury, Indiana, in 1942.
"I joined after the Japanese bombed the Hawaiian islands," he said. I was in the 24th Infantry, then I went to Australia for a year. and I was in the invasion of Dutch New Guinea."
Cunagin was a rifleman. He carried a .45 pistol, a .45 machine gun and also operated a .50 caliber machine gun while he served throughout the Pacific Theater.
He was also involved in the occupation of Japan, before being discharged on December 5, 1945.
"Three years was enough. I came home," he said. "I didn't make it home for Christmas but I was on my way."
Calvert served from 1944 until 1946. He began in the 75th Infantry but transferred to the 24th Infantry. Although referred to as a "gunner" on the tank, Calvert's duties actually involved giving coordinates to the gunmen. He said the members were cross-trained so if a gunman was hurt or unable to act, the other members could take over. He achieved the rank of Corporal and served in the Pacific and Philippines. Calvert married in 1944 prior to leaving for military duty — and he remains married to his childhood sweetheart 78 years later.
Jones was a pilot in the U.S. Navy for 23 years, flying bombers similar to the one in which he was a passenger on Saturday. He will celebrate his 100th birthday on October 30, and remains active and agile — climbing the steps into the plane without assistance and walking without any assistance.
"He's a Navy pilot," Thoke said. "We don't run across too many Navy pilots. He said he flew Wildcats, Hellcats and Corsairs. You know the World War II movies — we've all seen Corsairs. He was on U.S. Guadalcanal, then transitioned to night fighter training."
Jones said he has a tradition of going to New Orleans to celebrate his birthday, adding he already has his tickets for this year when he will reach the century mark.
Airport Manager Matt Singer said the Honor Flight of the Bluegrass organization contacted him regarding including London in the Barnstorming effort.
"They actually reached out to us and we were honored to have them come here," Singer said.
The Barnstorming effort launched on Friday in Paducah before making a morning flight in Russellville on Saturday. Sunday took them to Danville and Bardstown for their final flight before the bomber would head back to its base in Missouri.
___
(c)2022 The Sentinel Echo (London, Ky.)
Visit The Sentinel Echo at www.sentinel-echo.com
Distributed by Tribune Content Agency, LLC.
---
---
---
---