BASE jumping pioneer, a Korean War veteran, recognized in West Virginia
By
The Register-Herald
July 19, 2022
---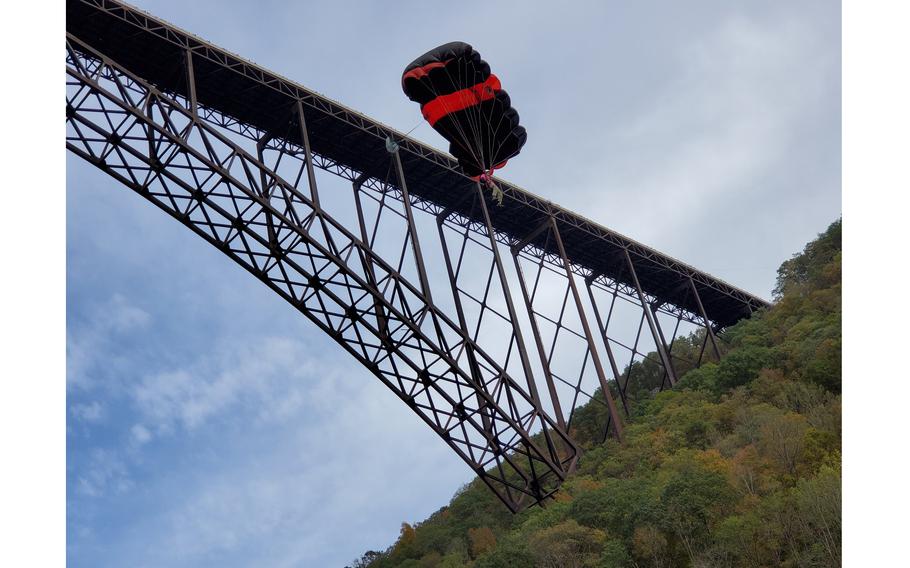 OAK HILL, W.Va. (Tribune News Service) — As he strapped on a parachute and plunged into the New River Gorge void late on Friday, Aug. 17, 1979, Burton Ervin blazed an aerial trail to be followed by countless thrill-seekers since.
Ervin, a Korean War Army veteran from Webster County who eventually forged a 42-year career in the local coal mines, was credited as the first person to parachute from the New River Gorge Bridge 876 feet into the canyon below at 10:20 p.m. on that night.
Ervin's jump was illegal and, to many, ill-advised. But it ended well, and it eventually provided the impetus for what has transformed into a famous Fayette County calling card.
A report at the time from the Richwood News Leader said about 200 spectators watched Ervin's 1979 jump. Apparently some lighting was utilized to offer a bit of illumination to guide his jump, which reportedly ended in the New River.
The engineering marvel known as the New River Gorge Bridge officially opened in October 1977. The first official Bridge Day was held in 1980, and it has since blossomed into a prominent West Virginia event. Countless jumpers, rappellers, vendors and visitors have annually converged on Fayette County for the festival, with the exception of the last two years because of COVID-19 and in 2001 on the heels of the Sept. 11 terrorist attacks.
Becky Sullivan, executive director of the Fayette County Chamber of Commerce/New River Gorge CVB, as well as chair of the Bridge Day Commission, was joined on July 16 by members of the Ervin family, BASE jumpers and others in the community to unveil a sign on the chamber/CVB grounds in Oak Hill recognizing Burton Ervin as the man whose pioneering jumping efforts led to the initiation of the popular Bridge Day festival. Ervin died less than two days before Bridge Day 2017 at the age of 82.
"For the chamber and for Bridge Day, I think it means a lot, because it gives us something to explain the origin of Bridge Day and talk about the father of Bridge Day, Burton Ervin, who had such an impact on BASE jumping, the bridge, Bridge Day, the creation of Bridge Day and how it impacted the community," said Sullivan.
BASE is an acronym for building, antenna, span and earth, the fixed objects from which participants parachute.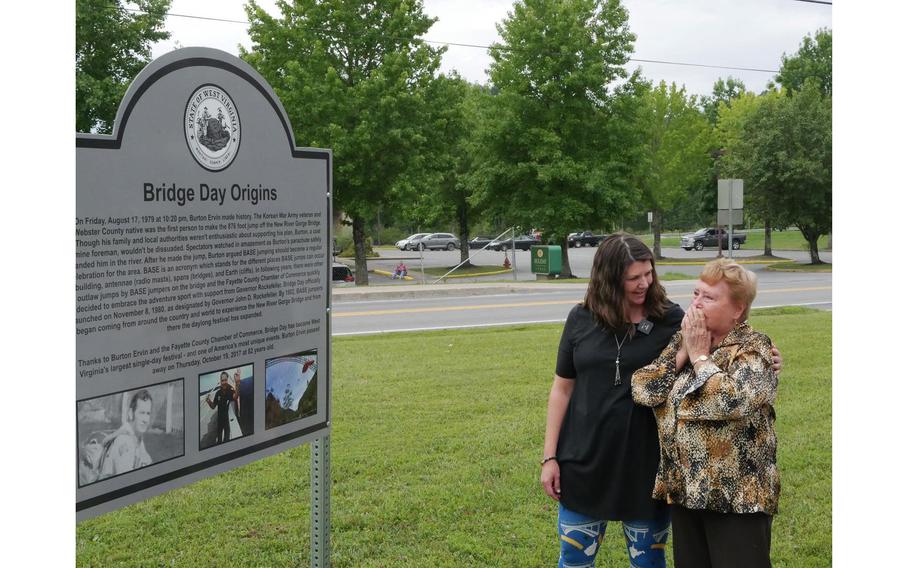 Mildred Ervin, Burton's wife of 62 years and former jumping partner (the first time they skydived, he broke his leg and she injured her back, she recalled Saturday), was among family members on hand for the ceremony. She was overwhelmed with the significance of the day. However, she recalled harboring misgivings back in the day as her husband planned his jump.
"Oh, yes. Oh, yes. A lot," she said when asked if she tried to talk him out of it. "He just always thought that whatever he wanted to do, he could do it. That was Burton's outlook on life, whatever you want to do, you set your mind to it, and you just do it."
When the family realized he made it safely through the jump, she said, "We all started to cry, because we knew he had made it."
Mildred said the jump required much planning. "He had been making contact with other people out of state about what he should do, how he should pack his chute and all of that and trying to make it as safe as possible."
After the jump, the Ervins initiated conversations with local officials in Fayette County to urge the creation of a legal opportunity for BASE jumping from the span, which now exists for six hours on the third Saturday of October each year.
"I wanted him having the credit of knowing that he was the one that started it. He put a lot of time in that, and he was working full time at the mines, too. It's like a conclusion of five years that we've been working on something, and finally it came to a conclusion. Seeing that sign, they did honor to him, they really did." She praised Sullivan, who "really, really worked on it."
Marcus Ellison and Mark Kissner, who currently organize Bridge Day BASE jumping, were also present Saturday.
A more recent entry into BASE participation than Kissner, Ellison — a Fayette County native — said that, once he researched the history of the sport, Ervin "automatically became a hero" of his, "because I shared that same vision as a kid here growing up and wanting to be involved with Bridge Day and parachuting. This celebration is always either right on or near my birthday, so it always meant a ton to me growing up and being from this area.
"To be able to actualize that dream into what I'm doing now in being involved and helping run and organize the event is a real dream and wouldn't be possible without the vision of people like Burton and the other organizers and people who came before me. It's a great honor for me to be involved with Bridge Day to help continue with that vision and to honor the state and county."
"Burton was definitely a visionary, and our sport is very, very small, so if you're into it, you're probably really into it and you're probably going to want to learn it," said Kissner. "It's interesting to learn anything about the history. And coming down here, the bridge is just such a fantastic structure."
Of Ervin, he said, "Basically, he watched this thing get built. He knew he was jumping this thing, probably before they put the first piece of steel up. And that's just how a jumper thinks, they're planning it out and he was 'yeah, I'm going to do this.'"
The jump had to be planned well in advance, Kissner said. "He planned the first real BASE mission (for the New River Gorge Bridge); planned and executed it, so to learn about him and his background, it's a fascinating story. ... He is a legend, as far as I'm concerned."
That Ervin opted to accomplish his jump late at night made the story even more compelling, the men said.
"Bridge Day is an anomaly; it's an event," said Ellison. "It's not like a normal BASE jump. Most normal BASE jumps are done with one or two or three other buddies ... in the dark."
"A lot of them are at night," Kissner chimed in.
"That, to me, is what the sport of BASE jumping is all about," Ellison stressed. "The old saying — forgiveness over permission. It's really the definition of that, and it's really inspiring to live in this era of BASE jumping knowing that people like him with really homemade, self-modified gear at the time ... to do that stuff, it's inspiring, and it really pushes me to continue what I'm doing."
Ellison says he looks up to people like Ervin and Kissner who have "really paved the road for me and other jumpers."
"It's pretty hard to imagine what he was thinking," Kissner said of what might have been running through Ervin's mind as he got ready to make his jump. "Even when I started jumping (in 1998), BASE jumping had existed already for a good, long time. Even though it was a very small sport, it was still pretty tried and true."
"For somebody to jump on the gear of that day, which wasn't even all that reliable when they skydived it," Kissner added. "For him to put his faith and trust and life into that gear, you know, he had to really feel confident in his knowledge and in his planning.
"And then to know that he did it at night; he can't even pick where he's landing on that ground; he's just going down. That just makes it significantly more intense. ... That's really bold, jumping into that dark gorge at night when nobody's ever done it before."
(c)2022 The Register-Herald (Beckley, W.Va.)
Visit www.register-herald.com
Distributed by Tribune Content Agency, LLC.
---
---
---
---