Seeking the Star: Pennsylvania veteran on mission to honor his brother killed in Vietnam
By
The Citizens' Voice
July 4, 2022
---
(Tribune News Service) — Jenkins Twp., Pa., Air Force veteran Ralph Edwards is determined to see that his brother, who was killed in Vietnam, is posthumously awarded either the Bronze Star or the Silver Star medal.
Edwards' brother John died in a firefight on March 4, 1966, while giving cover to fellow Marines who were trying to retreat from an ambush during Operation Utah. He had just turned 20 years old.
Ralph Edwards, 71, who is battling cancer, said he hopes to live long enough to see his brother given the honor. He said he feels government bureaucracy and the "administrative fog of war" has denied his brother the award all these years.
"He was head to head with heavy machine gun fire. Because of it, other people are alive today," Ralph Edwards said. "It takes a lot of guts to take on heavy machine gun fire."
Ralph Edwards, who served 23 years in the Air Force, said he's been in contact with the office of U.S. Rep. Matt Cartwright, D-Moosic, but efforts to get the military to award his brother a Bronze Star or Silver Star have yet to yield any results.
Determined to learn more about his brother's heroics, Ralph Edwards even got in touch with his brother's superiors on the battlefield from the war.
John Edwards' platoon leader Hubert Yoshida, 83, of Morgan Hill, California, said John Edwards deserves at least a Bronze Star.
Yoshida admits he didn't know the whole story of John Edwards' actions that led to his death until several years ago when he decided to write a book about Operation Utah.
"I knew he had been killed, but I didn't know the circumstances because so many were killed at that time. This award was dropped through the cracks. I probably should have been more diligent. But I wasn't aware of what he had done until I started to write this book," Yoshida said in a phone interview last week.
The decision to write the book came after Yoshida found a letter John Edwards' father wrote him after Yoshida sent him a sympathy letter in 1966.
"Fifty years later I reread that letter," Yoshida said. "The letter from Edwards was a motivator to write the book."
While researching for the book, Yoshida said it became clear "we all saw a piece of" Operation Utah, "but we never saw the whole battle." He's hoping to change that with his book.
Yoshida shared some excerpts of his book, which includes extensive parts about John Edwards.
"I wrote a letter to his family explaining the circumstances of his death and expressing my condolences. I received a letter back from his father expressing how proud he was of his son. At that time, I was a young man. I was married but did not yet have children. I kept that letter and I reread it so many years later, having raised my own son now. I can better appreciate how devastated a parent must feel over the loss of a son at such a young age," Yoshida wrote.
Staff at Cartwright's office said the congressman is working with the military to properly recognize John Edwards.
"Congressman Cartwright fully supports the efforts of Capt. Ralph Edwards to see his brother's unit-saving valor and sacrifice in Vietnam officially recognized, and he requested an update from the Marine Corps on the status of the case this week, while stressing the importance of the case and a resolution of it," said Wendy Wilson, Cartwright's director of communications. "After reviewing elements of the case record, relatively recent communications about it from the Marine Corps, the current regulations and application criteria for valor recognition, and the Marine Corps stance on satisfying all of the requirements, our office is now working with both the Marine Corps and Mr. Edwards to resubmit an Award Nomination Package that will result in the official recognition of the heroism of Lance Cpl. John Jay Edwards that his brother and father have sought for so many years."
John Edwards is buried in St. Mary's Cemetery in Hanover Twp. next to his parents, Frank and Jacqueline Edwards, both World War II veterans.
The slain Marine spent most of his formative years in Kingston before his parents moved the family when he was around 15-years-old. He graduated from Immaculate Conception High School in Lock Haven with dreams of entering the Marines.
He enlisted after graduation.
Due to his father's decorated military status and political connections, John Edwards got stationed in Key West, Florida, to serve with a Marine Corps honor guard, a much safer assignment than others his age, his brother said.
"He did not want to do that. He joined the Marine Corps to fight. He volunteered to go to Vietnam much to the concern of my parents and grandparents," Ralph Edwards said.
In Vietnam, John Edwards was assigned to 1st Platoon, Hotel Company, 2nd Battalion, 7th Marine Regiment, 1st Marine Division.
John Edwards and his unit were "involved in some of the most intense fighting of the war" during the battle that killed him, Yoshida wrote in an affidavit recommending him for the Bronze Star.
To be eligible for a Bronze Star a service member must display "heroic or meritorious achievement or service" while engaged in an action against an enemy of the United States or an opposing foreign force, according to the Marine Corps.
To justify this decoration, the accomplishment or performance of duty must be above what is normally expected and sufficient to distinguish the individual among those performing comparable duties.
Ralph Good, John Edwards' squad leader in Vietnam and a Bronze Star recipient, has also penned an affidavit to testify about John Edwards' bravery in Vietnam.
"He was absolutely fearless in combat," Good wrote. "I am sure he knew exactly what he was doing by engaging that machine gun and he was willing to pay whatever it cost to protect his fellow Marines."
(c)2022 The Citizens' Voice (Wilkes-Barre, Pa.)
Visit The Citizens' Voice (Wilkes-Barre, Pa.) at citizensvoice.com
Distributed by Tribune Content Agency, LLC.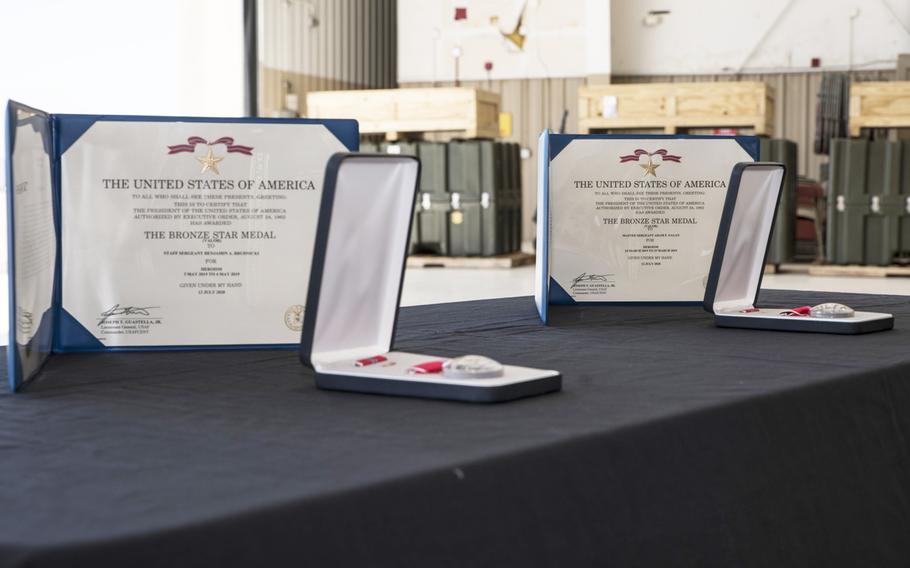 ---
---
---
---