Veterans groups in NM discuss banner solutions
By
The Santa Fe New Mexican
June 10, 2022
---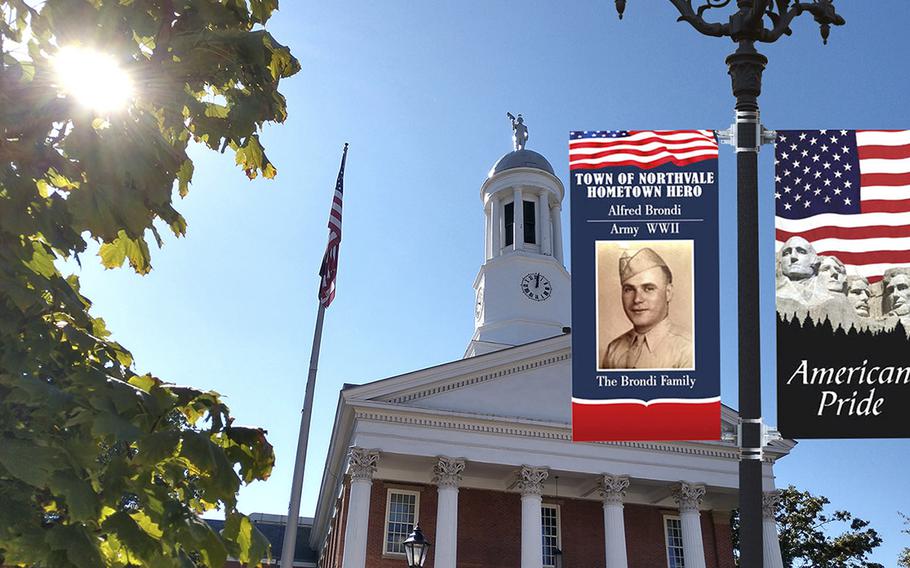 SANTA FE, N.M. (Tribune News Service) — Veterans and military advocates came away encouraged Thursday after a meeting with Santa Fe city leaders who laid out a plan on how to enable banners honoring veterans to fly in the city — an abrupt shift from earlier opposition officials had expressed.
The meeting, not open to the public, was held two days after city officials issued what appeared to be a definitive statement saying veterans banners would no longer be displayed on light poles because they're unsafe, especially in strong winds.
That decision came several months after the City Council voted to shift financial responsibility for installing the Hometown Heroes banners to a local American Legion post. The mayor argued at the time the original 2019 deal on the banners violated an anti-donation clause and could put the city on the hook to subsidize other community groups.
But veterans advocates said city officials seemed more open Thursday to finding a way to hang the banners as soon as possible, in contrast to a Tuesday meeting in which officials took a harder line against displaying them.
"I just hope that the city is being honest and upfront and sincere — and that they're willing to move forward to get these banners up," said Donald Christy, an Air Force veteran who spearheaded the local Hometown Heroes program. "I hope it's not just smoke."
The banners, which feature an image of a veteran's face, rank, branch and years of service, have been showcased in past years from Memorial Day to Veterans Day.
City Manager John Blair had told veterans groups Tuesday he supported the banners and wanted to pursue a solution, but they'd have to be placed somewhere other than Cerrillos Road.
The groups were skeptical of Blair expressing support after he stood firm on taking down the banners.
Christy said people left the meeting Thursday feeling more assured the city was aligned with the essential goal of raising the banners to pay tribute to veterans' service and sacrifice.
"There's more to it than a piece of plastic on a pole," Christy said.
In an email, city spokesman Dave Herndon said Blair, City Councilor Michael Garcia and Dorothy Seaton, who chairs the veterans advisory board, discussed with veteran leaders some options for getting the banners installed this summer.
"It was a productive meeting where the parties discussed the importance of these banners to the veterans' families and how this can be done in a safe manner," Herndon wrote. "While there's still work to be done by a number of parties, we're hopeful that we'll come to a final resolution soon."
Terry Becker, adjutant for American Legion Post 12, said he was pleased to see city officials not only engaging in constructive dialogue but outlining a plan of action.
"I think everybody was quite surprised," Becker said.
The city will inquire with the state Transportation Department about liability concerns and why the agency deemed it safe several years ago to put the banners on roadside poles, Becker said.
They will weigh the agency's assessment against that of Hapco Pole Products, the manufacturer that claims it's unsafe to mount its banners on light poles along Cerrillos Road, he added.
City officials also will talk to Public Service Company of New Mexico about taking down the banners from the light poles, Becker said. And the city will conduct a study to identify safe places to display the banners.
At the same time, the city will work with veterans groups and those who have paid $156 to have a loved one memorialized in a banner.
The conflict over the longtime banner program derailed efforts to mount roughly 325 banners before Memorial Day.
City Councilor Signe Lindell said in a council meeting PNM said it would donate the time and staff to hang the banners this year.
Though PNM work crews began installations in May, the project was stopped when a lineman raised safety concerns about putting three banners on each light pole. If high winds turned those banners into sails, there could be enough force do dislodge the poles, according to a PNM spokesman.
As a result, only about 20 of the banners went up before Memorial Day
Many cities around the country have similar Hometown Heroes programs that request donations to pay for creating and installing the banners.
Given how widespread the programs are, Christy said, it is baffling the city considered scrapping the local one over concerns about legality and safety.
He added, "We can't be the only city that says, 'Oh, they're unsafe.' "
(c)2022 The Santa Fe New Mexican (Santa Fe, N.M.)
Visit The Santa Fe New Mexican at www.santafenewmexican.com
Distributed by Tribune Content Agency, LLC.
---
---
---
---