More than 100 women veterans from Florida take part in all-female Honor Flight
By
Stars and Stripes
June 1, 2022
---
WASHINGTON — It took almost three years to make happen, but 109 women veterans from Florida were finally able to visit the nation's capital and see memorials that honor those who served.
"I think they've been overlooked for a long time, and we found on past Honor Flights, we've had very, very few females apply," said Liza Diana Walters, Honor Flight Villages' flight director. "We take at the most, a couple per flight, so I hope that this will raise awareness for the female vets and encourage them to come on Honor Flights."
The Honor Flight network is an organization that flies veterans to visit memorials in Washington, D.C., free of charge. For Honor Flight Villages in Florida, it was the first time the organization flew an all-female Honor Flight.
Walters said the Tri-County Women Veterans approached Honor Flight Villages in 2019 to ask whether the group would organize an all-female flight.
The group had been scheduled to visit in May 2020, but the coronavirus pandemic caused the Honor Flights to shut down for two years. Now that the all-female flight has come to fruition, Walters said they hope it will draw attention to the contributions of women veterans.
On the Honor Flight's first day in Washington, the veterans toured the Navy Museum as their first stop. Later, they visited the World War II Memorial and the Lincoln Memorial.
Connie Plotkin, 74, joined the Air Force in 1969 as a medical technician. She served five years and attended nursing school. She then commissioned into the Army Reserve in 1984 and retired in 2008.
"I had to get out because I was of age," Plotkin said of her time in the service. "I was 60, so they made me get out. But I love my military career. It was the highlight of my life."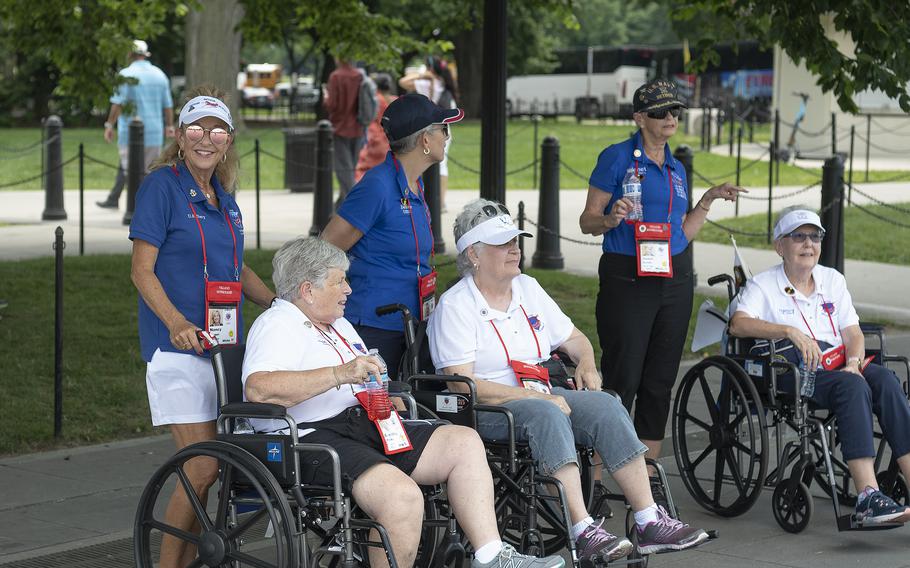 She served in Saudi Arabia during the Gulf War in the early 1990s and later Operation Iraqi Freedom. She also met her husband during her time in the service. They'll celebrate their 30th wedding anniversary this year.
"It's been very emotional today, coming in and having people clap for you," Plotkin said of her Honor Flight visit to Washington. "It's just unbelievable. I served in Vietnam, and at that time, it wasn't the same as it is now. It's been a long time coming. It really feels good."
On Wednesday, their tour of the city's memorials will include the Military Women's Memorial at Arlington National Cemetery. The museum reopened May 27 after a six-month partial renovation.
Nancy Atkinson, 80, joined the Navy in 1972, serving 14 years on active duty and 14 years with the Reserve.
"I had been a civilian nurse for quite some time," she said. "I felt like I was going nowhere, and I was really impressed with the military because I worked as a civilian nurse in a military hospital. And when they allowed you to come in with a dependent child, I signed up."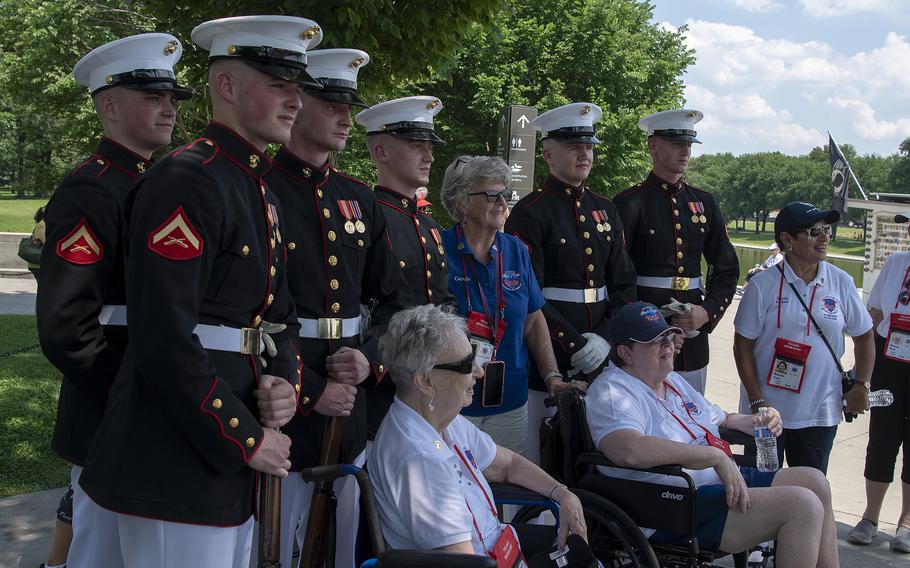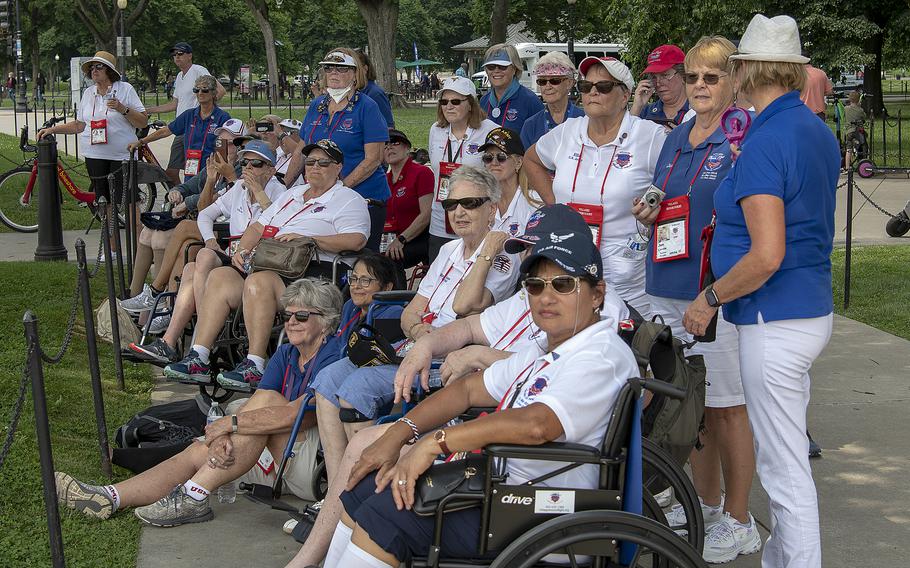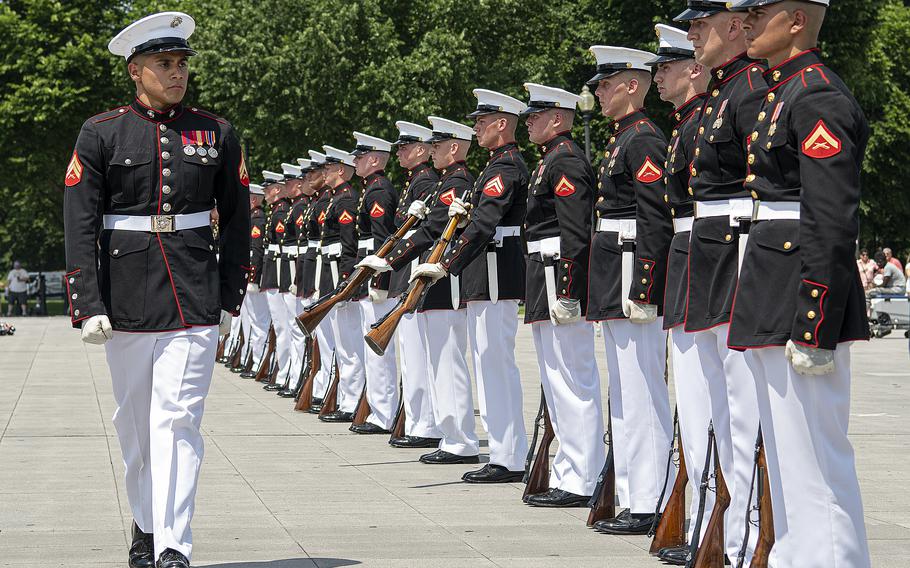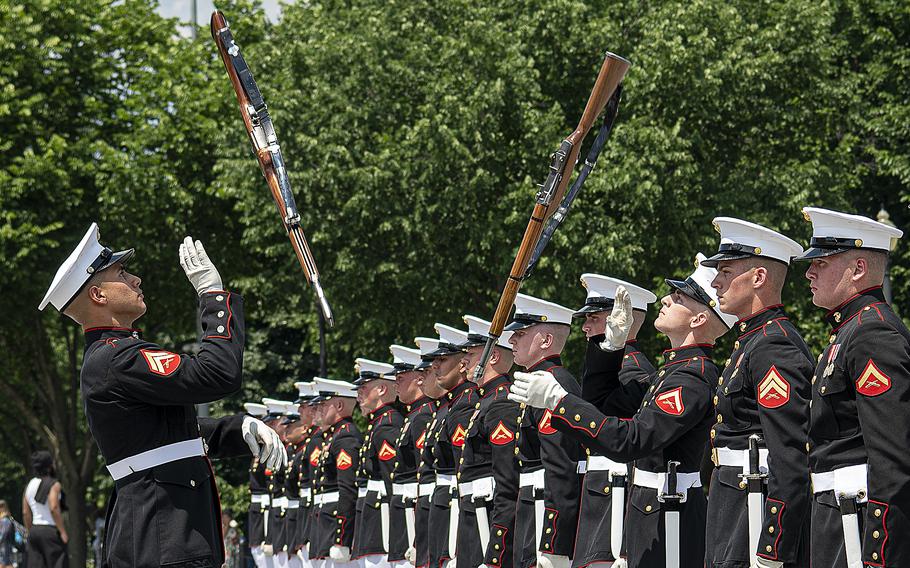 Atkinson said she never thought she would be part of an Honor Flight.
"I haven't been with this women's veterans group that long, and they included me in everything and really encouraged me to go, and so it's been a wonderful two days," she said.
Gloria Corbet, 82, served in the Army from 1965 to 1985, working with computers. Her favorite memory from her service was shocking her father when she told him that she joined the Army.
"I said, 'I never had a red light over my door before, I'm not going to have one now,' " Corbet said. "You don't have to worry about anything. But he was in the second World War. He thought all the women were red-light girls."
When Dixie Thalwitzer, 81, graduated high school, she knew she was going to join the Air Force, she said. When she first joined, she worked as a communications and teletype operator.
Thalwitzer left the service after she married but reenlisted in the 1980s. By that time, her kids had grown up and she attended nursing school. She worked as a medevac nurse and officer in the Air Force and was in a squadron that flew C-141 and C-130 cargo aircraft.
"I'm very honored to be asked to come [on the Honor Flight]," Thalwitzer said. "We're all female veterans, and it's really special to be recognized."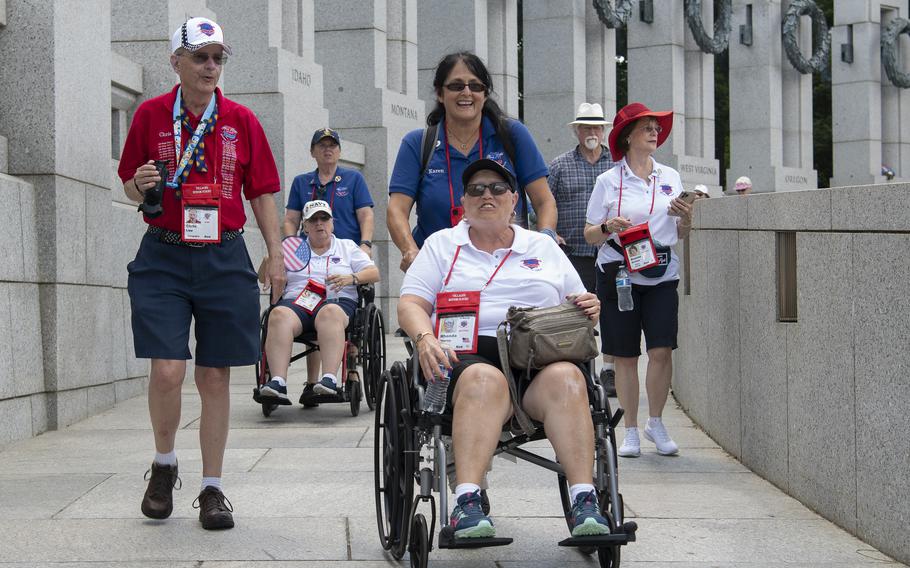 ---
---
---
---