Navy fighter pilot, once a POW in Vietnam, to be honored for his service
By
The News & Observer
May 30, 2022
---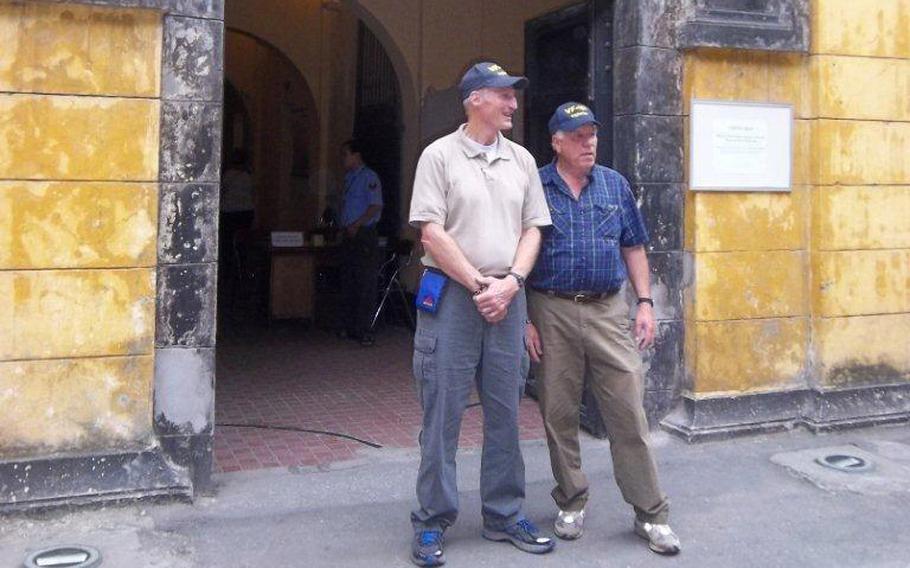 (Tribune News Service) — Capt. Ted Triebel was there to honor a friend — Warren William Boles, a junior grade lieutenant in the U.S. Navy known to most as simply "Bill."
"I'm wearing this flight suit today, because this was the same type of flight suit Bill was wearing when he was killed on January the 18th, 1968, flying an F-4 Phantom on a combat mission over the Gulf of Tonkin," Triebel said at a Monday morning ceremony at the Orange County Veterans Memorial.
Both Triebel and Boles were naval fighter pilots, aviators like those depicted in the "Top Gun" movie franchise — which Triebel has plans to see in theaters Monday afternoon.
The sunny morning event was attended by a crowd of about 100, many of them veterans, recognizable if not by the hats and vests worn marking their service, by their rigid salute as the American flag was raised to half staff.
In less than a week's time, Triebel will be inducted into the Military Hall of Firsts on June 4, North Carolina Military Appreciation Day.
Triebel, who lives in northern Orange County, and seven others will form the inaugural class, to be recognized in a display at the Museum of History in downtown Raleigh.
Writing to a widow after a dark stormy night
Triebel and Boles first met at the U.S. Naval Academy in Maryland, where they were on the crew team together.
"He was outgoing but I want to say that he was also a humble man, a humble fellow," Triebel said. "Charismatic, bright smile and very talented at pulling an oar."
Both became aviators, reuniting on a deployment to North Vietnam amid the war.
"It was a dangerous time. The SAM, surface-to-air missiles were flying the triple-A anti-aircraft was active. Planes were getting shot down," Triebel recounted.
The night Boles died at the age of 28 was dark and stormy. Triebel was also airborne, on another mission with a shared radiofrequency.
Boles was given orders to dip below the clouds to check something out when he lost contact with the ship and crashed into the gulf at high speed, Triebel said.
"I came back that night, landed on the aircraft carrier and sat down to write his wife Susan, who I got to know fairly well. And I wrote, 'Dear Susan,'" Triebel paused for a long time. "And that was about it."
The words eluded him.
"I ended up saying 'I loved Bill.' Period. folded it up, put it in the envelope and mailed it the next day," he said.
More than 58,000 American soldiers died in the Vietnam War, most the same year as Boles, according to statistics in the National Archives.
From prisoner of war to chief of staff
Triebel was captured later in the war when his plane was shot down over northern Vietnam, spending 214 days as a prisoner of war in the same prison where John McCain was once held.
"Many thoughts took form and perspective while I was in solitary confinement and confronted with the unknown," Triebel said in an interview with Chapel Hill/Orange County Visitors Bureau. "One thing I came to comprehend fully was the meaning of freedom. We Americans experience it daily, many people do not. Freedom is the lifeblood of human society. It deserves our commitment to its eternal preservation."
His final assignment before his 1993 retirement was a yearlong stint as Chief of Staff of the U.S. Naval Academy.
Triebel returned to Vietnam in 2012 to reunite with former enemies, including some of his captors from 1972, propelled by a curiosity.
"They weren't happy to see us the first time and we didn't know how they would react the second time, 40 years later," he told the Visitors Bureau. "But we talked and found a common thread. We were parents, we wanted to see our children thrive, we wanted to be part of the solution in life, not the problem."
Orange County Commissioner Renee Price was one of several local officials who attended Monday's ceremony.
"May you continue to find the strength and the will to march forward in life. And maybe remember to speak the names of fallen service members, so they never are forgotten," she addressed the crowd.
©2022 Raleigh News & Observer.
Visit newsobserver.com.
Distributed by Tribune Content Agency, LLC.
---
---
---
---