Poppy wall helps visitors deepen understanding of sacrifice on Memorial Day
By
Stars and Stripes
May 28, 2022
---
WASHINGTON, D.C. — "Staggering!" one visitor said Saturday as she walked around the USAA Poppy Wall of Honor.
A poppy for every American killed in combat since World War I, was the main theme of the wall. More than 645,000 poppy flowers made of fabric were encased on one side of the wall making for a display to visually demonstrate the cost of war and the magnitude of the sacrifices made by America's war fighters.
"It's incredible," said Air Force veteran Jim Hilderbrand who was viewing the 133-foot-long exhibit on Saturday after he arrived in D.C. as part of a motorcycle group called Run for the Wall. The group tries to raise awareness for prisoners of war and those listed as missing in action.
"We ride for those who can't," said Hilderbrand who served in the military for 6 ½ years — part of that time working on B-52 bombers and KC-135s at U-Tapao near Bangkok, Thailand, during the Vietnam War.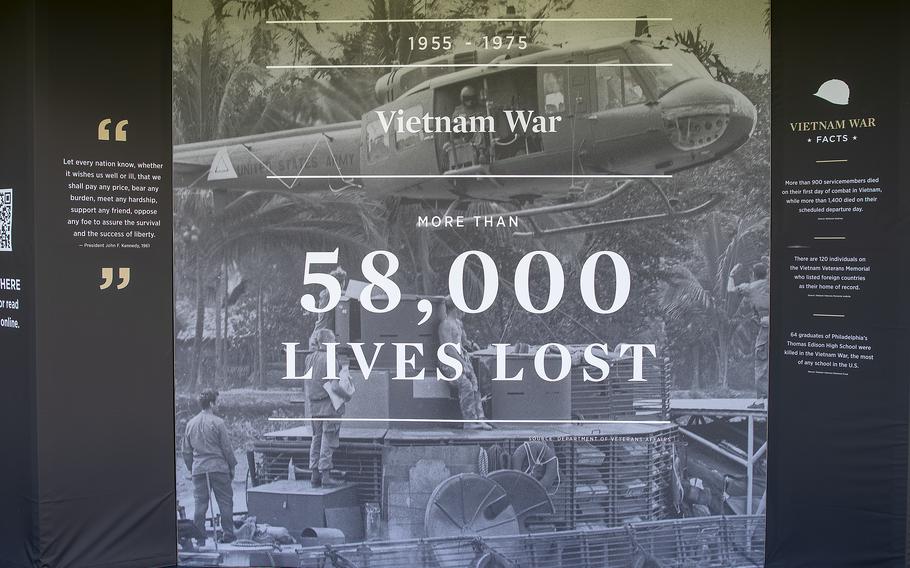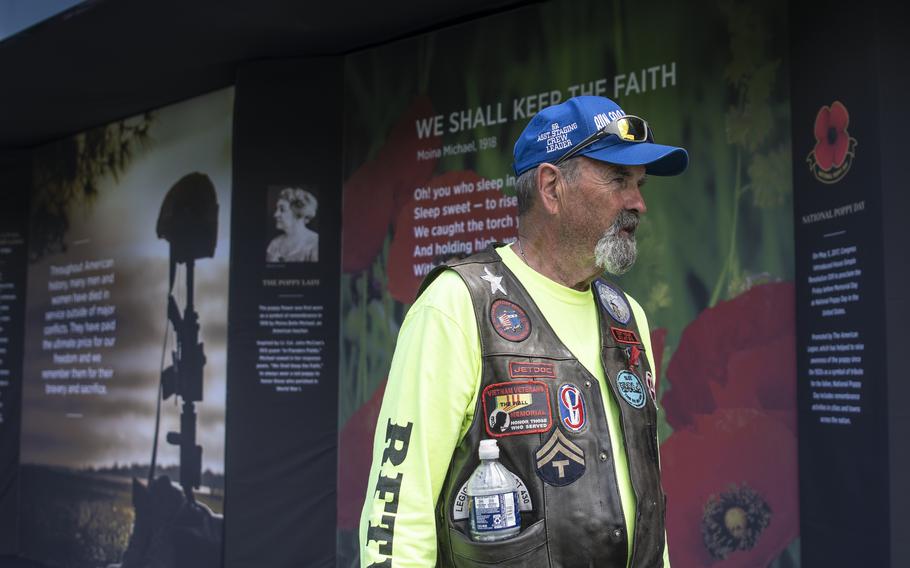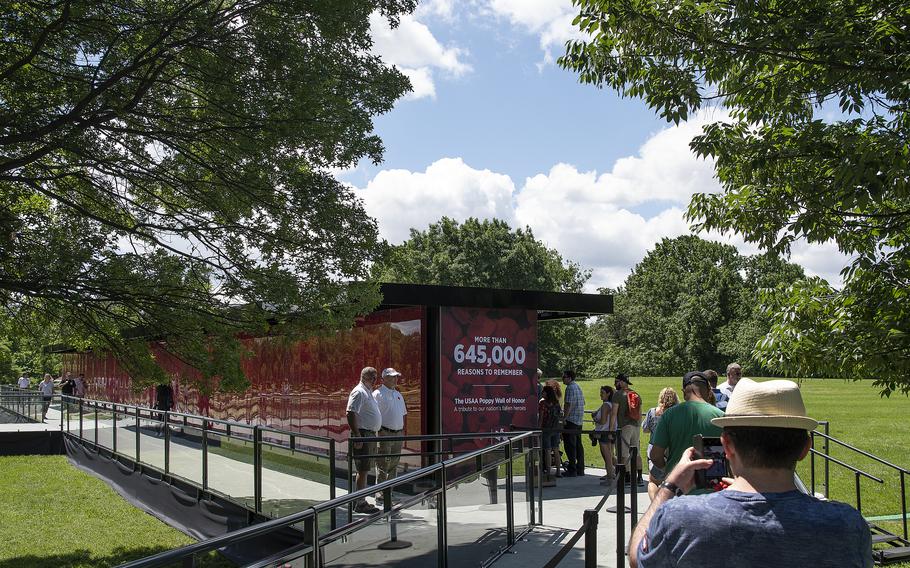 On the ride out from California, he was given a biographical sketch of a person listed on the Vietnam Veterans Memorial wall. "I taped it to my motorcycle, and when I got here, I placed it at his panel where his name is. And that completes my mission."
After that mission, Hilderbrand made his way a short distance to the poppy wall. He said words can't describe the feelings he has walking through all the memorials, especially the Vietnam Veterans wall, every year when Memorial Day rolls around. "It's healing," he said.
The first couple of years he made the cross-country ride, Hilderbrand said he always "lost it" emotionally, and he had to be sure he had a buddy with him. But it's getting easier, he said, and he's always emotionally uplifted when he sees the support of people across the nation who line the streets and overpasses to cheer on his motorcycle group. It's a far cry from what happened when service members came home from overseas assignments during the Vietnam War. "Everybody knows what happened when we came home …  You weren't greeted with open arms. You couldn't wear your uniforms around. You were worse than a felon."
Hilderbrand said he appreciated his time at the poppy wall, learning about the history of the poppy as a symbol of those who die in war. He was also taken aback by the sheer number of people who lost their lives in combat, as portrayed on the exhibit's panels.
On the opposite side of the wall from where the poppies were encased, a series of panels gave brief factual accounts on each of the wars. One panel explained how the red poppy became the symbol of remembrance for those who died defending freedom since World War I. Another panel told the story of Canadian doctor Lt. Col John McCrae who penned the poem "In Flanders Field," in which McCrae describes poppies in the fields where many of his comrades were lying dead.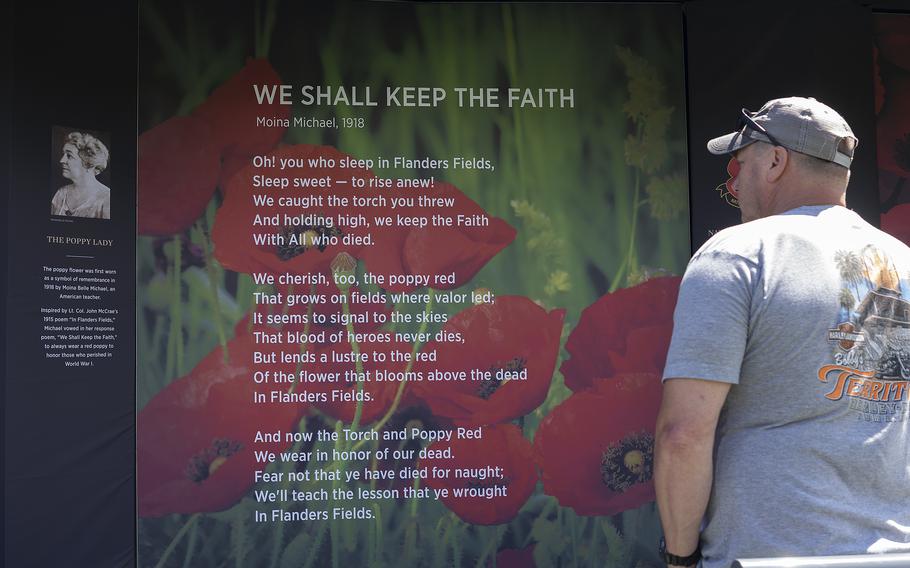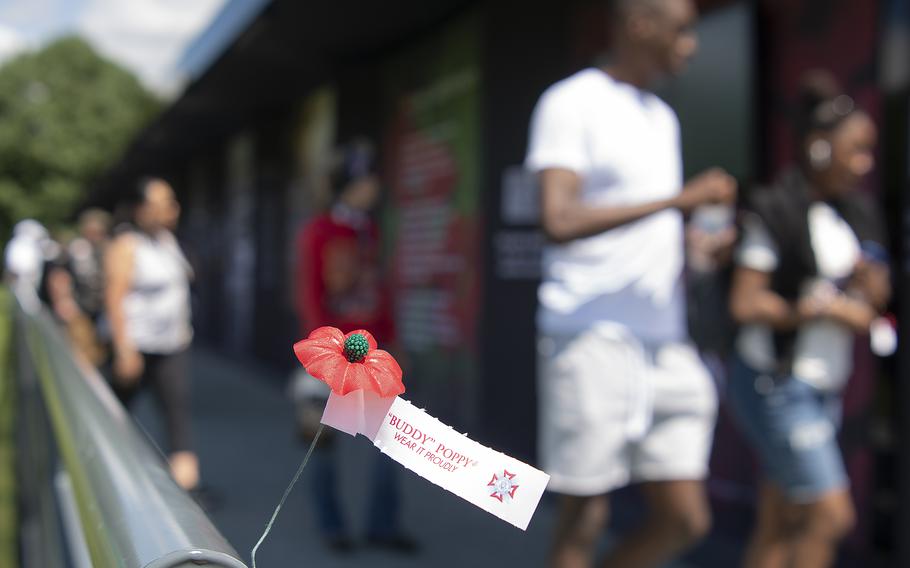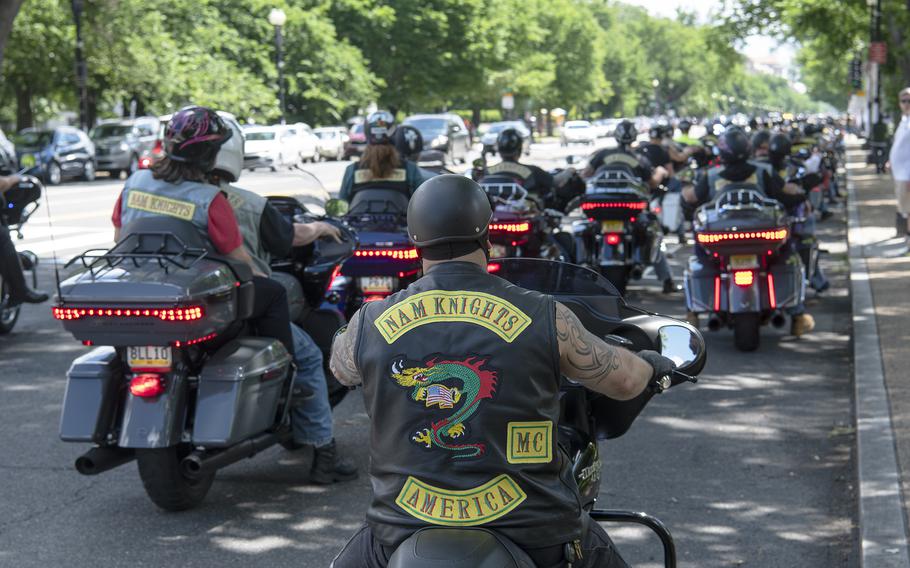 Retired Army Reserve Lt. Col. Charles Restivo was on hand as a volunteer for USAA, where he works as a technical project manager. Restivo said he volunteered to be a part of the poppy display in D.C. because he wanted to get "further engaged in understanding what Memorial Day is about." It's eye-opening, Restivo says, seeing how many lives have been lost in the conflicts, but he said another important aspect of having the exhibit on the National Mall during the Memorial Day weekend is the opportunity veterans have to connect with each other.
"Some of them don't give their story away very easily," Restivo said. "And this, I think, allows them … With a lot of us being veterans, we can relate." Restivo recently chatted with a veteran who passed through the exhibit and told him about how she had been blown up in a mortar attack. "She described herself as Humpty Dumpty being put back together again … She was very happy to talk, and I was glad to help accommodate her, and, I'll say, help ease some of her pain. She told me she still has flashbacks."
As Restivo finished speaking, the thunderous sound of thousands of motorcycles could be heard heading down Constitution Avenue about a block away from the exhibit. After parking their vehicles, the riders were directed by D.C. police officers to the Vietnam Veterans Memorial wall. Their walking route led right past the poppy wall, which was about to get very busy.
---
---
---
---