A Kansas veteran's house was condemned after a fire; now volunteers may save it
By
The Wichita Eagle
May 16, 2022
---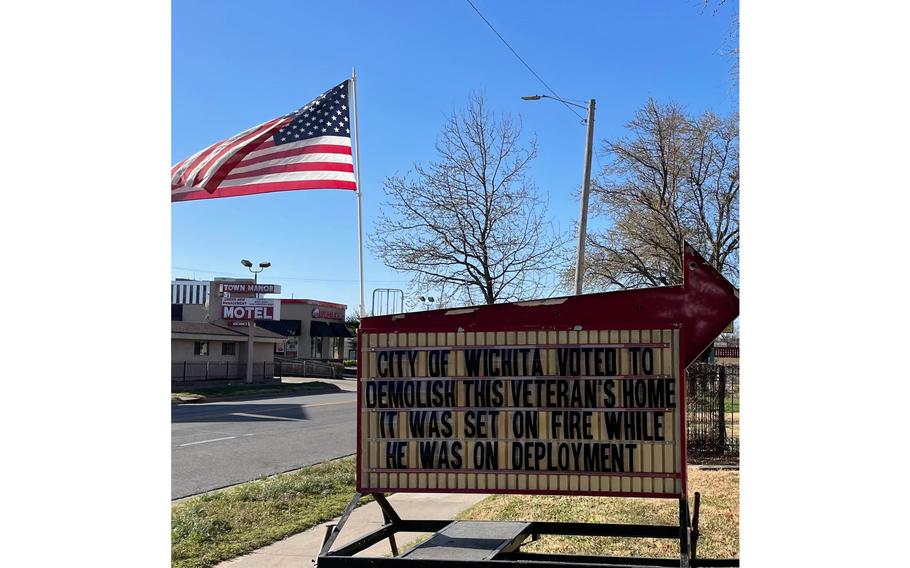 WICHITA, Kan. (Tribune News Service) — Kansas National Guardsman Don "Rhino" Lobmeyer had a plan for his north Broadway property before the fire. He wanted to convert it into apartments for homeless veterans.
He envisioned it as a place for struggling servicemen and women to break cycles of isolation, depression and substance abuse.
Helping others has become a way of life for Lobmeyer, a recipient of the Military Outstanding Volunteer Service Medal for his charity work raising money for orphanages while stationed in east African Djibouti.
But the white two-story Victorian house caught fire in February 2019, a month before Lobmeyer returned from his third deployment in Kuwait.
As he recovered from a torn rotator cuff and came to terms with a new diagnosis of attention deficit/hyperactivity disorder or ADHD at age 51, Lobmeyer struggled to navigate the city's processes for pulling repair work permits.
Deadlines came and went. Assistance programs fell through. Lobmeyer began to lose hope that the house could be salvaged.
Then, on April 5, more than three years after the fire, the city of Wichita condemned the property.
In many cases, that would be the end of the story. But not this time. A support system of veterans and volunteers is rallying behind the soldier in an effort to save his house from the bulldozers.
'Where's my help?'
At the time of the blaze, the north Broadway property stood empty. His wife and children had already moved to another Wichita home before the fire.
Lobmeyer was sent to recover at Fort Riley's Warrior Transition Unit after returning from Kuwait, where he had racked up 1,300 volunteer hours during his seven-month deployment.
He made the two-hour trek from the Flint Hills back to Wichita to assess his property in March. According to the city, the house had sustained $50,000 of damage and needed immediate structural repairs.
But Lobmeyer was still rehabilitating his shoulder injury and was eager to spend quality time with his family, especially his 2-year-old granddaughter.
"I've been gone for a year, and so I need to spend time with the family. This can be taken care of later," Lobmeyer said. "I can work on this and that. Everything's secured so I don't have to worry too much about that."
Lobmeyer was nominated for a roof replacement but didn't qualify because he was still on active duty. He applied for a $10,000 interest-free loan through the Army Emergency Relief Fund but was told he didn't qualify because he had less than 30 days left on his active duty orders.
"That was kind of a kick in the pants," Lobmeyer said.
"Where's my help? Where do I get help from?"
Months turned into years without structural repairs being done to the house. On April 5, the day the city council voted to condemn, Lobmeyer received a notice from the Metropolitan Area Building and Construction Department that he had 10 days to remove all personal property and furniture from the house before demolition began.
Calling off the bulldozers
Frustrated and unsure where to turn, Lobmeyer placed a yard sign in front of the house with this message: "City of Wichita voted to demolish this veteran's home. It was set on fire while on his 3rd deployment."
Next to it, he hung an American flag — upside down.
"I thought well, I'm going to change it up a little bit," Lobmeyer said.
"I'm going to hang the flag upside down because I've seen that done before. Traditionally, the American flag should never be hung upside down except as a signal of dire distress in instances of extreme danger to life or property."
Overnight, someone came by the property and set the flag on fire, further damaging a military uniform on display next to the sign that had been singed in the initial blaze.
But the sign got people's attention. On April 12, the city council reversed course, calling off the bulldozers and giving Lobmeyer another 60 days to demonstrate that progress had been made toward rehabilitating the house.
City Council Member Maggie Ballard connected Lobmeyer with Tony Clark, a childhood friend and former Marine who owns a contracting company in Wichita. Clark volunteered to make structural repairs for free.
"I'm a combat vet the same as he is, and I'm in a position now in life where I can help people out," Clark said.
"I'm going to go line for line on the city's structural engineer fire damage report. Really, what the city wants is they want the structure to be safe, so they're going to let me pull the permit and then me and my guys are going to take care of the structural items."
Star Lumber has agreed to donate the lumber for structural repairs.
Clark said once his team gets to work, he doesn't expect it to take more than two or three days to make the house safe for volunteers who can help with cosmetic work, including drywall and flooring.
"They've donated the resources and time and put a plan together," MABCD Director Chris Labrum said. "Right now, they have a permit, so if they can execute the plan at this point, then we can get the structure back to a safe condition."
Labrum said he waived Clark's fee for pulling the repair permit, a perk the department usually reserves for Habitat for Humanity, Mennonite Housing and other nonprofits.
"For the first time in several years of history with this property, we do actually have some momentum," Labrum said.
"We would hate to tear down a cool old house like that."
Ballard said work on the house was tentatively set to begin on Monday, May 16.
"We're not done yet but it looks like things are really looking positive, and I'm really excited to see what partners Tony's able to bring that are willing to help this gentleman out," Ballard said. "Hopefully we can kind of pull it all together."
Lobmeyer has set up a GoFundMe campaign and is hoping to raise $25,000 for building materials he'll need for the inside of the house.
He said he's grateful for Clark's help and heartened by the outpouring of support he's received since putting out his yard sign.
"I've got something going and now people are behind me," Lobmeyer said.
"There's a lot more hope."
'Anything that you need, Don's going to do it'
Lobmeyer spent several years in the foster care system growing up. He said his mother was an addict and his father spent time in a state hospital after being diagnosed with bipolar disorder.
Lobmeyer worked hard and didn't let his troubled upbringing hold him back. It was in high school that he acquired the nickname that's stuck with him in the decades since — "Rhino."
"The nickname is just the way I went through life," Lobmeyer said.
"I didn't let things get in my way and let things bother me. Being thick-skinned — it fits pretty well with everything I do."
At 18, Lobmeyer joined the National Guard. He was deployed to Iraq in 2005, where he spent a year as a mechanic and infantryman. While in Iraq, Lobmeyer said he rode more than 4,000 miles on his bike, including 100 miles in suffocating 110-plus-degree weather for an event supporting the Montel Williams Multiple Sclerosis Foundation.
On his deployment to Djibouti from 2010 to 2011, Lobmeyer taught English at a night school to civilians and members of the Djibouti Armed Forces. He rode his bike to raise money for an orphanage where he played soccer with the children.
"That helps with that dopamine feeling in the brain when you're able to help others," Lobmeyer said. "It's one way of my coping with things."
Ashley King owns Sojourner's Coffee House, a nonprofit organization that aims to provide a support system for veterans and their families. King has gotten to know Lobmeyer over the last year and said no one is more deserving of a little help from the community.
"Don definitely is someone to just give of himself," King said.
"Anything that you need, Don's going to do it or give it or whatever he has. It's just him."
Lobmeyer routinely participates in "polar plunges" to raise money for the Special Olympics, wading into 45-degree water while wearing a Kansas City Chiefs-themed Santa costume with "Maho-ho-homes" printed on the back.
He's continued riding his bike long-distance for charity, too, oftentimes pulling a six-foot inflatable rhino behind him with signs to raise funds and awareness.
"I did a lot of riding every place I went," he said. "I'm fortunate that, looking back on it, that's what probably saved me from a lot of mental issues — riding a lot. Because even in Iraq, I rode."
Support system
But when he returned from Kuwait, Lobmeyer said, the mental toll of service was catching up to him.
"I went through counseling for other things and nobody could pinpoint why I was struggling with certain things all the time," Lobmeyer said. "You learn how to cope with a lot of things. Being active, doing things like that, eating properly and all that, it made things where you know you could slide under the radar."
He said his ADHD diagnosis has empowered him to better understand the way his brain works.
"[With ADHD] the emotional part of your brain can't differentiate between small, medium and big problems," Lobmeyer said. "So your brain's not allowing you to focus on those things or to realize there's a big problem over here you've got to take care of and you're over here trying to do something small. Or where I'm out helping everybody else out with their stuff and not taking care of what I need to do."
Lobmeyer said support systems such as Sojourner's can help make life less isolating for veterans processing their own trauma.
"Some of the guys are from Vietnam, Korea and World War II. Of course some of them are Iraqi guys, vets, and Afghanistan," he said. "You just talk about things, different stuff. Some have opened up and helped heal and stuff, where they've been able to finally get some help in a way that they've never been able to otherwise."
Lobmeyer said he hopes to enlist fellow veterans who are willing to help with cosmetic repairs once his house is deemed safe to work in.
Ultimately, his goal remains unchanged — to give back by turning the property into apartments for homeless veterans.
(c)2022 The Wichita Eagle (Wichita, Kan.)
Visit The Wichita Eagle (Wichita, Kan.) at www.kansas.com
Distributed by Tribune Content Agency, LLC.
---
---
---
---