Governor hopes settlement brings closure, but many Holyoke Soldiers' Home veterans don't see it that way
By
masslive.com
May 15, 2022
---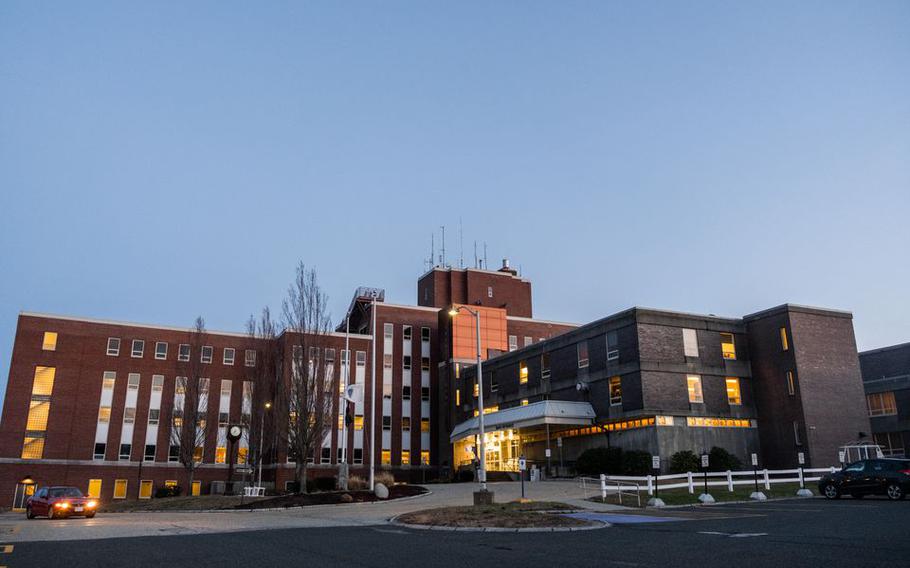 Stars and Stripes is making stories on the coronavirus pandemic available free of charge. See more stories here. Sign up for our daily coronavirus newsletter here. Please support our journalism with a subscription.
HOLYOKE, Mass. (Tribune News Service) — Erin Schadel's father's mental state is in decline.
U.S. Army veteran Francis "Skip" Hennessy lived through the disastrous COVID-19 pandemic at the Soldiers' Home in Holyoke and will live to see the age of 84, his daughter surmises. While his advancing dementia occasionally prevents him from recognizing her behind the masks that visitors are still required to wear to the facility, he still remembers the pall of death during the coronavirus outbreak of 2020.
"Not four," he'll say, referring to the floor where he lived at the Soldiers' Home during that time.
"No, dad. Not four. Never four again," Schadel responds as she guides him to the elevator.
Schadel acknowledges her father was one of the "lucky ones" who contracted the virus but survived.
To that end, Hennessy, a retired maintenance director at the Hampden County Juvenile Court, will receive a modest payout from the $56 million civil settlement reached this week for 168 plaintiffs who sued the state in federal court over the fallout from the outbreak. Eighty-four veterans died, and dozens more residents of the home were sickened, but recovered partially or fully.
The class action lawsuit carved out two sets of plaintiffs: those who contracted COVID-19 and perished before June 23, 2020, and those who were sickened but survived. Coincidentally, the second class also numbers 84, according to two Northampton attorneys who filed the lawsuit in U.S. District Court in Springfield two years ago. Surviving family members of the first class will receive an average of $510,000 while members of the second will receive an average of $10,000 to $20,000, plaintiffs' lawyers Thomas Lesser and Michael Aleo said.
After the settlement became public during a court proceeding on Thursday morning, Gov. Charlie Baker released a prepared statement and spoke to news outlets, noting that he hoped the settlement provided "closure" for the families and veterans affected by the tragedy that shone a light on poor management and a long history of missteps at the state-run home.
Schadel — whose father will fall into the second class — found Baker's remarks offensive, and admits she remains bitter over state officials' response to the outbreak at the Soldiers' Home.
"For my family it doesn't do much of anything really. I hope the governor is not expecting a big thank you," said Schadel, of Holyoke. "Money is the way that politicians try to make things go away."
While Schadel acknowledges she is "blessed" to still have her father, she is affronted on behalf of all veterans of the home and their families by Baker's failure to visit the home over the past two years.
"I've considered showing up at one of his public events at (the University of Massachusetts Amherst) or the Student Prince in Springfield with a sign that reads: 'Do you need directions to the Holyoke Soldiers' Home?" she said.
Schadel has not yet done it, but admits she still occasionally scans Baker's public calendar.
Laurie Mandeville Beaudette lost her father, U.S. Navy veteran James Mandeville, on April 14, 2020. After a bad fall years earlier, Beaudette struggled to care for him on her own, trying to keep up his routine of daily trips to the grocery store while she raised young children and helped him stay in his own home. But one day, he handed her the keys to his door and informed her he was moving to the Soldiers' Home.
It was a bit of a relief. And, Mandeville was happy there.
Beaudette still visited her father frequently and kept up their tradition of playing poker. His not terribly-above-board style of trying to get one over on her earned him the nickname "cheater beater," Beaudette says.
You can hear a grin in her voice when she says it. But, the humor fades when she talks about her father's final days when he became ill in early April 2020.
He did not initially test positive for the virus and was among a group of veterans presumed to be well who were moved out of the home to the maternity ward at Holyoke Medical Center transformed into an impromptu "veterans' wing." They tried to communicate virtually using FaceTime as the rest of the world was shut out, but his hearing loss made it nearly impossible.
She was able to visit one last time as Easter weekend approached. Beaudette briefly rescinded a "do not resuscitate" order she had in place. "There was no way my father was going to die without seeing him one last time," Beaudette recalled.
And she did, in full personal protection equipment armor. He died just before Easter Sunday. The news was, Beaudette said, "the worst phone call of my life."
While she welcomed the settlement as a tacit admission of some culpability by the state, Beaudette anticipates having to fill out a questionnaire required by the settlement and draft a lengthy victim impact statement with a sense of hollowness.
"I feel the settlement provides much needed acknowledgement from the commonwealth that they are taking responsibility for all the poor decisions made in the spring of 2020 that led to the deaths of my dad and the other veterans," she said. "It feels good that the state has taken responsibility after two very long, traumatic years."
While news of the settlement was, in a way, welcome, it also dredged up the grief of two years ago.
The Letourneau sisters, Nicole and Danielle, both of Greenfield, lost their father to the virus on April 11, 2020. They were the early days of the pandemic, but also the worst — filled with uncertainty and dread plus empty reassurances. U.S. Navy veteran Dean C. Letourneau had been living at the Soldiers' Home for four years as he struggled with dementia
"This is the kind of thing that brings you back to that initial loss, so it's kind of heavy to deal with," said Nicole Letourneau. "And I think it's universally true (that) no amount of money can make up for the loss of my father and the terrible shock of losing him the way that we did."
Dean Letourneau, 74 when he died, lost his wife 20 years earlier. While his dementia was progressing and he was "a different kind of father," he still recognized his daughters and Nicole Letourneau's two sons. The women believe there father was on a full-time "care unit" but do not think he was on one of the dementia units that were combined and believed to have spread the virus rapidly.
"We felt like he was safe there. The CNAs were wonderful. They really knew him. Everyone loved my father," Danielle Letourneau said.
As the crisis at the Soldiers' Home evolved from local to state and, then, to national news, the sisters were told their father had not been diagnosed with COVID-19 but still felt an urgency to get him out. On the other hand, the National Guard had arrived. It gave them a sense of optimism.
"We thought: do we just scoop him up and get him out of there? We had heard clergy was being allowed in to the facility. We didn't know what to do, but decided to trust them," Danielle Letourneau said.
The sisters received news that their father had died while no news had been delivered that he was sick, they said. They missed calls in the middle of the night, and answered a call in the early morning that he had passed away.
"We still thought he was going to be OK. Although he had dementia, he didn't have any of the underlying medical conditions that make the elderly more vulnerable to COVID. What we realized later was that his struggles with mobility because of his disease made him vulnerable. He was at their mercy," Nicole Letourneau said. She still is not entirely clear to which unit or room her father was moved in the thick of things, despite daily phone calls to the facility.
The women said they were only informed their father had died of coronavirus by the funeral director.
A cruel irony: their father, a longtime funeral director in Franklin County, had no traditional funeral because of the constraints of group gatherings during the pandemic.
"We're a funeral family. This is what Letourneaus do," Danielle Letourneau said. "We walk people through grief, answer the difficult questions with compassion. We didn't have any of that."
There was a last-minute, outdoor service for their father in the circular driveway at the home, at the crest of Cherry Street where the facility was built in the 1950s. Nicole arrived alone, reluctant to bring her husband and two young sons on short notice. Danielle arrived with her husband. There were few other attendees because of the climate as the pandemic began to crest and roads were nearly absent of traffic.
Baker called Nicole Letourneau's cell phone early one morning while they were on a family vacation in Hull that summer. She didn't have the bandwidth to take the call, still reeling with grief. He left a message with condolences, urging her to call his assistant back if she wanted to connect personally. She never did.
In terms of the settlement, Danielle Letourneau has had discussions with plaintiffs' attorneys, but neither has dived in to the paperwork yet.
"In some small way it sort of takes away that feeling that we could have done something different to help our father," Nicole Letourneau said. "What this settlement is, is holding people accountable."
Though there are two classes of plaintiffs with fairly specific parameters, there are also outliers mourning loved ones who died lingering deaths.
One such person is Cheryl Turgeon, whose father, Korean War Air Force veteran Dennis Thresher, died this January after receiving his first dose of the vaccine and escaping a COVID-19 diagnosis. However, her father developed other illnesses and injuries during the pandemic, Turgeon, of East Longmeadow, said. Because of a glut of staff who also became ill or stayed away during the pandemic, he developed pressure ulcers, an incredibly infected toe and required surgery. He never walked again after March 2020.
After his death, doctors discovered coronavirus antibodies in his blood. The virus must have gone undetected, Turgeon believes.
"He spent many months when that place became a hell hole. They call the Korean War the 'forgotten conflict?' My father is somewhat of the forgotten veterans in all this," she said.
©2022 Advance Local Media LLC.
Visit masslive.com.
Distributed by Tribune Content Agency, LLC.
---
---
---
---