Alabama veterans museum receives $1M
By
The News Courier
May 11, 2022
---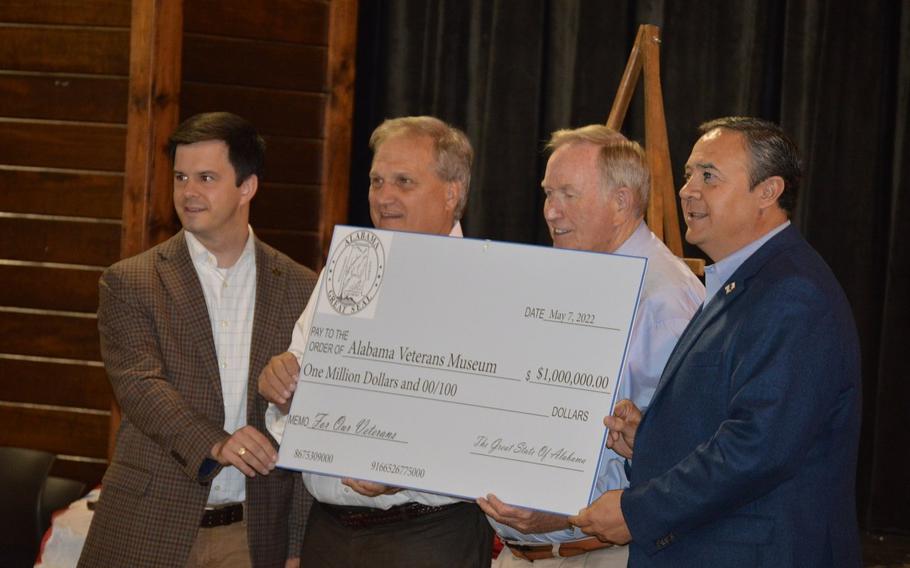 (Tribune News Service) — The Alabama Veterans Museum & Archives received a $1 million appropriation from Gov. Kay Ivey Saturday , May 7, at its May Coffee Call event. Members of the Limestone County state delegation were present to present the check to the museum.
"This place right here means a lot to each of us. Everyday, we need to be honoring our veterans — past present and future. That's what the delegation has been focused on. We met with Gov. Ivey, and she was very supportive of the grant we requested for Alabama Veterans Museum & Archives," Alabama Senator Tom Butler said.
Members of the delegation responsible for requesting the grant include Senator Butler, Senator Tim Melson, Senator Arthur Orr, District 6 Representative Andy Whitt, District 5 Representative Danny Crawford, District 2 Representative Lynn Greer, District 4 Representative Parker Moore and District 25 Representative Mac McCutcheon. Butler also thanked former Representative Tommy Carter.
Limestone County chairman Collin Daly thanked the delegation for their continued support of the Veterans Museum.
"This is a great day for this museum," he said. "This is something we are going to be proud of in Limestone County for future generations."
The $1 million appropriation will go toward several planned improvements at the museum.
"The money allows us to move into phase two. That includes hopefully buying the storage sheds out front and the little house to make a military park out there. That's our main goal. Of course, there's roof repairs, air conditioning repairs and other maintenance," museum director Sandy Thompson said.
Thompson said that the plan also includes removing the stage area in an effort to increase the size of the museum's event center.
"We are very excited," she said.
___
(c)2022 The News Courier (Athens, Ala.)
Visit The News Courier (Athens, Ala.) at enewscourier.com
Distributed by Tribune Content Agency, LLC.
---
---
---
---