North Carolina veterans enjoy warm welcome home after Honor Flight to DC
By
The High Point Enterprise
May 8, 2022
---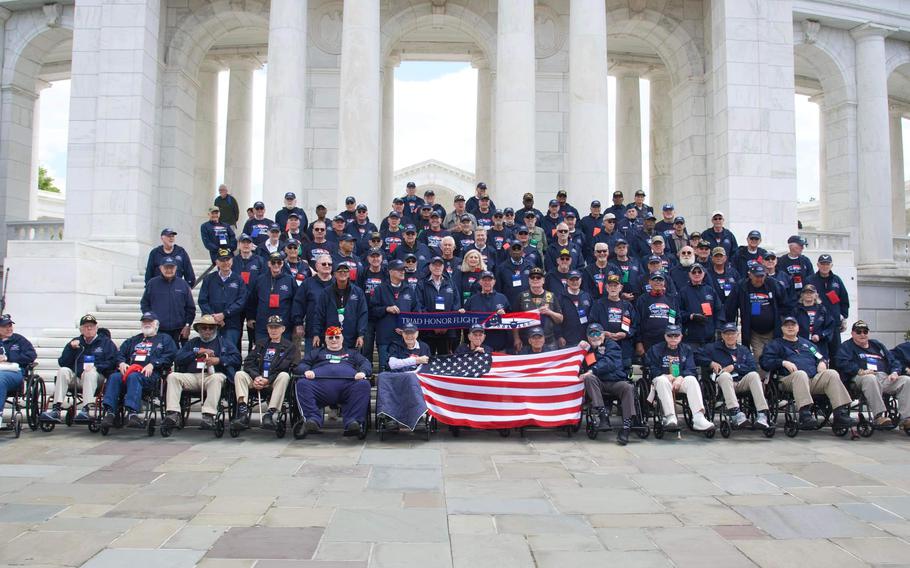 (Tribune News Service) — Fifty-four years after finishing his tour of duty in Vietnam, Darrell Freeman still remembers the wisdom of a sergeant who warned him he should wear civilian clothing for his return to the United States.
"There was that much animosity here," the 75-year-old Jamestown man recalls. "People were sick and tired and fed up with the Vietnam War."
And they were more than willing to heap that animosity on American military personnel as they were returning home from Vietnam. Darrell Freeman never forgot that.
But 10 days ago, when Freeman and nearly 100 other U.S. veterans aboard the Triad Honor Flight returned to Piedmont Triad International Airport — after a day of touring the nation's war memorials in Washington, D.C. — the welcome he received in the airport concourse moved him to tears.
"It was a crowd of people like I've never seen," he says. "We didn't get our welcome back home in the '60s, but we certainly got a welcome back that night. It was unbelievable."
The boisterous crowd — men and women, children of all ages, families, even a couple of motorcycle groups — lined the concourse, cheering, applauding, waving American flags, holding up signs of welcome and gratitude. It was loud, it was patriotic, and it was glorious.
And for many of the veterans, it was redemptive.
"As we were walking, I became very emotional," Freeman says. "And I think that was particularly true for the Vietnam veterans — we'd never really gotten that kind of welcome."
Ray Alcon, a Vietnam veteran from High Point, had the same reaction to the welcome at the airport.
"They went overboard making us feel special," says Alcon, who served with the Army in Vietnam from April 1968 to January 1970. "To me, that was probably the most emotional part of the whole trip. It made me feel appreciated, after the way we were treated coming back from 'Nam."
Freeman and Alcon couldn't help but contrast that April 27 welcome to the one veterans came home to after serving in Vietnam all those many years ago. The airport celebration, however, was merely the final leg of what had been a long, meaningful day for the veterans.
Nearly 60 Vietnam veterans flew on the Triad Honor Flight this time, along with nearly 25 Korean War veterans, close to a dozen Cold War veterans and even a 99-year-old World War II veteran. The goal for each of them was the same as it's always been for the Triad Honor Flights — to celebrate America's veterans by inviting them to share in a day of honor at our nation's memorials.
At least a dozen of the veterans on the April 27 flight were from the greater High Point area, including Freeman, who says he had seen all of the war memorials except one — the Vietnam Veterans Memorial.
The Wall.
"My wife (Deana) and I had gone to the memorials right before COVID hit, but we didn't go to the Vietnam Memorial," he says softly. "I wasn't ready for that."
Freeman, an Army veteran, served in Vietnam from March 1967 to March 1968. As a member of the Military Police Corps, he served on the security detail at the U.S. Embassy in Saigon, a pretty good gig compared to the soldiers out in the jungle.
"All was well until January 1968, the beginning of the Tet Offensive," Freeman says. "The embassy came under attack. I wasn't on duty at that time, but I would've been later. I lost two really good comrades that night."
That's why Freeman didn't go to the Vietnam Memorial with his wife — it was too emotional for him. This time, though, accompanied by his daughter, Kim Freeman — who served as his guardian for the trip — he vowed to go to the memorial and pay respect to his fallen comrades. And while he was there, he painfully told his daughter the story of the two MPs killed at the embassy.
"I had never heard that story," Kim says. "He told me there and cried. Rarely ever have I seen my dad cry."
It was a moment neither of them will ever forget, made possible by the Triad Honor Flight.
There were other highlights, too. Freeman spoke about the significance of being with other veterans, such as the 90-year-old Korean War veteran who sat beside him on the plane, and the trip's lone World War II veteran. Alcon reflected on seeing the Vietnam Memorial and the Tomb of the Unknown Soldier at Arlington National Cemetery.
"It was a great experience," Alcon said. "I would certainly recommend it to any veteran who gets a chance to go."
The next Triad Honor Flight will take place on Oct. 22. To apply for the flight, either as a veteran or a volunteer guardian, visit TriadHonorFlight.org.
(c)2022 The High Point Enterprise (High Point, N.C.)
Visit at www.hpenews.com
Distributed by Tribune Content Agency, LLC.
---
---
---
---