New York Army veteran walks across the US to raise funds for 3 nonprofits
By
Watertown Daily Times
April 28, 2022
---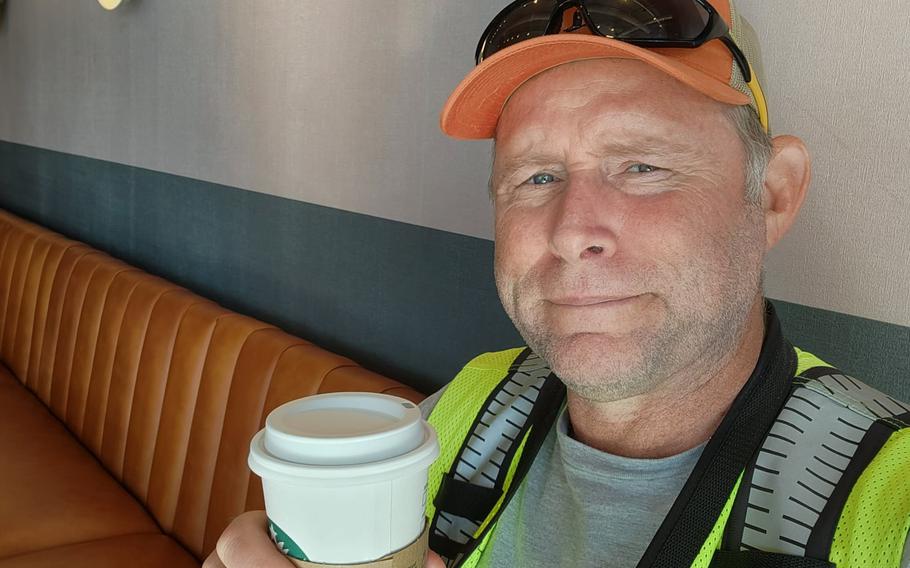 (Tribune News Service) — The U.S. Army taught Sackets Harbor, N.Y., resident Kenneth J. Mintz to be duty-bound and mission-focused.
On June 30, he retired from the service as a colonel after 34 years. He was an infantryman, with nine years stationed at Fort Drum. He took part in four deployments — three to Afghanistan and one to Iraq. As a battalion commander in Afghanistan, his unit lost 14 soldiers during a year of combat in Kandahar Province.
But he's lost more comrades to veteran suicide than to combat. Despite all the heartache, he misses the Army life and its camaraderie. He explained that in some ways, he believes his longing for it is a "curse."
"Perhaps I'll never be as good again, but I can still go forth and do great deeds," he said.
So, on April 1, Mintz, 53, arrived at the Lincoln Memorial in Washington, D.C., for his latest great deed: walking 3,000 miles across the U.S. to support three causes close to his heart. Tuesday was day 21 (with days off) of his Kenny Walks Across America benefit. He was reached by the Times on his cell phone early in the afternoon as he walked in Ohio — the day's destination was Cambridge. It was his first full day in the state.
He's taking the approximately 7-month journey one step at a time.
"To me, life is out in front of us and life's for living," he said. "And I don't want to really look back. I want to look forward. The journey here is part of that. Obviously, there's a lot of self-discovery that's going to come out of this, too. I don't really know what's going to happen. But it's been pretty amazing so far."
The wandering spirit came early to Mintz. He was 4 when his mom, then 23, decided to start a new life in California. His dad, he explained, was out of the picture. With no money and possessions, she drove from their home in Alexandria, Va., to San Diego. With no college degree, but with an excellent work ethic, his mom got a job as a receptionist for a defense contractor. He said after a few years, she was running the company, and eventually co-founded a new company. That, to Mintz, is the American Dream encapsulated.
"That's what sort of inspired this," Mintz said of his walk. "That journey she took, and the idea that she went out and made a new life for herself and me, with really nothing."
That journey especially resonated with him as he took care of his mom while she was dying of pancreatic cancer. She died in March 2020 following a five-year battle with the disease. Mr. Mintz's "daily confidant and mentor" was lost.
The causes
One of the three causes for which Mintz is raising funds is the Pancreatic Cancer Action Network. On Saturday, he plans to take part in a benefit Purple Stride walk in Columbus, Ohio. He did some special preparations for the walk on Monday in the area of appearances.
"My mom was a big supporter," he said. "I figured she wouldn't be real happy with me having a big old beard at that thing. So I decided to shave it off and mix it up a little bit."
Mintz is a graduate of West Point Military Academy, which recruited him from a southern California high school partially because of his prowess in football. The Johnny Mac Soldiers Fund, another cause he's walking for, began as a small effort by a group to help the family of a fallen 1986 West Point classmate. It transformed into a mission to help as many military families as possible.
According to its website, Johnny Mac Soldiers Fund was created in 2014 "to give back to those who gave — especially to those who gave their all, like Johnny Mac ... symbolic of all who have served and sacrificed."
Since 2014, the fund has awarded $25 million in scholarships to veterans and military family members. There are 3,500 Johnny Mac Scholars attending schools in the U.S.
Mintz's third cause is Operation Resiliency, which focuses on the mental health and well-being of veterans in order to prevent suicide and improve overall quality of life for them and their families.
Mintz said on Tuesday that he hadn't checked the totals for the money raised with Kenny Walks Across America in a couple of days, but at that point it was about $20,000.
"That's very encouraging to me," he said.
Motivated
On his westward trek, Mintz finds personal encouragement and motivation from the fantasy "Lord of the Rings" novels by J.R.R. Tolkien and related movies by Peter R. Jackson.
"Obviously, a big part of the story is the journey they're on," he said. "It's a difficult mission set before them. I think human beings in particular feel an affinity for this idea of a journey and a challenge, where you are going off to face the unknown. I've always loved the metaphor of a journey."
He recalled one particular scene in the third film/novel, when the Hobbits return to Middle Earth after saving it from destruction. At a tavern, they reflect upon their bonds of friendship. And, as they survey their community, they realize they would never fit in like they did before, being irrevocably changed by their struggles. When Mintz watches the scene, he also feels he's "a stranger among the Hobbits."
But as he walks these days on his own adventure, strangers have become friends. His plotted path is mostly through rural areas and small towns.
"By and large, people have been very friendly to me, particularly as I got into western Pennsylvania," he said. "People were buying me meals and hotel rooms and waiting for me on the side of the road as I walked to greet me because they heard about me."
Because of a "friend of a friend of a friend" who heard about Kenny's Walk Across America, he is supported by a van, which allows Mintz to keep a light personal load as he walks. Van drivers are arranged to shuttle it forward as a relay point on Mintz's march west.
"Occasionally, I have to find people to help shuttle the van — friends who are walking with me and things like that," Mintz said. "So far, that's been the exception, not the rule. This week, I have a driver all week. If I need him, I call him and he comes to me. That's sort of how it works."
Mintz has three daughters and a son, all in their 20s.
"I think they just expect me to do something like this and it doesn't surprise them much," he said. "It's like, 'So Dad is going to walk across America.' They're very blasé about it."
But they, and others, may have questions, such as how is Mintz, at the end of his walk, going to get back to his home in Sackets Harbor?
"I'm probably just going to fly back," he said. "But who knows what I'll do. I have seven months to figure that out."
To donate, visit Mintz's website at wdt.me/kenwalkbenefits. People may also donate at www.gofundme.com/f/kenny-walks-across-america.
Mintz's Facebook page has links to his route, maps and comments along the way, posted daily.
(c)2022 Watertown Daily Times (Watertown, N.Y.)
Visit Watertown Daily Times (Watertown, N.Y.) at www.watertowndailytimes.com
Distributed by Tribune Content Agency, LLC.
---
---
---
---