Colorado Navy veteran aims to build 24 gardens in 24 weeks
By
The Gazette
April 24, 2022
---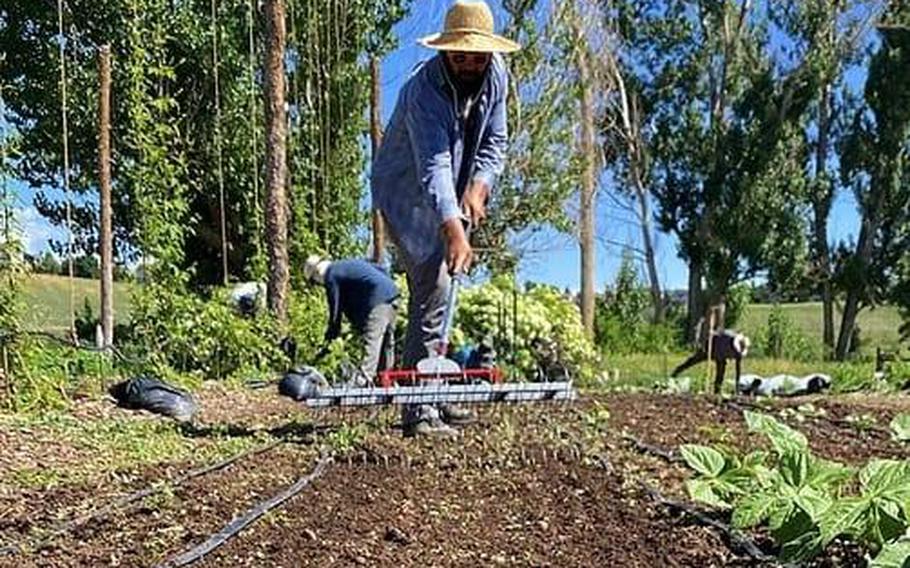 COLORADO SPRINGS, Colo. (Tribune News Service) — Not many kids from Hawaii can say they know how to snowboard.
And not many kids from Colorado Springs can say they grew up on a papaya farm.
Johnathan Siren's childhood years were split between two worlds, as the child of a Hawaiian mother and an Army dad who took the family to Fort Carson.
It's not a typical upbringing, one that takes some explaining.
"Did you ever see 'Johnny Tsunami?'" Siren asks, speaking of the 1999 Disney Channel movie about a Hawaiian surfer teen who suddenly had to move to Vermont and easily took to snowboarding. "That's kind of how it felt."
He even has the name. Everyone calls him Johnny.
These roots led Siren to enlist in the Navy as a 20-year-old who found himself without a job and with a broken-down car.
"I saw three options on one corner," Siren said. "Taco Bell. Arby's. And a recruitment center."
These roots are also why, from a young age, he appreciated where food came from. Living half of the year on his grandfather's farm, Siren would help raise papayas, bananas and guava.
When the Navy took him to Naples, Italy, Siren spent his free time checking out local restaurants. That time was also reserved for traveling, which allowed Siren to try local dishes from several countries.
"Food was the common thread," he said. "The only reason I traveled on my time off was to taste different cuisines."
Food was still a small part of his life, which contained many parts.
After nearly nine years of military service, Siren wasn't done. It was time to "chase danger for the dopamine hits," he said.
Siren began volunteering with the nonprofit Team Rubicon, which sends veterans to respond to disaster relief situations.
He spent some seasons helping out in the aftermath of hurricanes and wildfires.
"But that's a young man's job," Siren, 34, said.
Around the beginning of the pandemic in 2020, Siren began thinking about what's next.
Then, he started thinking about food. It was more serious this time. He bought a house — his "corner lot in suburbia" — in Colorado Springs and experimented with growing tomatoes. Siren was hooked.
Siren found a 21-week course through Veterans to Farmers, a Colorado-founded nonprofit that aims to teach veterans how to grow food sustainably. During that program, he came up with a business idea to help people start their gardens. He launched Johnny's Green Gardens (johnnysgreengardens.com) this year with this motto: "Grow food, build gardens, and help people grow."
"Now I'm doing my best to put my skills to use to feed the folks I live with and my neighbors," Siren said. "My goal is to feed myself and as many people around me as I can."
Those folks are Siren's partner, her teenage child, three dogs, five hens and, soon, 20 chicks. A friend is temporarily staying with them.
And Siren's stash includes tomatoes, peppers, red Russian kale, daikon radishes and lots of herbs. He'd happily list them all.
"Don't get me started talking about plants or I'll keep you forever," Siren said.
Siren is soon getting started with the "build gardens" part.
Starting in May, he hopes to round up enough customers to build 24 gardens in 24 weeks for people in Colorado Springs.
It's a way to jump-start his business — and to jump-start his bigger goal. "I want as many gardens in my community as possible," he said.
There's a few reasons for that.
"It's green time," Siren says of time spent gardening. "The time people spend outside is just good for them."
It's also a way to fight food insecurity. "I don't want people to go hungry when they don't have to," he said.
It's all a way for Siren to keep serving people.
He says he doesn't know what kind of man he'd be without growing up in two opposite places and without deciding to join the Navy. But he knows it all led him here.
"I know this guy really likes talking about food," Siren said. "And I'm so excited about food because I grew it on my own."
(c)2022 The Gazette (Colorado Springs, Colo.)
Visit The Gazette (Colorado Springs, Colo.) at www.gazette.com
Distributed by Tribune Content Agency, LLC.
---
---
---
---