Massachusetts veteran recalls Battle of Okinawa and his role in it
By
The Daily News
April 7, 2022
---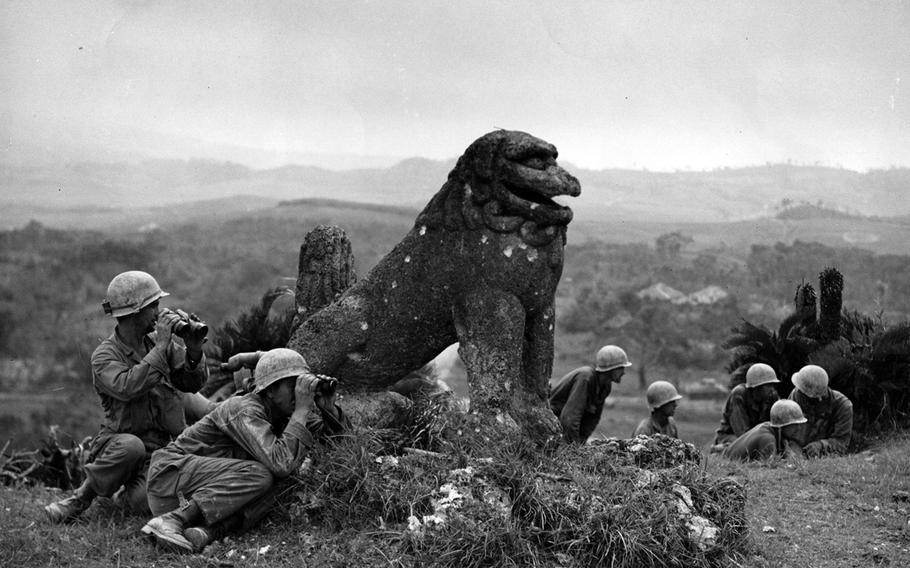 NEWBURYPORT, Mass. (Tribune News Service) — April 1 may mean April Fools' Day to most but the date has a lot more meaning to one city veteran who is making sure it is remembered as The Battle for Okinawa Day.
The Battle of Okinawa began on April 1, 1945, and Bromfield Street resident George Roaf served as an apprentice firefighter aboard the USS Fieberling during the nearly three-month campaign.
Roaf said he is disappointed when he sees April 1 listed as April Fools' Day on the American Legion and Disabled Veterans of America calendars each year and he would like to see it marked as The Battle for Okinawa Day.
The 96-year-old approached The Daily News to make his case last week and an email from Disabled American Veterans national communications director John "Rob" Lewis stated that next year's printed calendar will feature The Battle of Okinawa Day on April 1.
American Legion media contact Dave Lapan also said he had spoken to the headquarters in Minneapolis and was told that the Battle of Okinawa will be included in the national headquarters calendars.
Lapan added, however, that the change at national headquarters may not be reflected at the state level. Either way, Roaf was happy to hear the good news.
"I think its beautiful, that's something," he said.
The battle
Roaf was born in Newburyport and has lived in the Joppa Flats neighborhood for most of his life. He graduated from Newburyport High School in 1943 and quickly enlisted in the Navy, along with a group of his friends.
He would eventually find himself stationed on a destroyer/escort, the USS Fieberling, headed for the Japanese island of Okinawa with roughly 215 crew and command on board in March 1945.
The Battle of Okinawa began on the first day of April and would rage on until June 22. Approximately 12,000 Americans were killed in the battle, with roughly 110,000 Japanese losing their lives.
Most of those days were witnessed by Roaf, who said he remembers first seeing action on April 6 when 48 Japanese fighter planes came over the horizon.
"They looked like mosquitoes, there were so many of them. They would come into us, aiming for our bombs and torpedo tubes. If they hit those, the whole ship could go up," he said.
Roaf manned a 50-caliber machine gun on the Fieberling and said he took one Japanese fighter down that day.
"I remember thinking, 'Here's a guy who I'm shooting at that doesn't want to shoot me any more than I want to shoot him,'" he said. "But I'm pretty sure I was the one who got him."
The Japanese plane broke off a wing, spun around and landed right beside the Fieberling, Roaf said. Crewmen were quickly dispatched to retrieve the dead Japanese pilot, as well as one of his plane's wings, a piece of which Roaf still has as a memento.
He kept a journal of his time aboard the Fieberling, with entries marking attacks, escort duties and typhoons.
"Those storms scared the hell out of me. I was more scared of those than being shot at," he said.
The journal also recorded Roaf's shore leaves (Honolulu was a particular favorite); Japanese submarine attacks; casualties; discharges; friendly fire incidents; the death of President Franklin D. Roosevelt; and the end of the war itself.
Nothing could ever encompass what Roaf said he experienced in the Pacific theater.
"I can't explain it, it's unbelievable," he said.
Although he and fellow sailors were surrounded by death during the campaign, Roaf said his youthful ignorance kept him from thinking that he would ever die in battle.
"Later on, after it was all over, I remember thinking, 'Just what the hell was I in? How did I get involved in all of that?' I really wasn't myself. I was too scared to get scared, I guess," he said.
Roaf was discharged from the Navy on June 6, 1946. He eventually went to work for 32 years building ships and submarines at the Portsmouth Naval Shipyard and has been married to his wife, Cecile, for 72 years. They have four children.
"I've been very lucky," he said.
(c)2022 The Daily News of Newburyport (Newburyport, Mass.)
Visit The Daily News of Newburyport (Newburyport, Mass.) at www.newburyportnews.com
Distributed by Tribune Content Agency, LLC.
---
---
---
---