Massachusetts World War II veteran celebrates 104th birthday
By
The Daily News
April 6, 2022
---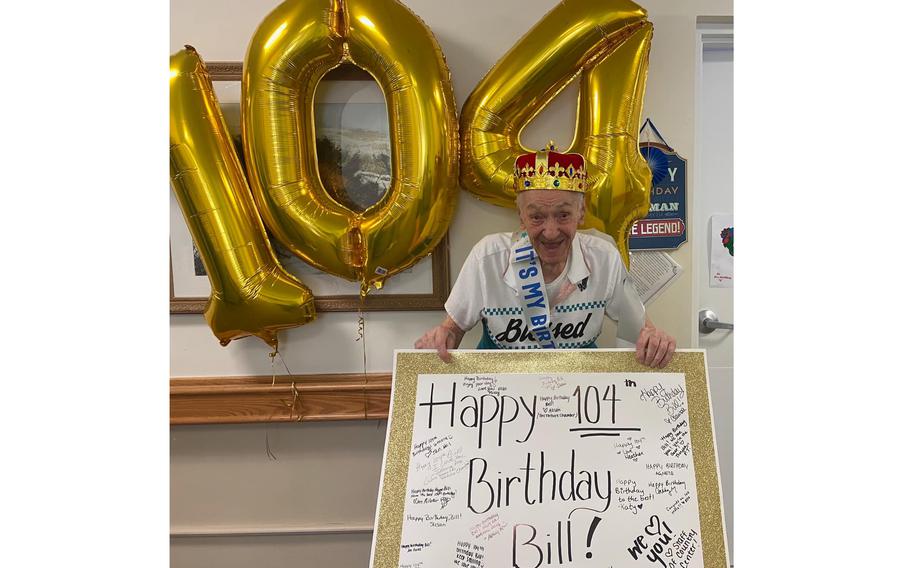 NEWBURYPORT, Mass. (Tribune News Service) — A strong faith and good teeth are two of the secrets to a long life, according to the city's newest 104-year-old.
Bill Dziadosz has been living at the Country Center for Health & Rehabilitation on Low Street for the past 10 years. He turned 104 on Tuesday morning and said he stayed up until a minute past midnight to make sure.
"If you want to know how it feels to turn 104, you have to wait up all night to see that you did it," he said. "Most people tell me I look about 77."
Dziadosz was greeted by family members, Mayor Sean Reardon, Veterans Service Officer Kevin Hunt and state Rep. Jim Kelcourse, R- Amesbury, among others, during a special birthday party Tuesday afternoon.
Dziadosz said he always tries to be nice to people.
"If I have an argument with you about something, you think you're right and I think I'm right. So I'll tell you you're right. Then we shake hands and we're buddies," he said.
As the youngest of five, Dziadosz grew up "honest and poor" in a Lawrence triple decker and enlisted in the U.S. Army after the attack on Pearl Harbor when he was 23 years old.
"We had no roads and no sidewalks in Lawrence when I was really young," he said.
Dziadosz served in the U.S. Army Coast Artillery Corps, according to his son, Jim Dziadosz. He ended up on New Guinea and New Caledonia, and was also on Okinawa, preparing to invade Japan at the end of the war.
"He was in the Pacific in the war and, lucky for him, he was at none of those major battles like the Battle of Iwo Jima. But he still saw a lot of stuff over there," Jim Dziadosz said of his father.
Dziadosz said his father has told stories of passing the equator during World War II, landing on an island that was full of coconut trees and hiding under trucks during a typhoon on Okinawa.
He married his wife, Katherine (Stopyra), soon after returning home from the Pacific. They were married for 56 years and had a son, three grandchildren and 11 great-grandchildren.
"He was really, really in love with my mother. That was a love made in heaven," Jim Dziadosz said.
Dziadosz ended up working most of his career in Lawrence's many textile mills, his son said.
"Pick a mill, he worked at it," Jim Dziadosz said. "He lived through the Great Depression, he survived two World Wars, two pandemics, and he only had two rules in life: To have a good job and to live a long life. He has never been afraid to die, he is at peace with his God, and that is a big part of him."
Dziadosz also said his father's Roman Catholic faith has carried him through a lot, while his granddaughter, Trish Riley, said he always ate a steady diet of fruit and made sure to take care of his teeth.
"Very rarely have I ever seen him say a cross word to anybody," Riley said of her grandfather.
(c)2022 The Daily News of Newburyport (Newburyport, Mass.)
Visit at www.newburyportnews.com
Distributed by Tribune Content Agency, LLC.
---
---
---
---