White House launches effort to get veterans and troops leaving the service into trucking jobs
By
Stars and Stripes
April 4, 2022
---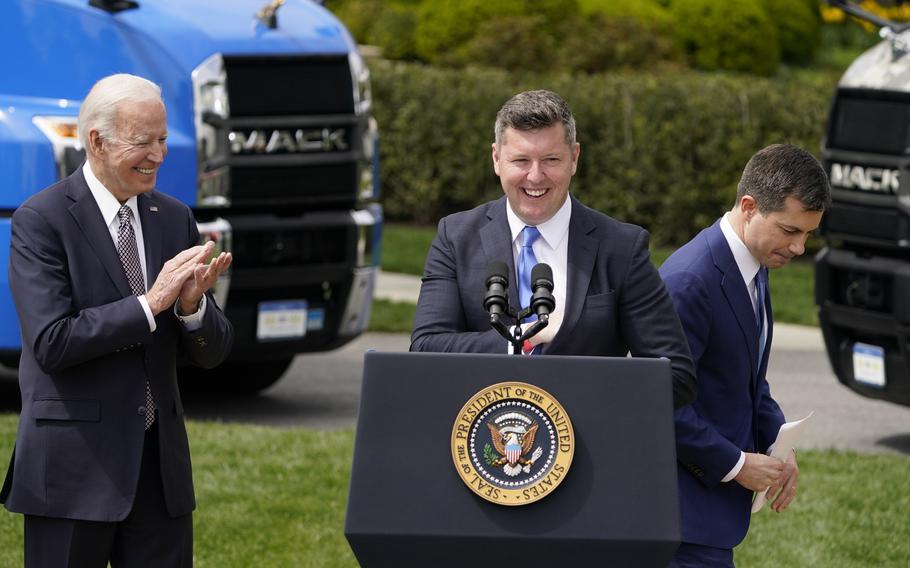 WASHINGTON — The White House on Monday announced an attempt to recruit veterans and troops leaving the service into some of the tens of thousands of vacancies in the commercial trucking industry.
President Joe Biden unveiled a new task force that will work with national veterans organizations to develop an action plan to attract veterans and service members into the industry, as well as figure out how to retain them in trucking jobs. At least one in 10 truckers are veterans, according to a census report from 2019.
The task force is part of a larger effort to bolster the trucking industry, which moves 72% of the country's goods, according to the White House. Biden's administration has been under pressure to tackle supply chain issues that have disrupted the U.S. economy.
Speaking in front of the White House, Biden said Monday that the industry was one that "we desperately need at full strength."
Transportation Secretary Pete Buttigieg said there are 80,000 vacancies in the trucking industry, and about 300,000 truckers leave the profession every year.
"We must do more and do better to recruit more people into the job and support them, so they choose to stay in the job," Buttigieg said.
Veterans are uniquely qualified for commercial trucking jobs because of their attention to detail and experience with teamwork, said Sarah Amico, the executive chairperson of Jack Cooper Holdings, a car shipping company. Biden's administration is also looking to recruit veterans to help cut the unemployment and underemployment rates among the veteran population.
"If you can handle a tank, if you can handle an armored personnel carrier, you can sure as hell handle one of these suckers," Biden said, gesturing toward two semitrailers parked behind him at the White House.
The new task force will be led by Patrick Murphy, an Iraq War veteran, former congressman and former undersecretary of the Army. Murphy's grandfather returned from his service in World War II and became a commercial truck driver, he said. His father, a police officer, worked as a trucker on the weekends.
"What the task force is all about is to create that bridge between veterans and the trucking industry," he said. "For my family, which was built and survived on that industry, that bridge is how we got through. It needs to be more accessible to veterans."
In addition to the task force, Biden announced other initiatives Tuesday that his administration is taking to improve the trucking industry.
The Transportation Department expanded trucking apprenticeships, and it provided $57 million at the start of this year to help states expedite commercial driver's licenses. The White House said the funding led to an increase of 112% in commercial driver's license processing in January and February compared to the same period last year.
The administration is working to combat predatory truck-leasing arrangements, improve workplace safety and add truck parking — actions they think will help keep truckers in their jobs.
In addition to recruiting veterans, the White House is attempting to increase the number of women in the trucking industry. About 7% of truckers are women, according to the American Trucking Association.
The bipartisan infrastructure bill approved in November created the Women of Trucking Advisory Board, which will report on challenges facing women drivers and women interested in joining the profession.
The administration is also planning a "day of action" in April to raise awareness for the prevention of sexual assault and harassment in the trucking industry. At that time, the White House will call on the industry to commit to creating safe work environments.
"We have to keep it going with building a better economy around American manufacturing and the American supply chain," Biden said, addressing a group of truckers. "This country will be counting on you more than it ever has. So, you should be able to count on us to keep investing in you and your families."
---
---
---
---