Bakersfield National Cemetery commemorates Vietnam veterans and their families
By
The Bakersfield Californian
March 26, 2022
---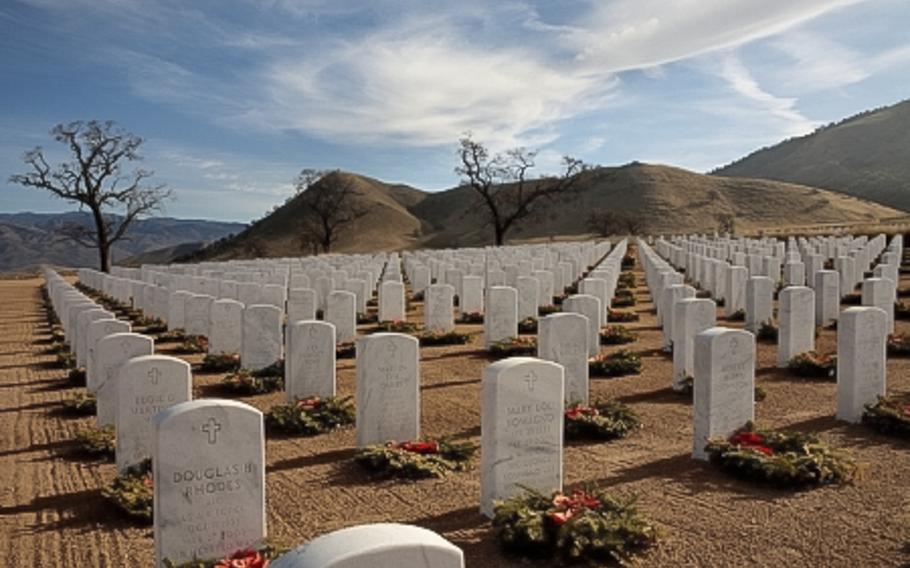 BAKERSFIELD, Calif. (Tribune News Service) — The Vietnam War, known in Vietnam as the American War, left U.S. public opinion in tatters over more than a decade of American involvement in the 1960s and '70s.
On Thursday morning, Bakersfield National Cemetery tried to heal some of those old wounds by hosting its annual Vietnam Veteran Remembrance Ceremony at the peaceful, oak-dotted burial grounds in the Tehachapi Mountains.
Cemetery Director Cindy Van Bibber spoke before a small group of military veterans and veteran advocates who had gathered below rising green hills splashed with popcorn flowers.
Speaking on behalf of the U.S. Vietnam War Commemoration, Van Bibber said the event was focused on thanking and honoring the nation's more than 6 million living Vietnam veterans and 9 million families of those who served during the Vietnam War period.
"Since the birth of the United States, no single generation of Americans has been spared the responsibility of defending freedom by force of arms," she said. "More than 44 million American men and women have sacrificed and served in time of war — many here counted among them.
"Your collective service and individual sacrifices," Van Bibber said, "have safeguarded the cherished concepts embodied in our Constitution."
All who served, have sacrificed, she said. Whether at war in a foreign nation, or stationed on home soil.
Van Bibber quoted then-President Barack Obama, who in May 2012 spoke at the commemoration ceremony of the 50th anniversary of the Vietnam War.
"'One of the most painful chapters in our history was Vietnam — most particularly, how we treated our troops who served there,'" Van Bibber said as she quoted the former president's remarks.
"You were often blamed for a war you didn't start, when you should have been commended for serving your country with valor. You were sometimes blamed for misdeeds of a few, when the honorable service of the many should have been praised.
"You came home and sometimes were denigrated, when you should have been celebrated," she said. "It was a national shame, a disgrace that should have never happened. And that's why here today we resolve that it will not happen again."
Thursday's event was attended by several members of the all-volunteer Associated Veterans of Kern County Honor Guard. Following a rifle salute, two horn players with the guard performed a version of taps sometimes called shadow taps — in which one horn's phrase is "echoed" by a second horn.
The annual ceremony also included remarks by Ben Palmer, a U.S. Marine Corps Vietnam veteran who served two tours in 'Nam.
"The families of those who didn't return, whose names that are etched on the ( Vietnam) Wall, experienced the painful loss of loved ones without the collective support of their nation," Palmer said.
"So history makes crystal clear the importance of this commemoration," he said. " Vietnam was a long war, and so a long commemoration is planned. As mentioned earlier, it's from Memorial Day of 2012 to Veterans Day of 2025."
Palmer said the national commemoration gives Americans a second chance to thank as many living Vietnam veterans as possible, veterans who may have never felt the collective gratitude of their fellow Americans.
As he wound up his remarks, Palmer's emotion was evident in his voice — and he seemed to go off-script for a moment. As he looked out at the other Vietnam veterans in the audience, he paused, then spoke.
"That's about it, except you guys were there. You know what it was like," he said. "It was crap being treated like that."
___
(c)2022 The Bakersfield Californian (Bakersfield, Calif.)
Visit The Bakersfield Californian at www.bakersfield.com
Distributed by Tribune Content Agency, LLC.
---
---
---
---