Family receives medals earned by Kentucky WWI hero
By
Commonwealth Journal
March 23, 2022
---
(Tribune News Service) — "He was an incredible man."
Jerry "Butch" Parks starts to choke up when talking about his grandfather, Abraham Smith. Now a resident of the West Chester, Ohio, area, Parks found himself in the Somerset, Ky., offices of Congressman Harold "Hal" Rogers on Tuesday. Among the family joining him were Smith's daughter Alice Parks and her husband Raymond, both of Williamsburg, Ky., and Jacob Losekamp, Smith's great-great-great grandson.
They were there to receive the awards that Whitley County native Smith had earned for his outstanding actions in the heat of battle — earned in 1918 but never claimed.
Smith, a private first class in the U.S. Army, had fought valiantly for his country in World War I, earning numerous awards: The Silver Star, the nation's third-highest decoration for valor in combat. The World War I Victory Medal, meant for those who served on expeditions in Russia and Siberia during the first "Great War." The WWI Bronze Victory Button.
And Smith never received any of them by the time he passed away in 1969. That was by his choice.
"When he came home, he was done with war," said Butch. As he tried to continue speaking, he found himself overcome with emotion, describing what his grandfather had gone through. "What he'd seen, what he'd done, it appears that he'd had all that he could do, and he wanted nothing more to do with it. So he got rid of everything.
"When he received a citation (to be awarded in 1921), he never followed up on it," he added. "He didn't want it. ... He never talked about it, and we never knew about it. We knew that he was in World War I."
Smith left a strong legacy of military tradition after him. Sons Jody and T.J. fought in World War II in the U.S. Army — T.J. was one of the few survivors of the SS Leopoldville, sunk by a German U-boat — while son Jarvis was in the Air Force and son Glennis Howard served in the Marine Corps. Grandson Jody was in the U.S. Army, and Butch retired out of the Air Force.
Butch was doing research on his other uncles when he happened to come across Smith's records, which showed that he went to England ... and then his records stopped. Butch turned to historical society resources, which revealed that Smith was a "Polar Bear," the 339th Infantry regiment that General John J. "Black Jack" Pershing sent into Archangel, Russia and in Siberia during World War I.
"During the cruise (transporting there), the Spanish Flu broke out in the middle of it," said Butch. "So they were fighting disease and the cold. They were placed under British command, which would eliminate their Americans and (have them) start using British weapons, which they did not appreciate at all."
While war must have taken its psychological toll on Smith, his actions while in service were those of a hero. Smith and another man were in the middle of an artillery attack, according to the records Butch discovered. They saw wounded soldiers in the field, and Smith ran out with a partner to start pulling in the injured; while doing so, Smith's partner was killed.
In another case, a company was cut off by the Bolsheviks and needed to be told to pull back, but they weren't going to receive any support. Smith volunteered to go through enemy lines — "The snow at that time was apparently almost waist-deep, and temperatures were well below zero," said Butch — to tell the company that they needed to pull back before they were overrun.
It was for these actions that Smith earned his Silver Star. Instead, "He came home ... and never mentioned it again," said Butch.
"He told us Russia was cold," added Alice. "That's all he would say."
So the family contacted Rogers' office for assistance in getting the awards that were due Smith, first reaching out about three years ago. It took some time, but on Tuesday, Rogers was able to present Butch, Alice, Raymond and Jacob with the awards — and they were extremely grateful for his efforts.
"We appreciate what Congressman Rogers did for us," said Raymond. "He helped our nephew accomplish what we got as a reminder of what (Smith) did and where he was at. ... This means a lot of the family.
"(Rogers) was patient with us, and we really appreciate him putting up with us," he added. "Not many would do that. ... To him, we were precious and special. I'll never forget what he did for the family."
Butch called Rogers' office "gracious" in working with the family to get them everything they needed and following up constantly, never allowing the family to feel like they were being ignored.
"The important thing to me is, I know how good of a man (Smith) was," said Butch, who recalled Smith as an "attentive" grandfather who stressed the value of a strong work ethic. "He deserves to be remembered. Trying to find these records was very difficult. That's why I enlisted the help of Congressman Rogers, and I'm so thankful that he took it on, to verify and to document the things that (Smith) deserved to be remembered for. ... (Rogers) and his staff are just incredible."
Chimed in Rogers, "It was the least we could do."
It was a "complicated process," said Butch — "Records were lost, verification had to be done; the Silver Star is an important award, and they wanted to make sure they got it right, and we wanted to make sure they got it right" — but is pleased that things turned out the way they did.
"We're very proud (of Smith)," said Butch. "I have a lot of family members to be proud of. They're all really good people."
Rogers told the family that the southeastern Kentucky area, from which Smith rose up, is famous for volunteers in the service, leading the nation in the percent of volunteers for both World Wars. Rogers quipped that members of this region "love to fight," but Smith did much more than fight — he risked his own life to save the lives of others. And for that, with Rogers' help, Smith has finally received the recognition he earned so long ago.
"This man is a hero," said Rogers of Smith. "He fought for our country and therefore he deserves anything we can do to keep that memory alive."
(c)2022 the Commonwealth Journal (Somerset, Ky.)
Visit the Commonwealth Journal (Somerset, Ky.) at somerset-kentucky.com
Distributed by Tribune Content Agency, LLC.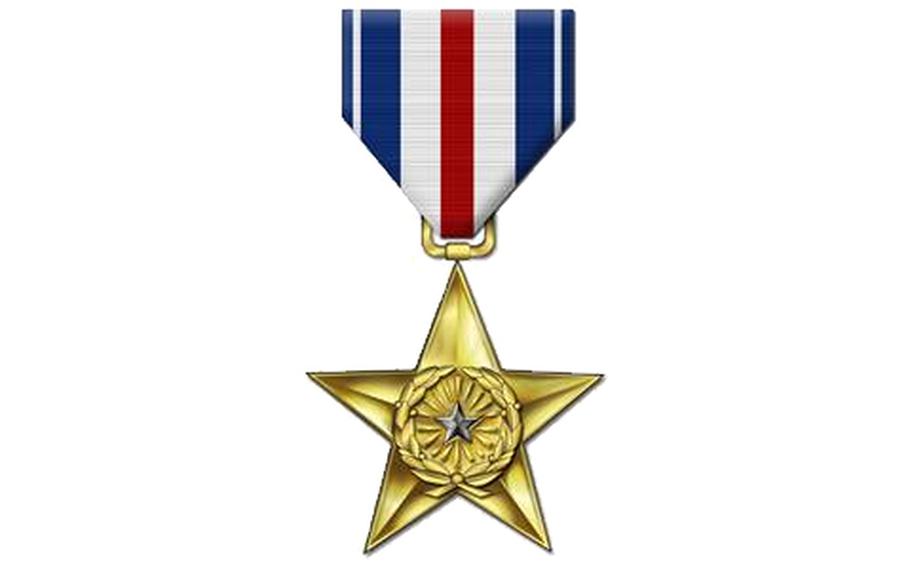 ---
---
---
---