French government to honor Minnesota World War II veteran
By
The Free Press
March 21, 2022
---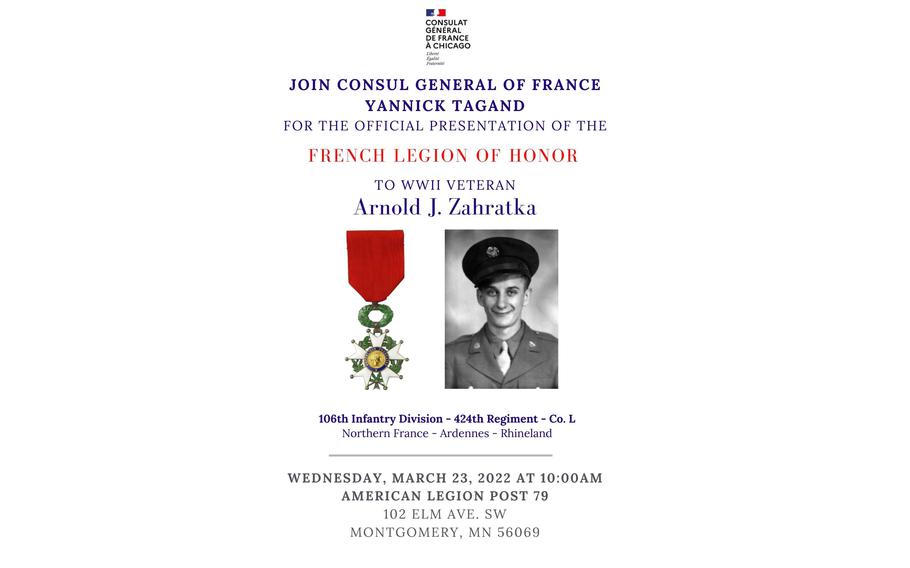 (Tribune News Service) — Arnold J. "Buck" Zahratka's war medals and wedding pictures are displayed throughout his Montgomery, Minn., apartment. The 96-year-old World War II vet likes to have them in view while seated in his living room recliner.
His war mementos include black-and-white photographs and several medals for his military service. During an interview at his home, he volunteered several details from his life experiences; however, Zahratka plans to "keep his comments short" if asked to say a few words Wednesday during a public event.
A representative of the French government will be in town from Chicago to decorate him as a member of its National Order of the Legion of Honor.
"He doesn't like to be the center of attention," said son-in-law Dale Stadstad, of Prior Lake.
Zahratka asked his daughter, Linda, and Stadstad, her husband, to be close by while he recounted to a reporter what it was like to be a 19-year-old private during the 1944 Battle of the Bulge.
He'd trained as a rifleman and was a member of the 106th Infantry Division when he was ordered to remain alone in an Army foxhole during heavy fighting. Then other members of his group left to defend other positions.
"Where was I going to go? It was night," he said.
The battle raged on in wintry darkness.
"There was this young guy, a recruit, he was scared to death. I pulled him into the foxhole. At first, he was afraid of me."
"That's because Dad was all covered in dirt," Linda said. "Dad saved his life."
Linda said only in recent years has Zahratka opened up to his family about his war experiences. "Dad never really talked about his Army days until way later in life," she said.
"He had a special cupboard where he kept his military stuff, but we knew we were to never go in there."
Zahratka was 18 when he was drafted into the U.S. Army in October 1943.
"The letter said, 'Your friends and neighbors want you to go into the Army' ... I thought, those are a helluva bunch of neighbors," he said.
In a little more than a year, he was with the 106th, also known as the Golden Lions, at the Battle of the Bulge. His division suffered great losses in the battle, and many of his fellow soldiers were captured by the Germans.
Zahratka said he remained in his foxhole until daylight and the battle subsided. He started to search for safety and other American soldiers.
"I didn't have a compass ... my boots weren't waterproof like the ones they wear today."
He walked until he saw a group of tents; then hid behind a tree until he was sure the occupants were friendly.
"I didn't know if they were Germans or not ... It was a Red Cross camp."
He was treated for mild frostbite and offered hot coffee and doughnuts.
Zahratka and the young recruit, Wisconsinite Al Shudarek, had separated from each other and their unit — 424th Regiment, Company L — in the scramble to leave the battlefield.
The two soldiers were reunited and became lifelong friends, Dale said.
Shudarek died in 2004.
No prompting is necessary to get Zahratka to talk about a Model T he once drove, the places where he worked and the trips he took with his wife of 73 years, Gladys.
"Look at all the bridesmaids she had," he said, pointing to a group portrait taken on the Zahratkas' wedding day. Gladys died in January.
After the war, Zahratka worked as a mechanic for several years before opening Buck's Cities Service in Montgomery in the late 1950s. After five years, he sold it and opened Buck's Tavern. He sold the tavern in the late 1960s and began working as a heavy equipment operator.
He's been a member of the American Legion for 70 years.
His son-in-law inadvertently helped make it possible for the French government to identify Zahratka as a deserving recipient of its national honor.
"I was searching for Buck on the Golden Lions website; turns out they had his name misspelled," Dale said.
When Dale contacted the website's manager about the error, he also described Zahratka's military honors, including a Bronze Star.
He was told there was a small chance Buck could receive honors from France. The Golden Lions representative took the reins and contacted the consul general of France in Chicago, which investigated Zahratka's military information.
Within a relatively short time, the prestigious Legion of Honor medal was mailed to his Montgomery apartment.
Consul Gen. Yannick Tagand, on behalf of President Emmanuel Macron, will decorate Zahratka with the medal 10 a.m. Wednesday during a ceremony at the Montgomery American Legion Post 79, 107 S.W. Elm St.
"The family contacted us and let us know Buck was eligible," said Mike Maxa, state adjutant for the American Legion.
Post 79 is Maxa's home post. He said a color guard will be on hand and the U.S. and French flags will be flown during the ceremony and a luncheon served.
"It's a pretty big deal. We are always proud to help honor our World War II vets."
Zahratka was getting a little nervous about Wednesday's activities, although it will not be the first time he's been recognized by the French government.
Among his collection of military honors is a framed diploma from the French government. The token of appreciation for helping liberate France was presented years ago during a ceremony in the Twin Cities.
(c)2022 The Free Press (Mankato, Minn.)
Visit at www.mankatofreepress.com
Distributed by Tribune Content Agency, LLC.
---
---
---
---