Alabama veteran honored by Army infantry groups
By
The Decatur Daily
March 18, 2022
---
(Tribune News Service) — Decatur resident Robert Bell's U.S. Army service included the rare accomplishment of rising to master sergeant at age 20 during combat in the Korean War, but his favorite part of the military was parachuting out of planes and getting an extra $50 a month for doing it.
"Back in those days, if you were on jump status, you had to jump once a month to maintain currency and receive jump pay," said retired Col. Bob Bell of Huntsville, Robert's son. "One of the big deals, in the early days, is you got $50 extra a month for jumping out of an airplane, well, a perfectly good airplane.
"Fifty bucks in the 1950s and 1960s was a lot of money. So, he liked to jump."
The elder Bell, now 88, was honored Tuesday for his military service, which also included time in the Army Reserves. During a ceremony at Decatur Country Club, Bell received the Order of Saint Maurice Medallion for serving in the infantry with distinction and for demonstrating a significant conspicuous contribution.
He was nominated for the award by his friend Barry Simpson, a member of the National Infantry Association.
"It's about honoring these veterans who truly deserve it through what they did for the country," Simpson said.
Bell graduated from Decatur High School in 1951 and went to the University of Alabama. At age 19, he decided to enlist in the Army rather than take a college deferment, according to his son.
"(Robert) ended up in combat in Korea with the 2nd Infantry Division," Bob said, and started out as a machine gunner.
"As a private, (Robert) rose to the highest rank of the enlisted ranks, which in the 1950s was a master sergeant, or an E-7," Bob said.
Robert was only 20 years old, but it usually takes 15 to 20 years to reach that rank, according to Bob.
Robert served as platoon sergeant for the heavy weapons platoon, which included machine guns, 105 recoilless rifles and mortars. He supervised 40 soldiers and non-commissioned officers.
After an 18-month combat tour, Robert returned to the United States and was stationed at Fort Campbell, Kentucky, where he became a company first sergeant at 21 years of age, overseeing 100 soldiers.
One of Robert's duties was to be the primary adviser to the company commander, Bob said. Robert also supervised platoon sergeants. There are usually three platoon sergeants because three platoons make up a company, according to Bob.
After active duty, Robert joined the special forces reserves in Decatur at the Fort Quarles-Flowers Armory as an operations and intelligence sergeant for five years.
Robert's unit never deployed but often conducted training exercises that included rappelling, survival exercises and parachuting. He also like going on patrol, Bob said, and doing survival exercises. Robert did a lot of training in the Florida swamps.
Robert "relished the fact that he could take his special forces detachment and pretty much accomplish whatever it was he wanted to do," Bob said.
Robert used to tell Bob stories about how his group was asked on several occasions to assess the fences around Redstone Arsenal.
"They penetrated them so many times that the Garrison commander finally told them to stop," Bob said.
In 1962, Robert was badly injured during a training exercise when he slipped and fell 30 feet after rappelling from a cliff, Bob said. He was "subsequently placed on temporary disability and formally medically retired May 1968," Bob said.
Simpson said Robert Bell was a veteran he looked up to while he was growing up.
"They were honorable, they did what had to be done. It was these types of veterans that made me want to be in the Army."
The medal was established in 1994 as a joint venture between the U.S. Army Infantry Branch and the National Infantry Association. It recognizes individuals who have contributed significantly to the promotion of the infantry as recognized by the individual's seniors, subordinates and peers.
The individual must represent the highest standards of integrity, moral character, professional competence and dedication.
Robert said he felt honored and surprised to have received the medal.
(c)2022 The Decatur Daily (Decatur, Ala.)
Visit at www.decaturdaily.com
Distributed by Tribune Content Agency, LLC.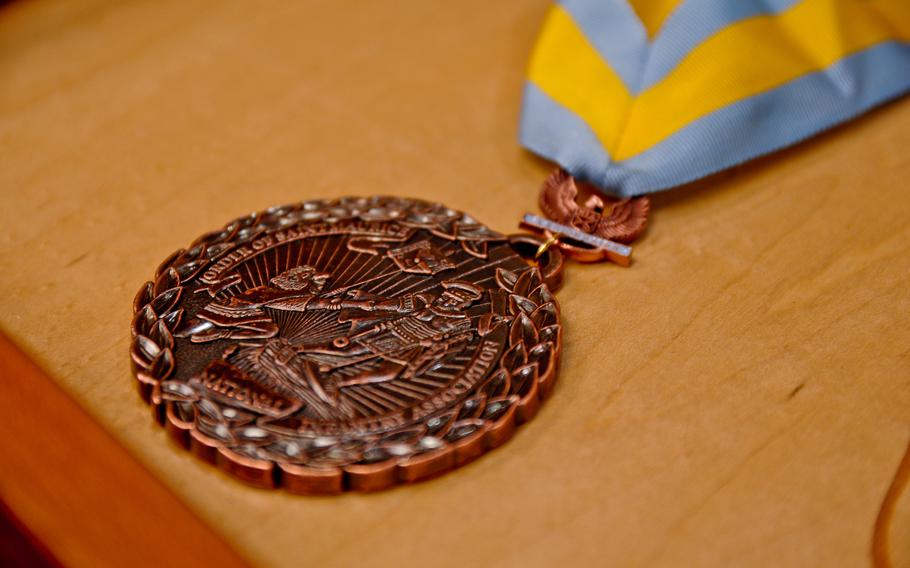 ---
---
---
---