Friends and family help Florida World War II veteran celebrate 100th birthday
By
The Bradenton Herald
March 17, 2022
---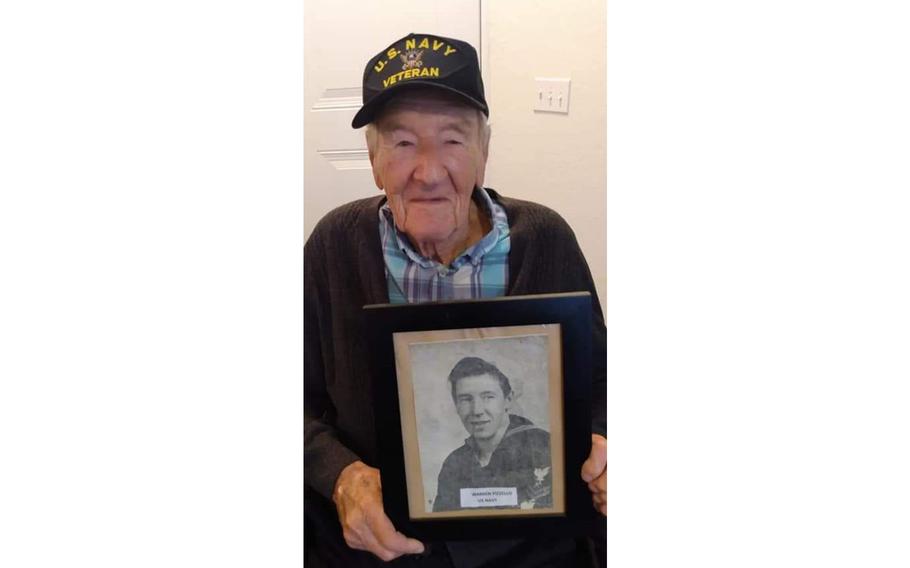 BRADENTON, Fla. (Tribune News Service) — Warren Pizzello had a slice of chocolate cake, decorated in strawberries, roses and white frosting for his 100th birthday on Tuesday.
His family will tell you that Pizzello is very special, as will his fellow members of Braden River VFW Post 12055.
Pizzello, who served aboard a Navy communications boat in the Pacific during World War II, is one of only about 240,000 surviving vets from that war, the U.S. Department of Veterans Affairs statistic says. That's from a pool of 16 million Americans who served.
Ron Babcock, chaplain of the VFW post, organized the birthday celebration, held under a covered pavilion at Tom Bennett Park.
"It's a momentous occasion," Babcock said.
John Van Horn, Pizzello's step-son, and Van Horn's wife, Colleen, came down from their home in Londonderry, N.H., for the birthday.
"He has been real, real good to us. He is a life example for people," John Van Horn said.
Amy Kippin, one of Pizzello's daughters, moved the retired sheet metal worker from Massachusetts to Bradenton in 2011.
"He was in an assisted living facility there. He's very healthy. He's healthier than me," Kippin said.
Asked if he had any advice on living a good, long life, Pizzello said: "My advice would be to be dedicated to helping other people, be persistent and do the best you can."
(c)2022 The Bradenton Herald (Bradenton, Fla.)
Visit The Bradenton Herald (Bradenton, Fla.) at www.bradenton.com
Distributed by Tribune Content Agency, LLC.
---
---
---
---