Medical clinics, hospitals recommended for closures, new buildings in VA infrastructure plan
By
Stars and Stripes
March 15, 2022
---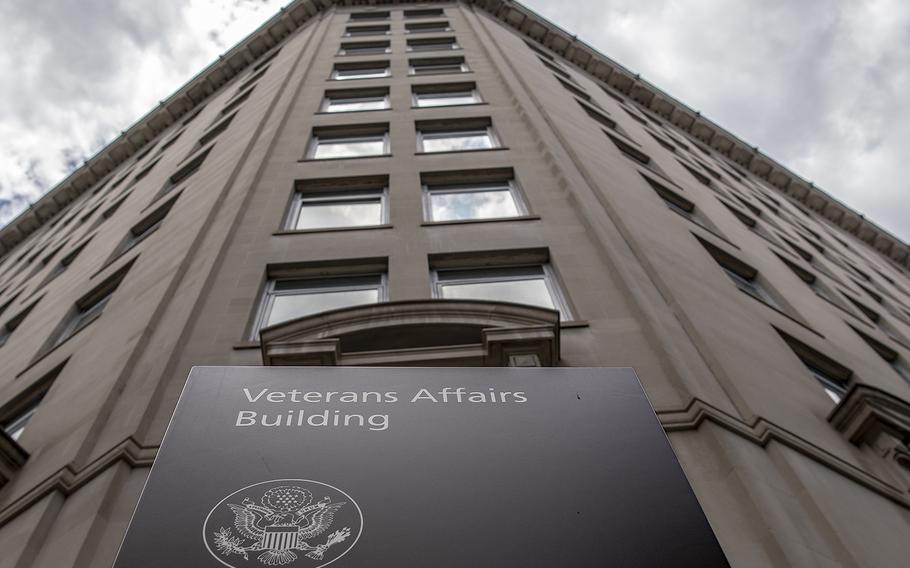 WASHINGTON – The Department of Veterans Affairs released its Asset and Infrastructure Review Commission report containing nearly $2 trillion in recommended facility closures and upgrades to provide better services to veteran patients in their respective markets across the country.
In January, VA officials began reviewing agency facilities across the country to determine which buildings to close and where to invest more resources. They wanted to determine which facilities are underutilized and outdated, the demand of services, and the needs of the veteran demographic in each market, according to the report.
The report, which was released Monday, listed 35 medical center closures. However, some closures are recommended to be replaced by new buildings and, in some cases, other locations. Other medical centers were recommended to close permanently.
The VA report cited old, deteriorating buildings and a projected decrease in demand for VA services in the areas where it is suggested hospitals be closed. Furthermore, the veteran population in each market varied.
Additionally, the VA proposed more than 100 multi-specialty, community-based outpatient clinics. The agency also recommended clinic closures and consolidation of services to other nearby VA clinics or medical centers.
"We're entering into a new strategic partnership there with VA clinicians embedded into a community hospital, so vets can get care in a modern, high-quality setting, rather than a VA hospital that only serves five or six patients per day," VA Secretary Denis McDonough said Thursday. "And then, when all of that new infrastructure is in place, and the need for the old medical center has gone, we'll recommend closing it. So we can focus on investing in the new facilities rather than pouring limited dollars into a facility that opened just after World War I."
However, these are only recommendations. The commission has until next February to determine the VA's recommendations. Afterward, the recommendations move on to the president, then Congress. McDonough said they can only vote down the recommendations if they disapprove.
As part of the Maintaining Internal Systems and Strengthening Integrated Outside Networks Act of 2018, or MISSION Act, the VA was required to establish the Asset and Infrastructure Review, which would analyze veterans' current and future health care needs as well as the VA's health care infrastructure.
Also, in 2018, Congress approved the creation of an Asset and Infrastructure Review Commission to work on the "modernization or realignment" of VA properties. The commission was formed to recommend the Veterans Health Administration's modernization or realignment of facilities, construction improvements, and the current and future health care needs of veterans.
"All across the board with these recommendations, we're embracing the idea that health care has evolved, so VA evolves with it, and in fact lead the evolution," McDonough said. "That means building facilities designed with veterans and VA employees in mind because VA employees will always be our number one asset and they should have the modern tools they need to provide the best care possible for vets."
McDonough said some facilities need to be updated, such as the Buffalo VA Medical Center, "a dated facility which needs to be updated, and especially in an area like Buffalo, where the census of veterans will continue [to be] quite high."
The Buffalo medical center was built in 1949, and the VA's facility condition assessment reported the VA campus has limited parking and failing infrastructure systems. The deficiencies cost approximately $260.9 million, while the yearly maintenance and operation costs are an estimated $14.1 million. Its last major renovation was in 1990.
The Buffalo VA medical center will be relocated near or in the Buffalo Niagara Medical Campus if the closure and replacement are approved.
However, McDonough said the VA didn't only consider the demand when making choices. For example, numbers for some markets suggest certain medical centers should close, but at a closer look, VA officials realized veterans in those areas were historically underserved, specifically rural and minority vets.
"If we reduced our presence in those markets, there wouldn't be enough good options in the community," he said. "So instead of downsizing those markets, we're doubling down on them because that's the only way to guarantee that vets who live there will get the care they need."
Other medical centers that the VA recommended be closed and replaced with new facilities, either in the same city or within the area include: Manhattan, N.Y.; Dublin, Ga.; Louisville, Ky.; Shreveport, La.; San Antonio, Texas; Muskogee, Okla.; Reno, Nev.; Phoenix, Ariz., and Hot Springs, S.D.
For the Muskogee hospital, the VA proposed replacing it with a new medical center about 50 miles to the northwest in Tulsa, Okla. Likewise, the Hot Springs, S.D., facility would be replaced with a hospital in Rapid City, which is about 60 miles north.
Additionally, the VA said it would consider closing the hospital in Fort Meade, S.D., if a new clinic were opened nearby. Fort Meade is about 30 miles north of Rapid City.
Recommended permanent closures will have services from the medical centers moved to nearby VA medical centers or outpatient clinics within the respective area. The proposed medical centers to be closed include: Brooklyn, N.Y.; Castle Point, N.Y.; Chillicothe, Ohio; Alexandria, La.; Bonham, Texas; Fort Wayne, Ind., and Livermore, Calif.
Rep. Nicole Malliotakis, R-N.Y., spoke out Sunday against the proposed closure of the Brooklyn VA medical center.
According to the commission report, Brooklyn medical center patients would receive services at St. Albans VA Medical Center in Queens, N.Y, about 20 miles from Brooklyn. The VA proposed a replacement and expansion of the St. Albans location.
Additionally, Brooklyn's research and primary receiving center would be relocated to the Manhattan VA Medical Center. However, according to the commission report, its new outpatient clinic is proposed to be located farther from the Staten Island outpatient clinic. Moreover, the Staten Island clinic location is proposed to be within the New Jersey market.
"Under no circumstance will we allow the Biden administration to close our VA hospitals," Malliotakis said in front of the Staten Island Community VA Clinic. "Our VA medical centers provide specialized treatments and services that our veterans rely on, need, and quite frankly, deserve. I hope my colleagues on the other side of the aisle will be steadfast and strong against this proposal. If President Biden is serious about expanding health care access to our nation's veterans, I fully expect this proposal to be dead on arrival if it gets to his desk."
Sen. Jon Tester, D-Mont., chairman of the Senate Veterans' Affairs Committee, said any effort to kneecap veterans' health care is a nonstarter for him.
"I will fight tooth and nail against any proposals that blindly look to reduce access to VA care or put our veterans at a disadvantage," Tester said in a prepared statement.
The White House named the VA's new Asset and Infrastructure Review Commission last week, with the White House and the VA providing five nominees for the commission. Four others were nominated as commission members by leaders in the House and Senate. McDonough said Thursday that the agency is awaiting one more nominee from Congress.
Stars and Stripes reporter Nikki Wentling contributed to this story.
---
---
---
---