Obituary
WWII veteran soared high as chief communications officer on Air Force One
By
The Columbian
February 18, 2022
---
VANCOUVER, Wash. (Tribune News Service) — E. E. "Van" Valkenberg, a veteran who had been chief communications officer aboard Air Force One, died at the age of 95 on Feb. 7.
Chief Master Sgt. Valkenberg is survived by those he worked closely with and the friends he made during his service. They are currently working toward fulfilling Valkenberg's final wish — to be interred at the Vancouver Barracks National Cemetery — despite challenges posed by an administration change in 2020.
Valkenburg led an active life full of skiing, roller skating, swimming, hiking and cycling. He spoke about politics, told jokes, drank coffee and grew old alongside his buddies. The decorated veteran wasn't bound to activities on land, though, as he took any opportunity to fall from the sky — one of his stints earned him the nickname, "The Outer Space Easter Bunny." In total, Valkenberg recorded 2,041 jumps in his logbook.
A notable career in communication
Valkenberg was born on Nov. 24, 1927. After he graduated from then Vancouver High School, he joined the military and served for 37 years, where he experienced a career full of significant and courageous moments.
During this time, he accumulated more than 14,000 hours of flight time, saw nearly every country in the world, was the first Air Force Reservist to win the Commendation Medal for heroism, and directly worked with five U.S. presidents. His military career oversaw events from World War II to the Reagan administration.
Valkenberg was a radio operator in World War II and served in the U.S. Navy toward the end of the war. He later joined Portland's Air Force Reserves in 1950 where he trained airborne communications personnel. Valkenberg was a master of Morse code, subconsciously translating words he saw off-duty into finger taps, he previously told The Columbian.
While in the reserves, he was ordered to active duty during the Korean War, the Cuban missile crisis and the Vietnam War. Valkenberg flew transport planes into conflict areas and returned with holes in the fuselage but none in its passengers.
On one daunting journey from France to the U.S., he worked with crews onboard to devise a plan to safely return home. The twin-engine C-119 transport huffed, moaned and lost power in one of its engines, causing the crew to turn around to replace it, he told The Oregonian 30 years ago. After taking off a second time, the engine blew up, and Valkenberg and others crafted a makeshift propeller while throwing out luggage to stay in the air. The plane and its passengers landed in Newfoundland, Canada, and this act earned Valkenberg a medal for heroism.
He was assigned to the Special Air Missions Wing at Andrews Air Force Base, Md., where he flew with VIP passengers and dignitaries before landing in the most prestigious position for any person in the service — working directly for the president.
Valkenberg's vast understanding of military communications qualified him to be an airman aboard Air Force One — working with one of the world's most advanced air communication systems — in the early 1970s.
For about 15 years, Valkenberg worked behind the scenes supporting U.S. presidents and their staff — sometimes making as many as 60 calls per hour over phone lines and secure channels. He was posted as a communication chief aboard the jet for presidents Lyndon Johnson, Richard Nixon, Gerald Ford, Jimmy Carter and Ronald Reagan. According to a friend of Valkenberg's, Ford was his favorite president to fly with.
He was tasked with keeping the presidential jet's passengers in close communication with those at the White House. When it came down to it, though, Valkenberg was able to connect the travelers to anyone regardless of their location.
"I could be anywhere in the world and call any number in the world," he said in a 2011 Columbian profile.
During his time aboard Air Force One, Valkenberg observed historic moments including Nixon's first flight to China, a diplomatic overture to mend a bond between the countries. The job was demanding, sometimes requiring Valkenberg to work more than 40 hours consecutively, but he derived a large sense of pride in his role.
Valkenberg's knowledge wasn't reserved for radio operations, as he also designed the communication systems and other electronic tools, such as navigation devices, for command ships. His ability to compose these tools played an integral role in preparing a new presidential Boeing 747 jetliner system, as he invested 12 hours a day for three months to set it up.
Prior to his retirement, staff at a Boeing plant in Wichita, Kan., asked Valkenberg to look over their pre-design manual for the new Air Force One aircraft. He marked it up, finding 789 discrepancies, which Boeing workers didn't update, he said. Valkenberg later received a call from Boeing asking for his advice —again— this time with a more attentive ear.
"They pulled 20 miles of wiring," Valkenberg said in the profile.
(c)2022 The Columbian (Vancouver, Wash.)
Visit at www.columbian.com
Distributed by Tribune Content Agency, LLC.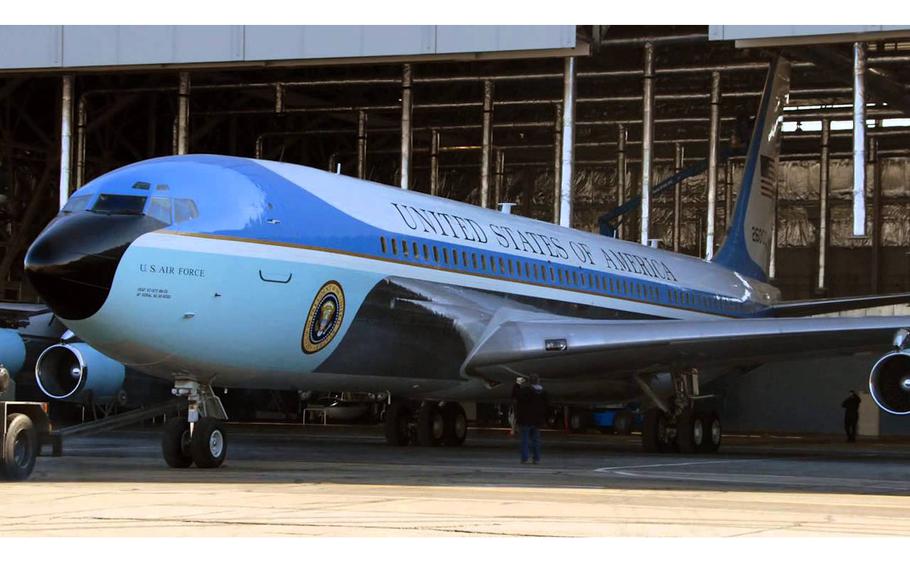 ---
---
---
---