Biloxi honors native son and Apollo 13 astronaut Fred Haise with statue and moonwalk
By
The Sun Herald
February 14, 2022
---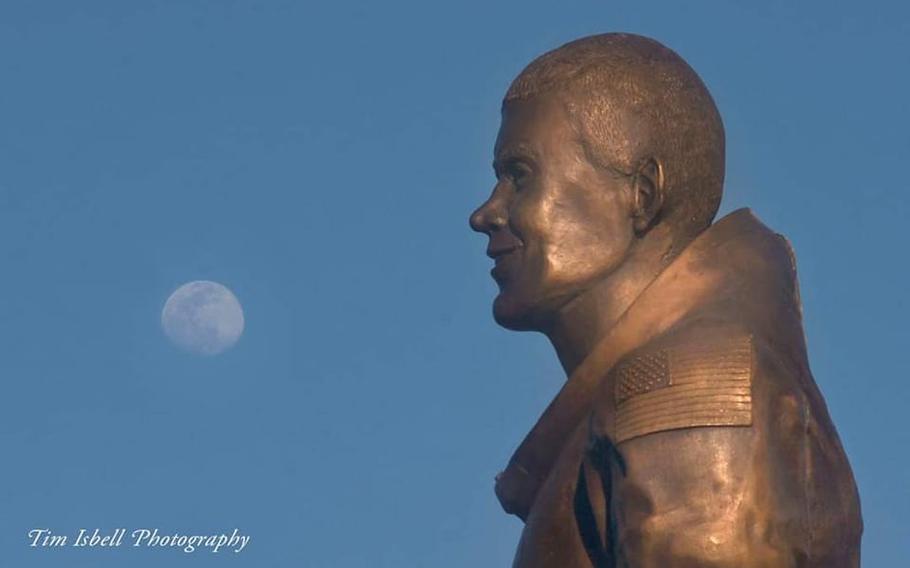 BILOXI, Miss. (Tribune News Service) — Apollo 13 astronaut Fred Haise Jr. was welcomed home to Biloxi on Sunday with cheers from a crowd of hundreds who gathered near the Biloxi Lighthouse to see the unveiling of a statue in his honor.
Long after the speeches were delivered and Haise left his handprints in concrete and pulled the drape to reveal the 8-foot statue that depicts him in his spacesuit, people stayed to meet their hero.
The original ceremony, planned for the 50th anniversary of Apollo 13 in April 2020, was canceled because of COVID-19. Sunday's event went on despite the passing of Haise's wife, Patt, less than a week before.
Haise, 88, grew up in Biloxi, served as a fighter pilot for the Marine Corps and the Air Force, survived Apollo 13 and a terrible airplane crash as a test pilot. He spent the last 15 years helping build Infinity Science Center in Hancock County to inspire students to embrace science and technology.
Mayor Andrew "FoFo" Gilich said the day and the ceremony was to honor "the amazing life and accomplishments of Biloxian Fred Haise — and I'll say, the greatest Biloxian."
Only 24 people ever flew around the moon, "and one of them was a Biloxian," Gilich said.
Haise wore a suit and a smile to the ceremony that began at 1:13 p.m. with a parade from the Biloxi Visitors Center to the area south of the lighthouse, where the statue stands at the edge of the Mississippi Sound. The base is a 66,000 pound precast manhole painted to look like a Saturn V rocket, "and it's not going anywhere," Gilich said.
The statue is just as secure, he said, but can be unbolted and removed if a storm the size of Katrina should threaten.
It was created by another Biloxi native, sculptor Mary Ott Tremmel Davidson, who completed it over two years while battling cancer.
Next to the statue is an Apollo 13 Moonwalk created by artist Lucinda Perniciaro L'Enfant that tells the story of Apollo 13 and includes a letter from Haise to Biloxi.
Anthony Wilson, CEO of Mississippi Power, described Haise as a " Biloxi native son, space hero and a true American hero," and said he is still a shining example for students.
Natalie Rickert of Biloxi brought her four daughters Sunday and they waited to meet Haise. She homeschools the girls and said they've been studying space to get ready for the unveiling.
"I think it's important for them to know about their history," she said, and the tie of Biloxi and Apollo 13 is a great part of the town they are growing up in, she said.
Michael McDaniel, president of the Infinity Science Center board of directors, said Haise has served on the board since 2008 — years before there was an Infinity — and donates all the money he makes for speaking engagements and signing memorabilia to help the operation of the center.
The most inspiring words came from Haise, himself, who said he included stories of growing up in Biloxi in his new book, "Never Panic Early," which is scheduled to be released April 5.
"This is such an incredible day," he said, as he looked out at the crowd that ranged from newborns to people in their 80s, who he grew up with in Biloxi.
He talked about delivering papers for the Daily Herald and shining shoes for a nickel for the many Army airmen who came to Keesler Field during World War II.
When children look at the statue, the moonwalk and the plaque that tells about his life, Haise said he hopes they get there was a lot of hard work involved.
To make a productive, enjoyable life, "You had to have a discipline, you had to have a goal and work toward that goal," he said.
"In my case, quite an exciting life," Haise said.
(c)2022 The Sun Herald (Biloxi, Miss.)
Visit at www.sunherald.com
Distributed by Tribune Content Agency, LLC.
---
---
---
---