VA secretary vows to boost health care workers pay, benefits as department grapples with employee burnout
By
Stars and Stripes
February 9, 2022
---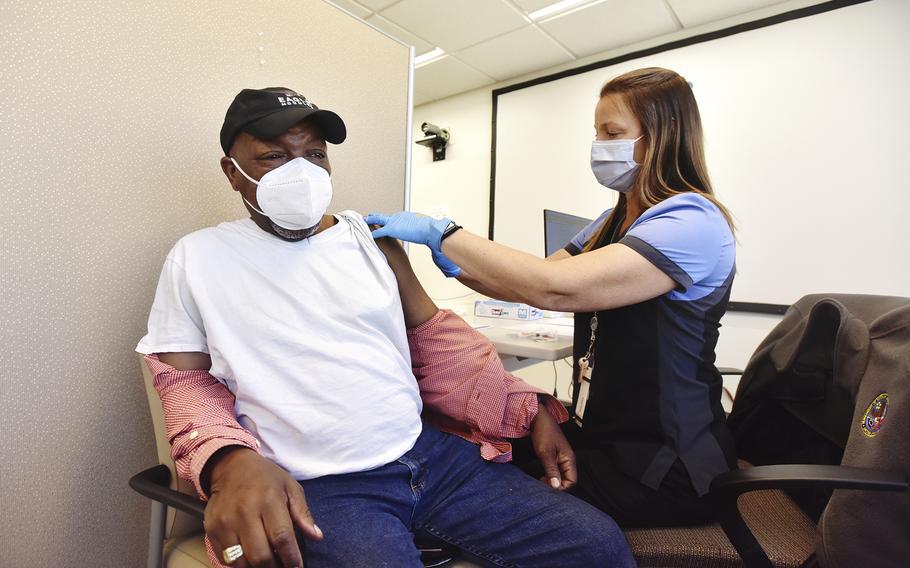 Stars and Stripes is making stories on the coronavirus pandemic available free of charge. See more stories here. Sign up for our daily coronavirus newsletter here. Please support our journalism with a subscription.
WASHINGTON — Department of Veterans Affairs Secretary Denis McDonough promised Wednesday to increase pay and improve conditions for health care workers in an attempt to mitigate the large number of employees leaving the agency.
Speaking to workers at the Ralph H. Johnson VA Medical Center in Charleston, S.C., McDonough acknowledged the hardships faced by health care workers during the coronavirus pandemic. While salaries for medical staff have grown to historic highs in the private sector, they "haven't moved" for VA employees, he said.
McDonough vowed to work with Congress to increase pay caps for medical workers. He also outlined several other actions that he plans to take, including offering more bonuses, providing more advancement opportunities, expediting the hiring process, and allowing more remote work, among other steps.
"These are real challenges, both for you and our nation, and we need to address them now before it's too late," McDonough said. "This is important not only because VA workers like you deserve it, but also because it's critical to the functioning of VA."
The VA is the largest health care system in the United States. It provides care to veterans at 170 hospitals and more than 1,000 outpatient clinics nationwide.
The turnover rate for nurses at the VA is the highest it's been in the 15 years, McDonough said. The turnover rate, along with more nurses becoming eligible for retirement, means the agency will have to hire about 15,000 nurses per year for the next five years, he said.
Pay discrepancies are driving the departures. In Charleston, where McDonough spoke Wednesday, some registered nurses could go into the private sector and earn $15,000 more per year. In some markets, nurses could get paid up to $40,000 more, McDonough said.
Because of pay caps set by Congress, there comes a point for VA nurses when they can get promoted but can no longer receive raises.
"All of that is unsustainable, and it's going to mean serious losses if we don't act soon," McDonough said.
Rep. Lauren Underwood, D-Ill., introduced a measure last year that would increase the pay limitation on nurse and physician assistant salaries. The bill, titled the VA Nurse and Physician Assistant RAISE Act, would allow PAs and advanced practical nurses to receive a salary boost of up to $50,000. Salaries could be increased by up to $27,400 for registered nurses.
The bill is supported by the VA, and McDonough has lobbied Congress to approve it. The House Committee on Veterans' Affairs agreed last week to send the bill to the House floor for a vote. However, it has received pushback from some Republicans.
Republicans on the House VA committee attempted to derail the legislation by attaching an amendment that would force the VA to do away with its mandate that employees be vaccinated against the coronavirus. They claimed the VA wouldn't need more funding to retain workers if it wasn't planning to fire those employees who refused to be vaccinated.
As of Wednesday, the VA had not fired any employees because of the vaccine mandate. About 10% of VA employees have requested exemptions to the mandate, and McDonough has said the department would accept those requests without question in most cases.
The amendment failed, and the bill was sent to the full House without changes. It's uncertain when it might be scheduled for a vote on the House floor.
In addition to lobbying Congress to pass the bill, McDonough said he plans to waive limits on employee bonuses for work done during the pandemic. The White House has authorized the VA to offer higher incentives to retain its workers. The department can now pay incentives of up to 50% of an employee's base salary, McDonough said.
The agency is also working to "completely redesign" its entrance process for new employees to bring in people faster.
The VA also plans to help more employees with child care. The agency already provides a child care subsidy for employees making less than $89,000. The department plans to extend the benefit to employees making below $149,000.
Sen. Jon Tester, D-Mont., the leader of the Senate Veterans' Affairs Committee, said Wednesday that McDonough's plans would empower the agency to keep front-line medical staff on its payroll.
"In the coming weeks, I look forward to unveiling new legislation that'll build on the administration's efforts — making sure these practices are expanded in rural areas where veterans' access to health care is critically important," he said.
The VA is required to report to Congress every year about its job vacancies, as well as its recruitment and retention efforts. As of the publication of the latest report, dated May 2021, the department had more than 32,000 vacancies. In total, the VA employs more than 426,000 workers.
---
---
---
---