Father and son celebrate legacy of service with Maryland National Guard
By
Carroll County Times
February 7, 2022
---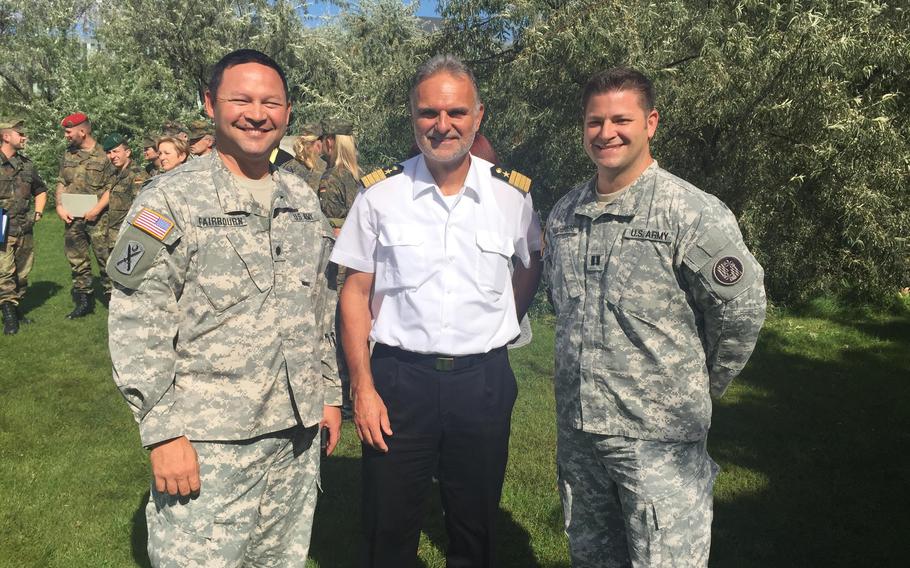 WESTMINSTER, Md. (Tribune News Service) — Kurt Rauschenberg can trace his history with the Maryland National Guard to his childhood in Carroll County. Kurt grew up watching his father, Frank Rauschenberg, proudly wearing a uniform to Kurt's Little League baseball games and participating in drills at the Maj. Gen. Henry C. Evans Armory in Westminster.
"I wanted to follow in his footsteps and continue his legacy," Kurt said. "It felt completely natural to join this organization. The people I was serving with were the same as my dad had served with when he was in this unit."
Kurt, 40, was a senior at Westminster High School in 1999 when he enlisted with the Alpha Battery 2nd Battalion of the 110th Field Artillery Regiment in Westminster.
Just a few years prior to Kurt joining, his father, Frank, had retired from the Guard after 23 years of service.
"It never really felt like he ever left," Kurt said. "Every time I came to drill, people would ask 'How's your dad?' and tell me stories."
Soon Kurt will be a visitor, too, as he plans to retire in March after more than 22 years of service. Together, the father and son have dedicated more than 40 years to the National Guard.
"The two of them are the most impressive people I know," said Sam Riley, a retired colonel from the Maryland Army National Guard. "They are little Energizer bunnies. They did it not for pay but because it's the right thing to do."
The National Guard is a state-based military force that becomes part of the reserve components of the United States Army and the United States Air Force when activated for federal missions. Guard soldiers respond to domestic emergencies, such as floods and snowstorms, and can be called to serve in overseas missions. Typically, those enlisted in the Guard primarily serve the area where they live and work and are required to attend drills and various trainings throughout the year.
Both men say the experiences they had in the National Guard shaped their lives.
Frank, 78, joined the U.S. Navy in 1963 and was in the United States Naval Construction Battalion, better known as the Navy Seabees, for six years, serving in Vietnam. From 1973 to 1997, he was the Deputy Maryland State Fire Marshal and a canine trainer for the K-9 Detection Unit, working from an office near the Westminster Regional Airport.
"I'm gratified to have served my community, and the State of Maryland and proud of the deployments in foreign countries," Frank said.
Kurt was commissioned as an officer through the Reserve Officer Training Corp program at McDaniel College in 2007. He was called into service following the Sept. 11, 2001, terrorist attacks and served abroad in Iraq and Germany.
"9/11 was terrifying," Kurt said. "I remember packing my bag and waiting for a call to come in. We didn't know what was happening or what to expect next. It was a surreal experience."
While in Baghdad, Iraq, in 2011 and in Germany in 2017, Kurt worked in a public affairs office. He is proud that he was able to tell and share other people's stories through that work.
"A lot of people don't realize what is happening around the globe," Kurt said.
Frank said he couldn't be more proud of his son's accomplishments.
"To watch him from day one advance himself in his career here in the National Guard from private to command officer to the rank of major," Frank said. "It is tremendous what he has done."
The decision to retire from the Guard wasn't easy, but Kurt is ready to start the next phase of his life. A father of a newborn son and a teenager daughter, he wants to spend more time with his family.
"I want to focus on time with my son and enjoy being a dad again," said Kurt, who will continue his service as a civilian with the National Guard Bureau as a public affairs specialist and spokesperson.
Both men, according to Riley, are of the "highest caliber of character." Riley had the privilege of awarding both Kurt, in 2013, and Frank, in 2015, the Honorable Order of Saint Barbara, an award recognizing individuals with the highest standards of integrity and moral character.
"I have known them in so many different capacities," Riley said. As president of the nonprofit Union Mills Homestead Foundation, Riley called on the the Rauschenbergs for assistance during the popular Microbrewery Festival.
"They were there in a heartbeat," Riley said. "I can't say enough about them."
Both Kurt and Frank are grateful for all that the National Guard provided them.
"The National Guard allowed me to gain a wealth of experience and knowledge," Kurt said. "If I had to do it all over again, I wouldn't change a thing."
"I agree," Frank said.
(c)2022 the Carroll County Times (Westminster, Md.)
Visit the Carroll County Times (Westminster, Md.) at www.carrollcountytimes.com
Distributed by Tribune Content Agency, LLC.
---
---
---
---