Indiana National Guard veterans open military-themed brew pub
By
The Tribune-Star
February 3, 2022
---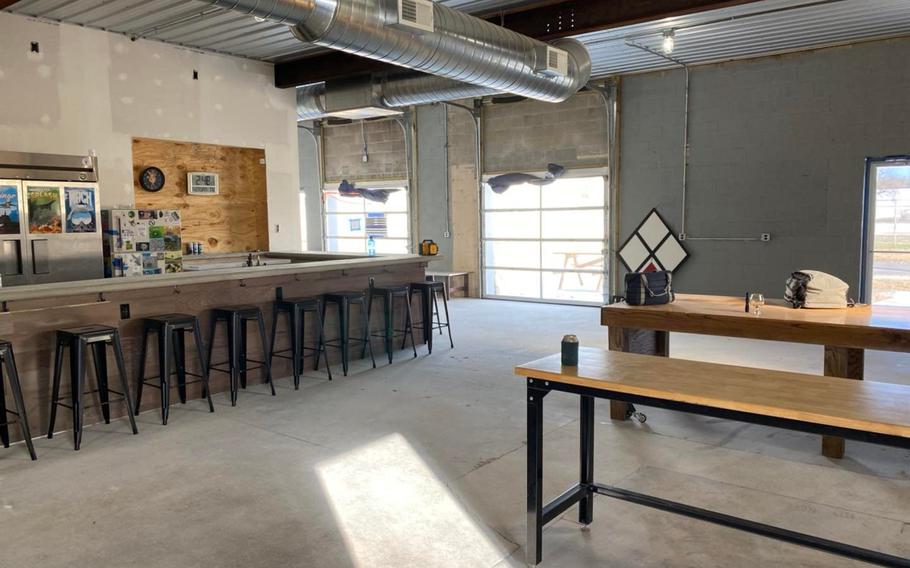 TERRE HAUTE, Ind. (Tribune News Service) — Four retired veterans of the Indiana National Guard have embarked on a new venture that serves the community in a somewhat different fashion: They've opened up Afterburner, a brew pub on Terre Haute's Ninth Street, to offer their own creations with military-themed names.
Afterburner's soft opening began on Groundhog Day, with a grand opening scheduled in the spring, featuring a flyover by three World War II fighter planes.
The brew pub is also a sponsor for the first Haute Hops & Vines Festival on April 30 with Terre Haute Brewing Company and other nearby breweries.
Afterburner is the brainchild of John Null, Dustin Strole, Greg Hrovat and Rob Wiemuth (who lives in Nevada and flies for a commercial airline, so will only be there part-time).
Earlier, they ran a club on Terre Haute's Indiana National Guard base. "We had no skin in the game there — it's a nonprofit on the base," Null said.
But they had been home brewing since 2013, and wanted to bring those talents to their new club, where they've been brewing since last May.
"We want to bring people together, for community awareness and to bust each other's chops," Hrovat said. "Craft beers bring people together."
Around a dozen different Afterburner products, ranging from India Pale Ales to lagers to a Russian imperial style weighing in at 10% alcohol, have been available for several months at local bars and businesses like 7th and 70, Big Red Liquors and Baesler's Market.
At their business, the veterans have 12 taps for dispensing beer, with room to expand. All will pour Afterburner beers, with five core beers, three or four rotating flavors, one for water and perhaps seltzers or ciders.
Décor features military badges and car doors from first-responder units. They hope to hire other veterans to work behind the bar.
The soft opening began in the midst of the winter storm, which has hardly been the only snag along the way for the veterans, who say they are accustomed to adversity. They initially expected to open Afterburner last spring, but then, as Null said, "2020 happened."
The pandemic wasn't the only issue the veterans encountered.
"Lack of knowledge was part of it," Null conceded. "We were our own general contractors [on remodeling the building's interior], doing something you've never done before and learning along the way."
Moreover, some of the equipment they purchased was faulty. A keg washer needed repair, and a device that chilled ingredients had an undersized piece which rendered it extremely inefficient.
"The company figured it out because a COVID vaccine manufacturer had the same issue," Null recalled, adding that the vaccine manufacturer understandably received a lot more attention from the equipment company than the brewery.
The building on Ninth Street they purchased turned out to be atop an environmental dump. And just as they were hoping to open before Christmas, two of the men tested positive for COVID, further slowing progress.
But the men were not deterred. "The [attitude of the] brewing industry is, 'Oh, we've got a problem — let's figure out how to fix it,'" said Null.
"We had some of those, 'Man we should've done this a different way,' but we've still been able to produce a product," Hrovat added.
Brewing can be a cerebral exercise, Null posits. "One of the things about brewing is it involves both sides of the brain," he said. "There's physics, chemistry, biology and then your creative side — 'What if I add this to it?' Brewers and beer geeks alike appreciate that — you want to try different things and sometimes you swing and miss."
He noted, "Coffee mixes well with beer — one of our favorite breweries in Illinois did a coffee IPA. I wouldn't do that, but it was decent."
Some of their beers will benefit veterans' causes. "That's the neat thing about brewing — you can make brews for causes," Null said.
ALES for ALS will help treat amyotrophic lateral sclerosis, better known as Lou Gehrig's disease, which afflicts a disproportionate amount of veterans. The Hoosier Buddy Project highlights suicide awareness and prevention among veterans.
"Suicide affects the military population more — we're all a few degrees of separation from that, so it's near and dear to us," Wiemuth said.
The men laugh ruefully when it's mentioned how difficult it is for veterans to ask for any sort of assistance, which leads to many veteran suicides.
"All of us sitting here, it's hard to explain," Null said. "I have a pretty good family support structure. The other guys are in similar situations. But different things affect people differently in numerous ways. I can't say that I've overcome anything, it's just that I stay focused and try to help however we can.
"We are each other's support system — that's a big part of it, as well," he added. "Suicide is a topic that gets people together and talking, and we've had a lot of candid discussions amongst one another in this type of environment, with a laid-back setting. Relax a little with a drink and it's easier to open up about some things that you would otherwise hold closer to the vest."
The men are considerably happier about the Haute Hops & Vines Festival, which will shut down a portion of Ninth Street on April 30 so patrons can sample the different breweries' offerings, as well as the wares from a number of food trucks that will participate in the event.
"This beer fest, it's gaining momentum," Strole said. "I didn't expect it at first, but the momentum is expanding. It's not just a big deal for Terre Haute, it's a big deal for Indiana beer fests. I think it's on pace to be one of Indiana's better if not premiere beer fests."
Strole then made a little confession: "I'm more excited for the food — the beer I get every day, but these food trucks we'll be having ..."
(c)2022 The Tribune-Star (Terre Haute, Ind.)
Visit The Tribune-Star (Terre Haute, Ind.) at tribstar.com
Distributed by Tribune Content Agency, LLC.
---
---
---
---