'He's finally home': After decades, Wis. city's first casualty of WWII laid to rest
By
The Leader-Telegram
January 25, 2022
---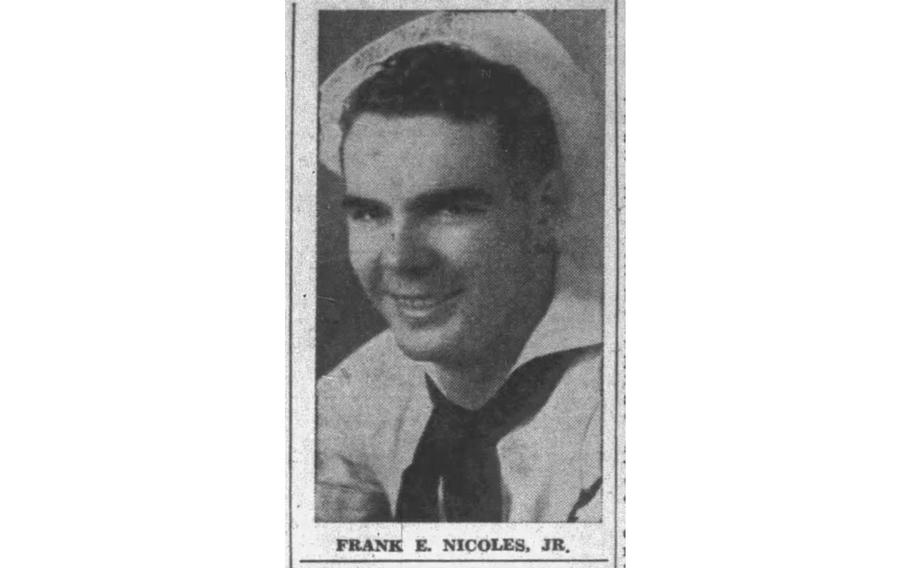 EAU CLAIRE, Wis. (Tribune News Service) — For decades, the remains of the 24-year-old man who died during the attack on Pearl Harbor were a mystery.
His unidentified remains were eventually buried at the National Memorial Cemetery of the Pacific in Honolulu.
In 2016, using DNA analysis, the young man was finally identified as Navy Fireman 1st Class Frank E. Nicoles Jr. of Eau Claire.
On Monday, more than 80 years after his death, Nicoles finally received a graveside ceremony and burial with full military honors in San Antonio, Texas.
"He's finally home. I don't know of any other way to put it," said Jack Collier of Pflugerville, Texas. Collier is the husband of Nicoles' cousin twice removed. "It was a long journey."
Nicoles was Eau Claire's first casualty of World War II, according to Leader-Telegram archives.
He's also one of four namesakes of the American Legion Post 53 in Eau Claire. Nicoles' name is recorded at the Eau Claire County Courthouse Memorial's list of World War II casualties, wrote fellow Eau Claire World War II veteran Harold "Diz" Kronenberg in his book "A Tribute to Sacrifice."
On Monday, several of Nicoles' distant relatives were able to gather, say their goodbyes and lay the veteran to rest.
A ceremonial bugler, chaplain, flag team, rifle team and pallbearers from the Navy Reserve Center San Antonio honored Nicoles at the Fort Sam Houston National Cemetery in San Antonio, said Cmdr. Kris Hooper, public affairs officer for the Navy Region Fort Worth.
Nicoles was affectionately known to his family as "Junie," a nickname short for Junior, Collier said.
Collier first learned about Nicoles' legacy in 2020, when he began looking into the genealogy of his wife's family.
"It was a very impressive ceremony here today," Collier said. "The military went all out to give him full honors."
A short life lived with honor
Nicoles was born in Eau Claire in 1917 and attended grade school in the city, the Leader-Telegram reported in the 1940s.
He grew up in a house on Porter Avenue in Eau Claire with his grandparents and several siblings, Collier said.
Nicoles was killed in the infamous Dec. 7, 1941, Pearl Harbor attack while serving aboard the battleship USS Oklahoma.
While moored at Ford Island in Pearl Harbor, the ship sustained up to eight torpedo hits in a sudden attack from Japanese planes. It capsized in less than 12 minutes.
Many crewmembers managed to climb aboard the USS Maryland to stay in the fight, but including Nicoles, 429 crewmen were killed or went missing in the assault, according to the Defense POW/MIA Accounting Agency.
Nicoles' younger brother, John Cameron, was also aboard the USS Oklahoma during the attack but survived, Hooper said. (In total, three of Nicoles' siblings served in the military during World War II, including sister Jean and another brother, William.)
Nicoles was listed as "unaccounted for" for several weeks after the Pearl Harbor attack, Hooper said. He was buried as an unknown at the National Memorial Cemetery of the Pacific in Honolulu — also known as the Punchbowl — in the late 1940s.
In a bid to identify unknown USS Oklahoma crewmembers, the POW/MIA agency in 2015 exhumed the unknowns' remains and analyzed dental, anthropological and mitochondrial DNA using samples from living relatives.
In May 2015 the agency definitively identified one set of remains as Nicoles'.
Nicoles is one of the more than 200 dead from the USS Oklahoma who have been identified so far, Gene Hughes, a public affairs specialist with Navy Personnel Command Public Affairs, told the Leader-Telegram in 2019. He was awarded the Purple Heart, World War II Victory Medal and American Defense Service Medal.
"I can't imagine what it was like for the family back then," Collier said Monday. "It took two or three months to find out (about his death). ... I can't imagine how incredibly good it feels to at least be able to bring (him) home and provide him with a proper burial."
The POW/MIA agency says more than 81,600 Americans are still missing from World War II, the Korean War, the Vietnam War, the Cold War, the Gulf Wars and other conflicts.
(c)2022 the Leader-Telegram (Eau Claire, Wis.)
Visit the Leader-Telegram (Eau Claire, Wis.) at www.leadertelegram.com
Distributed by Tribune Content Agency, LLC.
---
---
---
---