Pa. veteran pens sci-fi novel series inspired by military stories
By
The Tribune-Democrat
January 20, 2022
---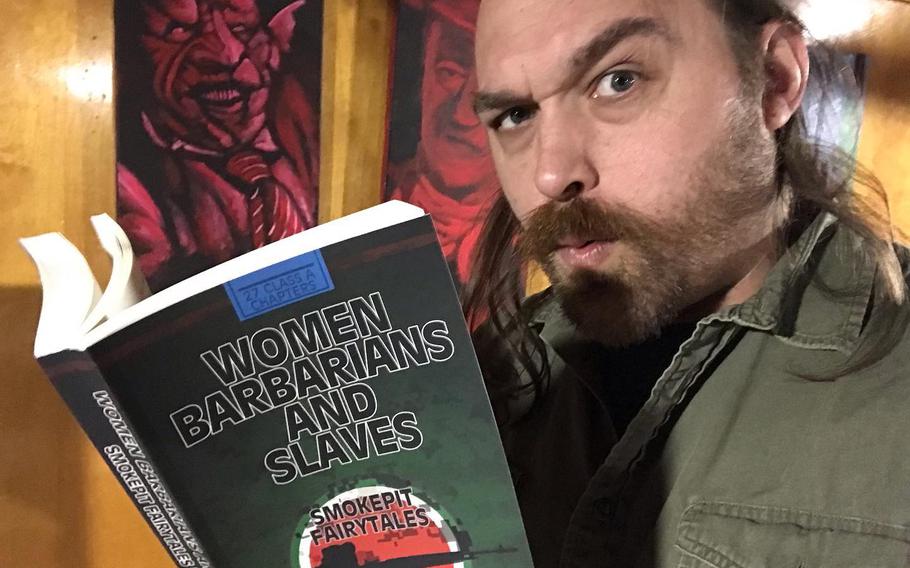 ASHVILLE, Pa. (Tribune News Service) — Long days during military deployments led Marine veteran Gene "Tripp" Ainsworth to pen a series of science-fiction novels inspired by the stories told in the "smokepit," where smokers gathered to light up and chat.
"If you're not doing anything, that's where you hang out," the Ashville resident said.
Stories were always being swapped by service members, and they would often be followed by exaggerations of what could have or should have happened instead.
The medically discharged U.S. Marine served for 12 years — including two tours in Afghanistan and two deployments on naval vessels. It was his time on one of the ships that made him want to pen the "Smokepit Fairytales" series, in which there are now nine books — the most recent installment being released in December.
Once the epic is completed, there will be 12 books in the set, Ainsworth said.
The majority of the series is built around two main characters: Hank and Doc.
Ainsworth's initial inclination was to take the exaggerated smokepit tales and write a collection of short stories. But after some consideration, he decided it'd be more interesting if the events happened to two people instead.
'I think it's fantastic'
All of the books are self-published, and Ainsworth writes under the pen name "Tripp," a family nickname.
The main premise of the "Smokepit Fairytales" series is that two soldiers fighting in Afghanistan get separated from their platoon and accidentally become immortal. Hank and Doc go on to experience World War III, an alien invasion and a slew of what Ainsworth describes as "apocalyptica."
He cautions that these books aren't for everyone. The Florida native said he included the gritty parts that are normally left out of other military books, adding that some scenes are "intense."
Despite that, long-time friend and fellow veteran Kennedy Jude said he loves the stories.
The Wichita Falls, Texas, resident has read all nine and not only was there when Ainsworth put pen to paper for the first time, but also helped write the music included in the back of the fourth installment.
"I think it's definitely something I've never seen done before," he said. "It's military, it's fantasy, it's sci-fi. ... It's sometimes not for everybody, but I think it's fantastic."
Another friend and service member, Parker Chlovechok, is also a fan of Ainsworth's books.
"I had the privilege of being his primary sounding board for ideas and being a test reader for the first draft manuscripts for books one and two, both of which he managed to write in a matter of months while we were afloat on the now-decommissioned USS Bonhomme Richard," Chlovechok said.
Chlovechok described the stories as a "quasi-autobiographical epic of speculative fiction that keeps you engaged with its juxtaposition of humility and relatability against elements of fantastical grandeur."
He spoke highly of his friend, referring to Ainsworth as the most engaging and fervently artistic man he's ever met.
"He makes things more interesting everywhere he goes — as he is interested in everything," Chlovechok said.
Throughout the nine books, there are also illustrations that Ainsworth created himself. Beginning with the fourth installment, he worked music into the stories.
These are other inspirations Ainsworth took from his own life.
He arrived in Cambria County after leaving the military and applying to colleges and universities to study art. He was accepted into the Penn State-Altoona program and settled in Ashville in 2018. Since then, he's used his self-taught skills and what he's learned at the school to sell his art on nearly all media.
When the COVID-19 pandemic began, Ainsworth took a break from school and focused solely on his art and stories.
Jude said he's loved watching his friend develop the books and include other media.
"The man loves his craft. He is a lover of the fine arts," he said. "And the amount of work that he's put into it, I think his books should be more popular than they are."
All of the "Smokepit Fairytale" series is available on www.amazon.com.
(c)2022 The Tribune-Democrat (Johnstown, Pa.)
Visit The Tribune-Democrat (Johnstown, Pa.) at www.tribune-democrat.com
Distributed by Tribune Content Agency, LLC.
---
---
---
---