Answering the call: WWII veteran Dorothy Hess helped evacuate more than 95,000 casualties
By
The Columbian
January 18, 2022
---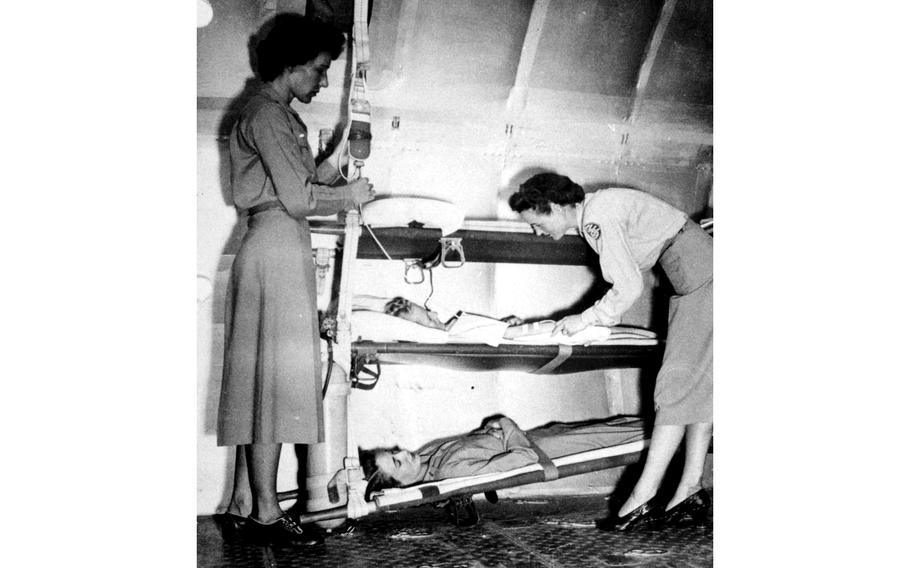 (Tribune News Service) — World War II veteran Dorothy Hess reflected on her daring life full of service work as she approaches her 100th birthday on Jan. 19.
To celebrate, Hess and her friends and family will enjoy cake and hot prime rib at her retirement community as they recount stories — something she has an abundance of which to tell.
Susan Hess Logeais said her mother taught her to be courageous at a young age.
"She laid the groundwork for me to have an adventurous life at a very young age because she did that," said Hess Logeais.
Hess, who was born and raised in Seattle by Latvian immigrants, approaches life with an inextinguishable sense of bravery and adventure. She grew up during the Great Depression in an ambitious and strong family. Her mother made closet gin during the Prohibition to support the household. Hess graduated from high school at 16 years old and studied nursing shortly after.
However, her capacity for adventure still needed to be filled, which led her to taking a great leap by joining the U.S. Army Air Force in World War II.
Joining the war
When Hess and her friends heard Gen. Henry "Hap" Arnold urge nurses to serve in World War II, they jumped at the opportunity to support their country and servicemen.
"I always wanted to help, even when I was a kid," she said. "I think it's a good experience for people to do something like I did."
Hess, who was a nurse at Western State Hospital near Tacoma, Wash., left her job for the opportunity in 1943 and immediately reported to Bowman Field in Louisville, Ky., for training.
The nurses studied academics and fieldwork, and they learned survival skills ranging from map-reading to camouflaging in their environment. The program also required nurses to participate in physical conditioning and simulated enemy conflict. Hess became a member of the 804th Medical Air Evacuation Squadron in the U.S. Fifth Air Force and would play an integral role in the war.
Each medical air evacuation squadron was led by a flight surgeon and chief nurse, which was further divided into six teams of flight nurses and surgical technicians. More than 31 of these medical transport squadrons were created and saved more than 1 million patients during the war.
Soon after, Hess and her squadron — which was composed of 25 nurses with a head and assistant nurse — crossed the Pacific Ocean to Brisbane, Australia. From there, they proceeded to Port Moresby in New Guinea and were later stationed in the Philippines.
As Hess left safe shores toward the raging conflict, she said, there was a moment that she thought she might not come back.
"It gave me a different acceptance of things in life," Hess said.
The Southwest Pacific theater, where the 804th squadron was operating, was a major area of the war between the Allies — France, Great Britain, the U.S., the Soviet Union and China — and Axis powers, which included Germany, Italy and Japan.
They flew aboard C-47 transport planes where the nurses and surgical technicians would tend to soldiers' injuries just as any physician would. Sometimes patients would have to be retrieved from active conflict zones where nurses operated with fighter cover.
There were close calls, Hess said, but she never felt scared.
"We didn't have time to be worrying about anything — that's for sure," she said. "Actually, I can't imagine why I didn't have any fears."
Together, Hess and her squadron evacuated more than 95,000 casualties, and most of them received the Air Medal from Maj. Gen. Warren Carter for serving for more than 250 hours of combat flying.
Hess' squadron was in active duty until 1945, when members were returned to the U.S. to be discharged.
The years after
Hess met her future husband, Andrew Hess, a lieutenant in the U.S. Navy, while they were studying at the University of Washington at the end of World War II. They married in 1946 and had three children together. Her husband became involved in politics, eventually bringing him to the forefront as a state representative and senator. She worked in public health and then as a school nurse.
She continued to travel long after her service abroad, which brought her to countries such as India and Russia. There was no limit to what Hess was willing to experience or learn more about — sometimes bringing her to learn about meditation or shamanic journey work with her daughter.
"She's such a remarkable woman," Hess Logeais said. "She was ahead of her time (and) was such a pioneer and such a brave person. I'm very grateful for that."
(c)2022 The Columbian (Vancouver, Wash.)
Visit The Columbian (Vancouver, Wash.) at www.columbian.com
Distributed by Tribune Content Agency, LLC.
---
---
---
---