Voices of WWII troops live on in letters collected, preserved by Schenectady woman
by
Indiana Nash
The Daily Gazette
December 26, 2021
(Tribune News Service) — They called themselves "Em's gang." Or sometimes simply "The gang."
They were a group of young men hailing from Schenectady and serving in the armed forces during World War II who would often write home to Emma DiGiorgio, a community builder if ever there was one.
She ran Emma's Newsroom, which opened in 1939 and was located at 1427 Broadway, close to the General Electric Company. DiGiorgio, who died at 105 in 2016, opened the store at age 26 after working in the mailroom at GE for several years. From 5:30 a.m. to midnight she served mainly GE workers and their families.
"I worked hard," DiGiorgio told The Gazette in 2015.
DiGiorgio sold the first-shift employees their coffee, sandwiches and newspapers on their morning walk into work. And she stayed up late, keeping the store open so mischievous boys in the neighborhood could come in, play pinball, enjoy a Coke and keep off the streets.
"They used to drive my mother crazy," said DiGorgio's daughter, Marlene Verrigni, "A couple of times she'd go outside and they'd lock her out and say, 'Emma, we're eating ice cream,' kidding her. But my mother didn't care, she said, because they were wonderful boys."
In the early 1940s, many of those boys were drafted to serve in World War II. Some went into the Air Force, others the Navy or the Army. They served in a range of places, from the Pacific to France to Germany. Throughout the war, they sent DiGiorgio letters, telling her how they were doing, seeking any news from back home or asking for candy and other comforts from home.
"Because she sold candy, cigarettes, magazines, she'd send them boxes," Verrigni said.
Many asked DiGiorgio to relay messages to their friends or parents, some of whom didn't speak or read English.
According to Verrigni, her mother answered all the letters as they came in and sent the troops as much as she could spare. Over the years, DiGiorgio kept more than 100 of the letters and postcards she received and eventually passed them on to her daughter.
Verrigni contacted The Gazette earlier this year to see if something could be done with the treasured correspondence. She wanted the collection to go to a place where it might be seen and appreciated by others. After meeting with Verrigni, The Gazette contacted the Schenectady County Historical Society about the collection of letters and postcards.
The society is no stranger to such inquiries. People often contact the organization when it comes time to donate family papers, letters, yearbooks, etc. But DiGiorgio's collection is fairly unique.
"We don't really have much of this right now," said Marietta Carr, the librarian at the historical society. "I expect that we are going to be getting more. . . . But at the moment this is a pretty unique collection. We only have one other collection that's comparable."
That would be the Charles and Douglas Snell World War II correspondence, a complete set of letters written by two Schenectady brothers.
DiGiorgio's collection contains letters from a handful of Schenectady soldiers, most written between 1943 and 1945, with envelopes postmarked from around the globe. Troops often weren't allowed to divulge their location or what they were doing, and some writers mentioned that they were being carefully censored. While some found ways to hint at where they were heading and some of the battles or skirmishes they were involved in, most of the letters spoke about more mundane topics.
"The War Office and people working on the home front encouraged letter writing to talk about really mundane stuff, to talk about food," Carr said. "There were a lot of people, especially here in Schenectady, who they took that very seriously."
According to Carr, many women in Schenectady organized candy drives for troops. Others grew victory gardens and bought war bonds.
"You've got a neighborhood where most of the eligible young men are gone and they're all gone at the same time. [With] that kind of thing, you really need to rely on [people like] Emma to keep up the normalcy of it as much as she can. This is one way that she could do that. [Writing] these letters and sending the gifts, doing the small favors, that's all part of community building," Carr said.
Reading some of the letters, one gets a sense of just how much DiGiorgio stepped up for the community. One letter writer thanked her for keeping his parents informed. Another thanked her for a Christmas gift. Nearly every writer thanked her for keeping in touch and for taking the time to write.
"It was certainly good to hear from you again," reads one letter dated Feb. 9, 1945. "Knowing that you try to write to all the boys and take care of the boys and being bothered by the local Gestapo, I really marvel that you get the chance to toss me a few lines and from the heart, truly they're appreciated."
From the reference to the "Gestapo," it seems DiGiorgio might have fielded some criticism for her correspondence. Considering that DiGiorgio was receiving a high volume of letters from overseas, some of them written in Italian, community members might have been suspicious.
"Broadly speaking, in World War II there were directives that were coming out of the War Office not just for law enforcement but for everyone to look for signs of spying. Or look for signs of suspicious behavior," Carr said. "That was coming out of the War Office, and also it was coming out of people's fear. You're in the middle of a war, it's a terrifying time. ... Some people threw that energy into productive things like raising victory gardens, or raising money for war bonds, or supporting local initiatives for sending goods and little trinkets and candy to their serving soldiers. People like Emma put that energy into correspondence and keeping the community together. Some people put it into policing everyone else's activities."
If anyone was bothering her, it didn't seem to stop DiGiorgio from corresponding with Emma's Gang. The fact that she preserved the letters speaks volumes as well.
"It's amazing that Emma was able to save all of these things. Clearly they were meaningful to her, but also she had the space and the time to save them. Sometimes that's just not the case," Carr said.
The historical society is willing to make a home for DiGiorgio's collection. Anyone who has letters from that era they'd like to donate is welcome to reach out to the society as well, though it's worth noting that the society collects materials that are a reflection of Schenectady County's history.
Here's a look at some of the letters in the collection. They have been lightly edited for readability.
From: C. J. Majewski, U.S. Army Air Force Buckley Field, Colorado
Dear "Mama" Emma,
Your letter arrived today and I was very glad to hear from you once again. I'm glad to know that everyone that's left is alright.
I heard about Joe B. joining the navy. I'm sure he made a good choice. With what he knows, he should be able to go places. He'll get better breaks in the navy too.
Do me a favor, Em, the next time Rudy talks about getting into the service, pop him in the head. This war is no kids stuff not that I mean it literally or anything. It's just that it's true. I've met plenty of guys who've been over there. Some just don't want to think about it. So you see how it stands. You don't necessarily have to be in the service to serve your country. You can also do war work and do just as much. There's more ways than one to do your duty.
I expect to go over pretty soon just don't know when. I don't mind going over but I know I'll be scared as hell. I'm not going to try to fool anyone, it's really true. Who can tell, maybe I'll meet some of the fellows over there.
You know, Em, I expect to be home sometime in May. Now that I heard about all the fellows leaving, I don't know what I'll do when I do get home. I suppose I'll find something. You can never tell about these things.
Em, you ought to see the weather out here. That's all we've had out here is snow and more snow. Even though it snows it's still warm outside. That's the trouble with this place. You don't know what to expect.
Well, Em, I'll say so long for now and thanks for Joe's address. Take care of yourself. I remain as ever your adopted son.
May 10th, 1944
From: Carmen Sgarlata
Dear Em,
I'm a little late in answering your letter because as I explained to Lil, they've been keeping us fairly busy of late. We had a party Saturday and I was partly in charge of arrangements, so with our daily schedule and all we were pretty busy.
The party went off quite well and as far as dates were concerned, I batted 1000. She's a nice [lady] but my fingers aren't quite healed from my last adventure with fire, so I'm playing it smart for a change.
It's kind of hard to write when we're restricted as to what we can say. I can always tell you how much I miss you, but I think you realize that, and you also know how much I appreciate your faithful correspondence. Especially now when many of my so-called friends are beginning to forget that I exist.
I suppose that the weather is getting nicer around home by now. We've been lucky as well. We haven't had much of a winter, and an early spring descends around us with plenty of flowers and stuff. They have a system of time called double summer, and they move the clocks ahead two hours so now it doesn't get dark till 10:30 p.m. Seems strange.
I haven't seen or heard from any of the boys. Right now it doesn't seem likely that we'll be able to meet for quite a while. They manage to keep us pretty busy.
I guess it must be pretty lonely for you without a bunch of the fellows around to drive you crazy! Be patient Em, the curtain's going up on the last out and the show will be over. The [Germans] haven't got a chance with Em's gangsters here only they won't admit it, but they're going to have to real soon, and I'll be back drinking your cokes again.
I have quite a few more letters to write so for the present, I'll bid you adieu. Thanks a million, Em, and always remember that when you don't hear from me there's a reason for it.
Love,
Carmen
September 12, 1944
From: Carmen
Sorry it has taken me so long to answer. Honestly, we've been busy as the devil lately. We hardly have time to breathe, and when we do get time we sleep it off. I must owe about a million letters.
One new addition to our outfit, which has been welcomed by one + all. We can now get Cokes and sweetie do I down the stuff. You should know. I used to drink all your cokes for you.
That set up you mentioned in your letter sounds interesting. My luck has changed lately and I've been a little lucky lately. . . . By the way, you can do me a favor if you will. Dice are kind of scare so if you can send me a couple pairs I'll appreciate it. Let me know what you pay for them and I'll send the money on to you. Needless to say, I can't ask the family for them.
Well, the news looks pretty good but I'm afraid that we're due for another year's service overseas. Of course, the way they're squabbling no one really knows what the story will be until Germany quits.
No matter how many Cokes I get here they don't taste anything like what your cokes did. So keep mine on tap for me. It may be a little while longer but I'll be there someday drinking it.
By the way, where's the picture you promised to send. How [about] the one of you and I taken together on my first furlough, remember? . . . Well, lovely, I've got to go, so I'll close for now.
All my love, remember,
Carmen
Oct. 7, 1944
From: Joe Boggio
Hello E,
I realize I'm a little late in answering your last letter, you know how things are. Besides, I've been kept pretty busy lately. No fooling, they've really been keeping stepping along.
Boy, it really came as a shock, that news about Angelo. That news about Joe. M. was bad enough, but Angelo. No one would ever think of him. At least I never gave it a thought. Boy, it sure makes me feel funny. Just imagine we won't be seeing him anymore. You're going to miss kicking him out of the store now.
Yes! I know you sent the gas coupons to that fellow and thanks a lot.
Well Em, I've got 5 more months of school here in Chicago. Boy is the time flying by. It seems as though it was only yesterday that I was put into the navy and here it is almost 7 months I've been in and I still haven't been home. Well, you know me. I could bet the only horse in the race and lose. That's just the way things go and there's nothing I can do about it.
Well, I guess I'm out of what to say so I'm going to sign off for now. Say hello to Steve and Marlene for me and the rest of the gang that's left on Broadway's well-known rendezvous.
Bye now, Jo
Oct. 24, 1944
From Carmen Sgarlata
Yep, you were right about the letter business, but when I had written to you I had not received your letter. Now your picture hangs in an honored place among my mementos.
About Ang, I take it you mean Ang Mineconzo, I hope I'm wrong in believing that he's been killed. I hope to hell he's only been hurt. My mail has been screwed up this past month, and my news from home is kind of piecemeal.
I can give you a little more detail about some of the places we've been through. You heard of Carentan, Bayeux . . . St. Germain de'Ville . . . Versailles and . . . Paris. What little we did see of Paris is beautiful. It's hardly been touched by the war. Can't tell you much more.
Yep, it looks like this thing might drag out for the winter anyway. . . . I'm wondering if I'll ever be able to act like a human again. If I'll ever sit in Emma's on the hill again, and wear clean clothes and sleep in a clean room between clean sheets again. Go out when I want to, and with whom I want to. See lights big and bright again. Drink as many cokes as I want to, or go out and get as drunk as I want to. Do what I want to, where I want to. When it rains I'll be able to get out of the rain again. Where C. rations and K. rations will be something to tell jokes about. Oh well, I can dream, can't I!
I'll certainly be able to tell you some stories like the stories I used to tell you about the two Dayoes but this concerns four soldiers . . . The dirty foursome and a motley crew at that. There aren't enough papers to describe the wildest varied experience, besides the censor would have to censor it. . . . They're a great bunch which helps the time go by fast and when you're around them, be it in mud up to your ears, or in some bar in Picadilly you can't be blue.
Some day I'll repay you for your favors of sending me the Cards of fortune, maybe after feeling your magic touch, they'll bring me better luck.
Well, Cherie, I've got to close, but reluctantly I assure you. Write again soon. Kiss Marlene and Steve. . . . Don't worry about me, I've got my fingers crossed and my eyes open.
Love,
Carmen
Dec. 23, 1944
From: Jos. Boggio
Hello Em,
I suppose you realize that I'm writing this here letter to ask you a favor. Or do you? Well, here's the deal; you see we have to be in, I mean back at the base on New Year's Eve. We have to be back by 1 o'clock A.M. New Year's Day. So, in order to stay out a little longer on that particular eve, I would like you to send me a telegram saying that you are my mother and you are coming to see me on that particular weekend. Put my home address on it and signed mother. My home address is 1496 Broadway. I'm sending you the money for the telegram and if it cost any more than I'm sending I will pay the difference.
See if you can have it get here by Wednesday morning the 29th Dec. from then on I'll make the necessary arrangements.
Well, other than what I've just said there isn't a thing I could possibly say. So I guess I'll be signing off.
Merry Christmas again and a good and joyous new years to all.
Love,
Joe
Jan. 6, 1945
From: Jos. Boggio
Well, I got the telegram in time and I want to thank you for your cooperation. Although it helped a little it didn't get what I expected it would I still had to be in New Year's Eve at 1:30 A.M. But I did get Sat. night off whereas otherwise, I could not have gotten it off.
Everything here is just fine. Chicago still treats its servicemen with great admiration so everything is even better. The people of Chicago just seem to cater to our needs. Therefore I had rather a well-spent Christmas and New Year's. I've got about 12 more weeks of school left to go . . . well, I can hope anyway.
Louise Lazzare wrote me and told me about Steve's mother passing away. I was very surprised in hearing the sad news. I imagine Steve took it quite hard and his being in the condition he's in didn't help much, did it?
Yesterday, I took another exam and I'm here in the library waiting for the sad tiding. I hope they're not as sad as I imagine them to be. I like to get out of this damn school on time.
I've just written my mother but as usual, I can never think of things to write to her. I can't express myself in Italian. So tell her anything you think will cheer her up.
Well, I guess that's about all. Give my best wishes to all at home. Bye now.
Love,
Joe
Feb. 6, 1945
From: Mart
Dear Emma,
I am fine and feeling good and hope it's the same with you and everyone back home. I bet Marlene has grown quite big since I have been away. How about sending me a picture of her?
I have received a letter from Massey. I was quite surprised to hear from him because that's the first time I have heard from him since I have been across. He's in Belgium and so on. We are very close to each other. I won't be surprised to bump into him one of these days. I bet I won't even recognize him.
I heard over the radio a few nights ago that everything in Schenectady has stopped because of that big snowstorm, that all the stores are closed and everybody is home. It must of been the hugest snowstorm they had back home. The weather here is so nice it's almost like spring. All the snow has melted away and it is always raining here.
I bet the people back home were really worried when the Germans broke through and so were we.
I haven't heard from Dykie for quite a long while now. I would like to know how he is? How about sending me his address so that I can write to him. I can't think of anything else to write so I guess I will have to say good night.
As ever,
Mart
Feb. 9, 1945
From: Carmen
Dear Em,
It was certainly good to hear from you again. Knowing that you try to write to all the boys and take care of the boys and being bothered by the local Gestapo, I really marvel that you get the chance to toss me a few lines and from the heart, truly they're appreciated.
The family told me about the flag and how Dom raved about it! I suppose the . . . brother thinks I've forgotten about him, well I haven't. I have some things he'll really go for, only they can't be sent through the mail. I supposed about the most priceless thing in the world . . . would be pickled krauts . . . However, I'm afraid the army wouldn't allow. I laughed like hell when you wrote Dom offered to pay two cents to spit on it.
It's funny I never ran into Massey. We were up in that neck of the woods a short time ago. After that, we went to Luxembourg for a while and now we're back in France and thanks for the prayers, they certainly helped getting us back to France.
The other night we had an impromptu party, with some of the nearby nurses. Our officers made the gesture of the evening by donating their liquor rations to the shindig. Lady, let me tell you one thing, no matter where a G.I. goes and how pretty the local girls may be, as soon as an American girl shows up, the other chicks haven't a chance. It was really great to dance with an American girl again. I think every guy in this outfit would give his arms for those nurses.
They outnumbered us (they're all lieutenants) but they were regular Joes to all of us. It was the best job of morale-boosting that I've seen since I came into the army. There's one bunch of girls I'll never forget.
Well, Mamma, time grows heavy on my shoulders, so for now I'll say "good-nite." Thanks for the letter and stuff and take good care of yourself because you'll need all the strength you can muster for the day when we come marching home.
Love,
Carmen
P.S. Enclosing one of the latest for your collection. Give my regards to Steve and Marlene.
Feb. 11, 1945
From: C.J. Majewski, written on Company B 42nd Infantry Training Battalion, Camp Howze, Texas stationery
Em, I was a little mad at you because of what you said about that boat ride. I'm almost in the pink now and ready to go. You seem to forget one thing. My brother Joe took that boat ride and he didn't complain. He went where the road was hard. He went that way and I'm going too. When you read in the papers that things are hard over there, you'll know I'm right in the middle of it. I mean every word I'm saying. He went over and someone got him and someone's going to pay for it. All I want is revenge now. I know I'll be scared when I get over there but I'll have to get over that. If I'm destined to come back, I'll be back. If not, there's nothing I can do about it.
My training is almost over and I might be home for a few days before I go overseas. The possibilities are very slim though. I was home on furlough in Dec. so that cuts down my chances.
I heard about the snow at home. It must be really something. I wish I could see it. I don't see any snow at all down here. The only thing I see here is rain and mud. This week has been good so far. No rain and no mud. I just hope it stays like that for two more weeks.
That's all for today. It's time to sign off.
April 22, 1945
From: Jos. Boggio
Hi Em,
I'm just dropping you a few lines to let you know how things are around here. Well, everything is just fine, going along just as smooth as can be. But I must say that sea sure does things to me. I've gotten seasick every time I've gone out.
I've written to my mother and I wrote in English that's the main reason for this letter. You see I'm having a little difficulty in [writing in] Italian with the censorship and all. I wish you would explain to my mother if you can, which I doubt, about the censorship. I'm trying to find out how I can go about writing in Italian but as yet I have found no solution. Please see what you can do to calm my mother. Ask if she received any mail on the day you receive that one and ask her if you can help her out because I doubt if she can understand what I had to say. Maybe she'll let you help her out. Well, so long for now and regards to all.
From May 24, 1945
From: C.J. Majewski
Emma, didn't I tell you all they needed over here was me and it would end quick? I got over here and I certainly ended it in a hurry. I was in the 10th armored division and we spearheaded the drive through southern Germany. I told you where the fighting was the thickest that's where you'd find me. I wasn't lying, was I. I bet you're wondering why I went into the armored division. It's this way. I was following my brother Joe's footsteps. He was drafted in March and so was I. He went overseas and in Mar. I did too. When I got over here I volunteered for the armored division because if I was going to go I wanted to go the way he did. It may sound funny to you but not to me. I was going to prove to these [Germans] that they were going to have a tough time. I knew I wasn't going to get killed because they were fighting two of us.
Joe and I and we made a good combination. It takes more than [Germans] to kill a brother combination. They may get one but they'll have to answer to the other one. They paid the price and I hope Joe didn't die in vain . . . I'll close now and I hope I hear from you soon. Give my regards to all.
(c)2021 The Daily Gazette, Schenectady, N.Y.
Visit The Daily Gazette at www.dailygazette.com
Distributed by Tribune Content Agency, LLC.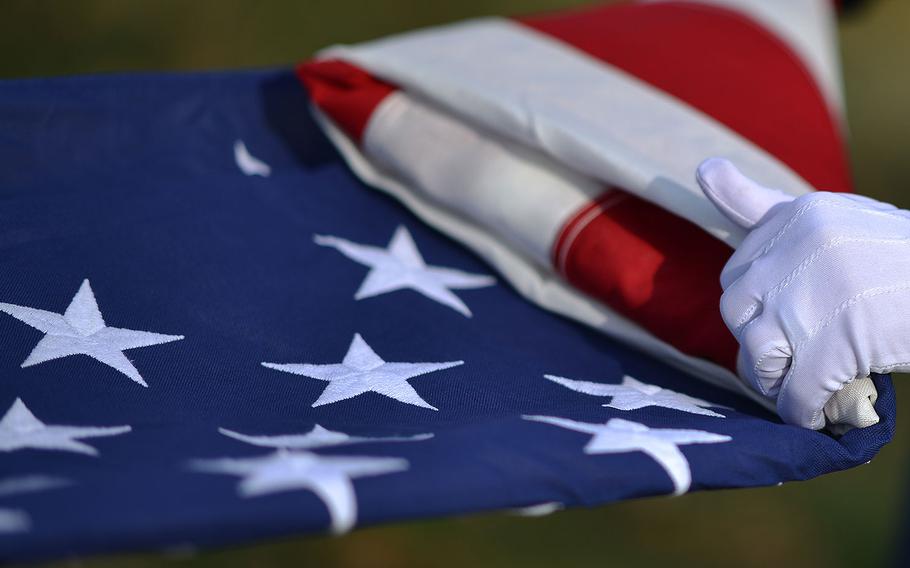 ---
---
---
---