Veterans' graves receive new flags in Pennsylvania cemetery
by
Mike Crowley
The Meadville Tribune
December 13, 2021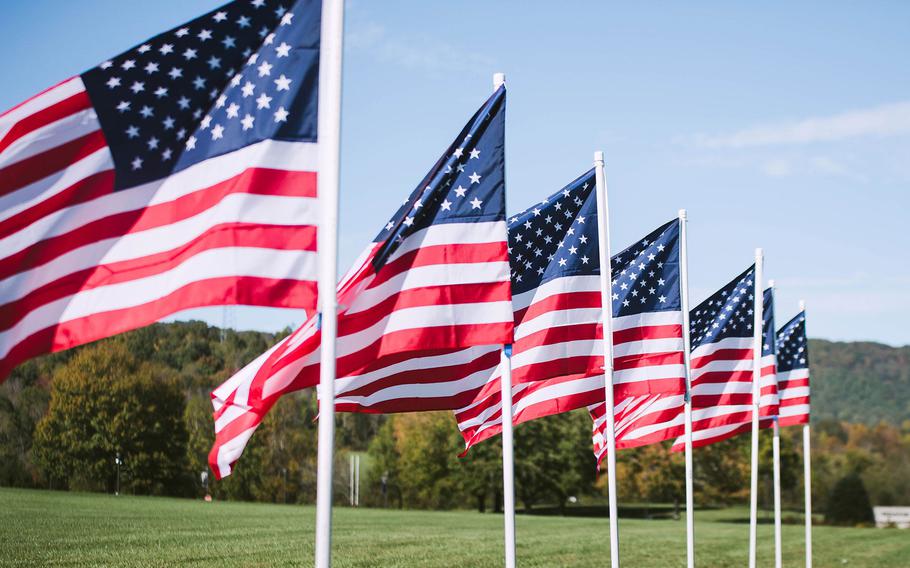 WAYNE TOWNSHIP, Pa. (Tribune News Service) — Dozens of volunteers armed with small-scale American flags gathered atop the Cochranton Cemetery hill Sunday afternoon, ready to fan out and scour the hillside.
"We're putting new flags on veterans' graves," explained 9-year-old J.D. Parker.
Parker's friend, 10-year-old Fletcher Erdley, said the reason for the flags was clear.
"They do a good job," Erdley said of the nearly 600 veterans whose graves received new flags ornamented with evergreen bouquets and red ribbons thanks to the volunteer effort led by scouts and families from Cochranton's Cub Scout Pack 224 and officials from Cochranton Area Redevelopment Effort (CARE).
Plenty of others contributed as well, according to Melissa Mack Maruska, the CARE board member who organized the event. Among the "lots of help" that made the event possible, Maruska cited a number of area pageant winners, James L. Steen Jr. American Legion Post 836, Pampas Creek Perennials, and the Crawford County Veterans Services Office (VSO).
"Cochranton shows up for these kinds of things," Maruska said as the group made its way down the hill with new flags and came back up about an hour later loaded down with old ones. "It's a great little town."
The cemetery is home to veterans from throughout the nation's history, according to Maruska, even some from the Revolutionary War.
Their graves are regularly marked with flags, but the ones placed there on Memorial Day were showing some wear. Inspired by Wreaths Across America, which places wreaths on veterans' graves a week before Christmas each year, Maruska led the effort to spruce up the flags honoring hundreds of Cochranton's veterans.
The ornamented flags were originally to be placed last year, according to Maruska, but the plan was delayed by the COVID-19 pandemic.
Supply issues nearly threw things off once again this year: With the event approaching, Maruska realized earlier this week that she was short by about 140 flags. Unsure where to find so many on such short notice, she called John Amato, owner of the J. Amato and Son Army-Navy store in Meadville. He quickly put her in touch with the county's VSO, which came through with the flags.
The flags removed on Sunday will be evaluated with those still in good condition saved for future uses, Maruska said. Those that are worn excessively will be disposed of by Post 836, and the newly placed flags will likely be removed in spring.
The event was scheduled to come just before Christmas, but standing at the crest of the cemetery hill, flags and ribbons gleaming in the bright sunlight of an unseasonably warm day, Maruska said the timing was fortuitous in another respect.
"At a time when people need to be reminded of our heroes, this was a great way to bring the town together and show them how many heroes we have," she said. "It's a lot."
(c)2021 The Meadville Tribune (Meadville, Pa.)
Visit The Meadville Tribune (Meadville, Pa.) at meadvilletribune.com
Distributed by Tribune Content Agency, LLC.
---
---
---
---