Connecticut veterans posts merge to survive as membership declines and bills mount
by
Jesse Leavenworth
Hartford Courant
November 18, 2021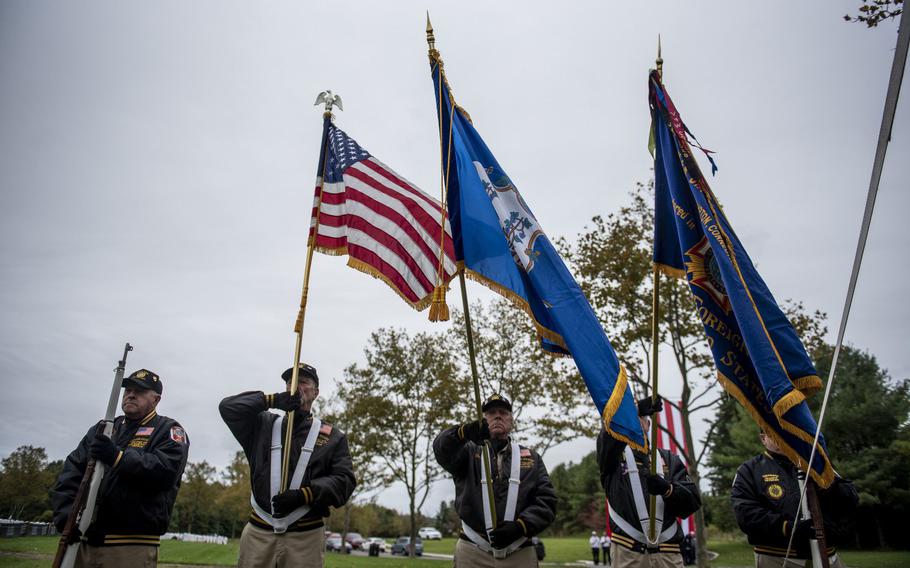 (Tribune News Service) — Members of Veterans of Foreign Wars Post 9929 in West Hartford usually fill the quorum of five needed to hold a monthly meeting, but sometimes they fall short.
"Most of the membership moved away or failed to stay involved. It's a shame," post commander Nicholas Vendetta, a U.S. Marine Corps veteran of the Vietnam War, said Tuesday.
The post sold its building at 83 South St. late last year as membership sank and bills mounted. Now the West Hartford veterans are preparing to merge with New Britain's VFW Post 511.
Post consolidation is a key strategy for the VFW's long-term survival in Connecticut, said Ron "Rusko" Rusakiewicz, the organization's state adjutant quartermaster and judge advocate general of the national organization.
Dwindling membership and lack of funding has affected VFW, American Legion and other veterans' organizations throughout the state and nation.
"Obviously, COVID did not help us at all," Rusakiewicz, a U.S. Army veteran of the Vietnam War, said.
The American Legion Post 68 in Berlin faces the threat of closure due to pressing building repairs, Auxiliary President Lisa Gagliardi said. Funds from the post's canteen and pasta suppers have not come close to the $100,000 needed for roof replacement and other repairs. Also, members cannot focus on serving veterans while constantly attending to building maintenance, she said.
VFW members in Manchester had to sell their building because they could not meet the cost of roof, siding and other repairs.
At least on paper, consolidation of the New Britain and West Hartford posts will raise membership to about 270, said Daniel Lutty, commander of the New Britain post on Veterans Drive, which faces a $150,000 bill to replace the heating and air conditioning system at the Veterans Drive hall.
Middletown's Post 583 is a consolidation completed this year of another city post and the Middlefield-Rockfall post, current Post 583 adjutant Michael Rogalsky said. The merger lifted membership from 32 at Post 583 to 113, Rogalsky said.
The post, which meets at the American Legion hall in Middletown, mostly consists of Vietnam veterans. A key problem, organization leaders throughout the state say, is that service members from more recent wars are not replacing the fading population of World War II, Korea and Vietnam veterans.
In the past 20 years, the American Legion's membership has declined by nearly 23 percent, and since 1992, the VFW's has declined by almost half, The Atlantic reported on Nov. 11.
"It took me 20 years before I would get involved with any vets' groups," Rogalsky, a U.S. Army veteran of the Vietnam War, said. "These guys from Iraq and Afghanistan, when they get back they're trying to clear their heads and God bless 'em, I hope they do it better than we did."
Older veterans are ready to help their younger counterparts, connecting them to services or just listening and sharing experiences, Rogalsky said.
"We have the connections and the knowledge, so we can steer them in the right direction," he said. "There's issues that are going to crop up."
Although younger members are in demand, the VFW's statewide and national leadership already reflect a change. Rusakiewicz said all but one of the state VFW district leaders are post-Vietnam War veterans. National Commander in Chief Matthew M. "Fritz" Mihelcic served in the Air National Guard from 1989 to 1999, including service in Operation Desert Shield and Desert Storm. The national organization's other two top leaders also are veterans of more recent wars.
©2021 Hartford (Conn.) Courant.
Visit courant.com.
Distributed by Tribune Content Agency, LLC.