Spelling a World War I veteran's name right after 99 years
by
Will Broaddus
The Eagle-Tribune
November 11, 2021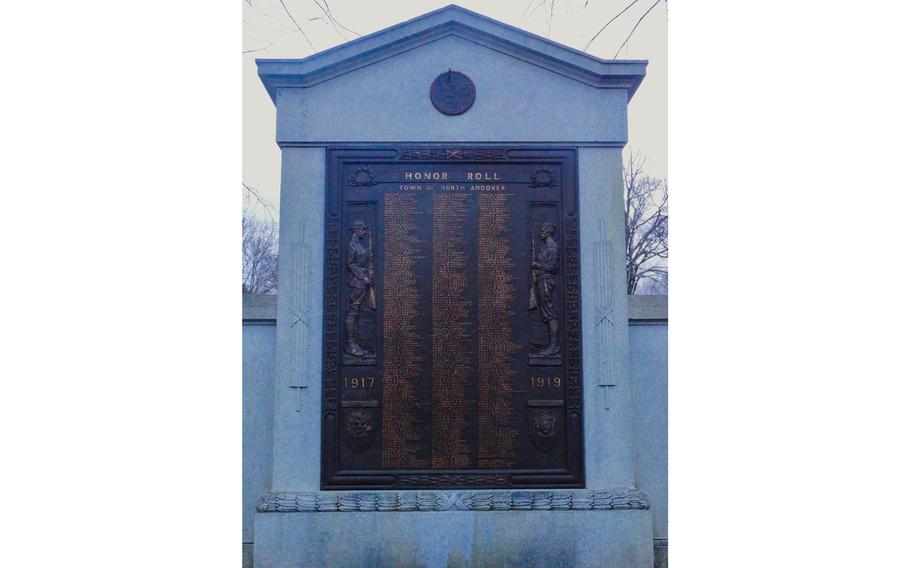 NORTH ANDOVER, Mass. (Tribune News Service) — What's in a name? Everything, if the name is yours and it has been spelled incorrectly on a bronze plaque for nearly 100 years.
That was the case with Arthur Enaire of North Andover, whose name was spelled "Ensire" on the town's World War I memorial when it was erected in 1922.
Arthur's nephew, Leonard Enaire, 92 and also a veteran, learned about the misspelling from his father, Henry Enaire, who died in 1980.
But it wasn't until Leonard went to see the plaque for himself in Patriots Memorial Park that he appreciated the permanence of that mistake, and felt compelled to get it fixed.
"I've been trying since to get his name changed, and everybody tells me you can't work on that, if you try to take a letter off, you get water behind it, it's a big expensive job," he said. "I kept at it."
Leonard said he approached individual members of North Andover's Select Board over the years about the problem, but with no luck.
"Nobody ever got back to me," he said.
The wheels didn't start to turn until about six months ago, when Leonard talked to Joseph LeBlanc, director of veterans services for North Andover and Boxford.
LeBlanc had worked on a similar project several years ago, helping to secure a State Historic Records Advisory Board grant for the completion of North Andover's Vietnam War memorial.
So after Leonard approached him, LeBlanc asked fellow veteran service officers to recommend someone who could fix the plaque, and they told him about Jeffrey Schiff of Schiff Architectural Detail in Chelsea. Schiff recently completed alterations to the plaque, thanks to $1800 in town funds and a $200 donation from the VFW, LeBlanc said.
"This had some unique challenges," Schiff said. "Because of the nature of a cast bronze plaque, it's not prone to correction after the fact, and to do it you have to destroy it to rebuild it."
Working by hand and using a specially shaped chisel, he carved off the offending "s" and also the "E," which he said was damaged and needed replacing.
Finding letters to replace them with was also a challenge, because the companies that made the originals are gone, and creating new, matching letters would be too expensive.
"I created an 'a' out of a 'w,'" Schiff said. "That was not exactly matching font, nor was the 'e.' It was an old stock 'e' that I had. It's again, not a matching font, but if you get everything to a certain state visually, where it will read and the color is consistent, it will pass."
While fixing Arthur's last name, Schiff also added a star beside the name of Fred Houghton, to indicate that he had died while serving during World War l.
That fact was recently confirmed for LeBlanc in research conducted by Anne Armitage of North Andover, a member of the town's Patriotic Observance Committee. She wrote to LeBlanc that the absence of Houghton's star was a mystery that couldn't be explained, but should be corrected.
Like Arthur Drouin, who has always had a star beside his name on the plaque, Houghton died from flu in the United States while he was waiting to ship out to Europe.
Schiff also put a new star next to the name of Albert Thompson, who was killed in battle in France, but whose original star had eroded.
As with Enaire, the spelling of Thompson's name has long been a source of debate, because it appears as "Thomson" in his military records. The Thomson School in North Andover was named for him, although it spelled "Thompson" with a "p" when it opened in 1924, then changed it to "Thomson" in 1928.
According to an article by Ted Tripp that appeared in the North Andover Citizen in 2005, it seems that Thompson may have deleted the "p" when he enlisted in the Army, probably to disguise the fact that he was only 15.
"The newspaper accounts in 1918 took the Thomson name from the telegram of his death and erroneously assumed the family name was spelled the same," Tripp wrote. "The change in the name of the Thompson School to the Thomson School in 1928 could have been the result of efforts by a local veterans group or a family member who wanted the town to use Albert's Army version of the name."
But Arthur Enaire's name never enjoyed this kind of public discussion.
Leonard said he never even talked about the plaque on the World War l memorial with his uncle, who was considerably older than Leonard's father.
He didn't see Arthur often, although Arthur's wife was Leonard's godmother, and he does remember going to Arthur's funeral in Boston.
"My father told me one time that (Arthur) lived in Hyde Park, in Boston, and he was a heavy equipment operator for the city," Leonard said. "I have no idea when that was."
Leonard was previously employed at the Davis and Furber machine shop in North Andover, and worked for the town from 1970 to 1994, driving a rubbish truck and working for the highway department.
He also served in the Army from 1948 to 1951, and said that experience played a role in his determination to get the plaque fixed.
"The name was wrong, and the veterans always say, leave no one behind, we always take our people back," Leonard said. "Being a veteran myself, it bothered me. Here's a guy, he's on the list, people think that's his name, which it's not. He should have been just like everybody else. His name should have been correct in the first place."
While Leonard wanted the memorial to honor his uncle accurately, he also wants future generations of Enaires to be able to look at its plaque and feel nothing but pride.
"I've got kids and grandkids," he said. "They might look at it sometime and say, 'My name is on there.'"
(c)2021 The Eagle-Tribune (North Andover, Mass.)
Visit The Eagle-Tribune (North Andover, Mass.) at www.eagletribune.com
Distributed by Tribune Content Agency, LLC.