Retired Col. Ralph Puckett shares experiences of receiving Medal of Honor
by
Dean Poling
The Valdosta Daily Times
November 11, 2021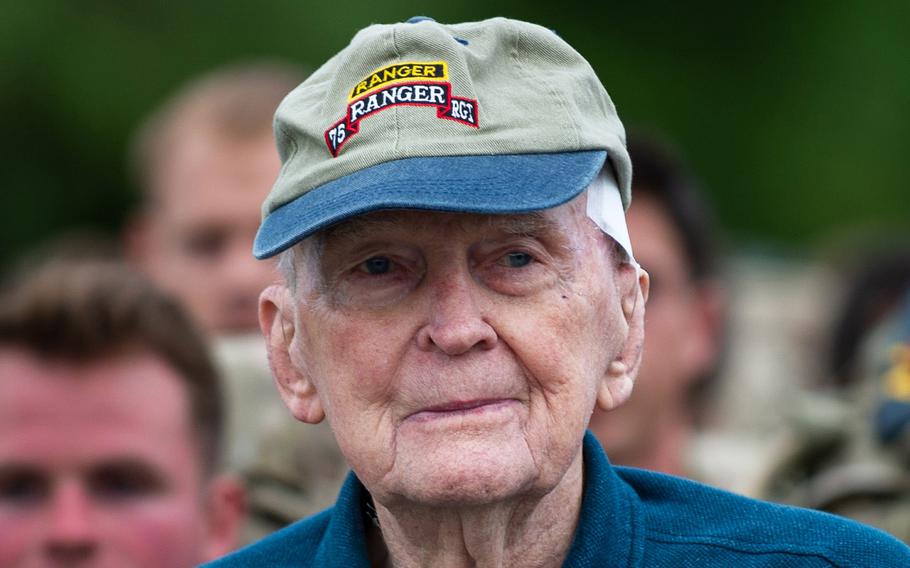 TIFTON, Ga. (Tribune News Service) — They were outnumbered 10 to one.
In the battle for Hill 205 during the Korean War, Army 1st Lt. Ralph Puckett Jr. suffered injuries so severe he was unable to move.
Despite ordering his men to leave him behind, they fought their way to his side and carried him off the field of battle.
Nearly 71 years later, retired Col. Ralph Puckett, 94, received the Medal of Honor for the actions he took that day.
As he recovered from his injuries in the early 1950s, Puckett was told he had been recommended to receive the Medal of Honor. But the recommendation was withdrawn and he was instead awarded the prestigious Distinguished Service Cross.
In an interview for The Tifton Gazette and The Valdosta Daily Times, Puckett said he never sought the Medal of Honor but credited John Lock, a retired Army lieutenant colonel, for making the medal and the White House ceremony possible.
"He was studying past Medal of Honor recommendations when he came across mine," Puckett said of Lock. "He believed I should have received it and he worked for nearly 20 years to get me upgraded to the Medal of Honor.
"We became good friends. John Lock. He's a fellow Army Ranger and a Ranger historian. He's written books and taught at West Point. A real brain. He just never gave up on it."
Puckett even advised Lock to cease his efforts on a few occasions but Lock never did.
"The man is the quintessential American warrior," Lock said of Puckett in an interview with WRBL, a CBS affiliate. "He goes by the moniker within the Special Operations community as 'The Ranger' going back to Vietnam."
Puckett recovered from his war injuries. He married. He and wife Jean had three children. He recovered from his wounds and continued his service in the Army.
He volunteered "for a combat tour in Vietnam where he served as the commander of the 2nd Battalion, 502nd Infantry Regiment (Airborne), 101st Airborne Division. Assigned the moniker, 'Ranger,' Lt. Col. Puckett would personally lead his soldiers in combat, appearing when and where they needed him most. For his valor, Lt. Col. Puckett would receive another DSC and two Silver Stars," according to his biography on his Medal of Honor website.
He retired and eventually returned to South Georgia, where he lives in Columbus not too many miles from where he was born in Tifton nearly a century ago.
Growing up
Ralph Puckett Jr. was born Dec. 8, 1926, in Tifton.
He was the second child of Ralph Puckett Sr. and Clara Stedman Puckett. Ralph was a middle child. Sister Clara Puckett Winston was about a dozen years older than him; his younger brother, Tommy Puckett, was several years younger than him, he said.
He grew up on the 800 block of College Avenue in Tifton, he added.
"There were always a lot of friendly people in Tifton," Puckett said. "Everybody knew everybody. It was hard to be a young boy there because I couldn't get away with anything. Before I could even get home, my mom was on the porch asking me what I had done."
He said he lived in Tifton through his 10th grade of school before attending prep school in Chattanooga, Tenn. He graduated Baylor School in the early 1940s. He boxed at Baylor and he boxed at West Point.
He graduated West Point in 1949.
In the Army, Puckett "was commissioned infantry," according to his Medal of Honor website. "Assigned to occupation duty in Okinawa, he volunteered, instead, for the newly conceived Eighth Army Ranger Company that was being formed shortly after the Korean Conflict began in 1950."
Becoming 'Ranger'
The biography continues: "Selected as the Ranger Company's commander, 1st Lt. Puckett had five and a half weeks to devise a training regimen and forge his non-infantry soldiers into disciplined Rangers before being committed to combat operations."
He wanted to attend parachute school. "I wanted to be a Ranger," he said, but he had not planned on becoming the company commander.
"I told them I wanted to do whatever I can do to be a Ranger," Puckett told this newspaper. "... It's amazing I was selected to be the company commander. It needed a combat-experienced captain and I was a brand-new second lieutenant."
Puckett later asked why he was selected commander.
"I was told it was because they were pleased with my willingness to serve and fitness for the job," Puckett said. "They said I had the ambition, motivation, attitude and physical fitness needed for the job.
"It set the course for my career."
Puckett said he excelled at special forces because he embraced the mission of special forces.
"I learned I liked working with specially trained soldiers assigned to a specialized mission," he said. "... They are great soldiers and it is a great challenge to live up to the character of these soldiers and be their leader. I was impressed and still am impressed with the soldiers I meet in the special forces."
Puckett and the Rangers would soon be tested.
Days of honor
They were outnumbered 10 to one.
Daylight, Nov. 25, 1950, Puckett and his Rangers were part of Task Force Dolvin. They were leading the advance of the 25th Infantry Division.
They attacked and secured Hill 205, near the Chongch'on River, about 60 miles from the China border.
The enemy fired mortars, machine guns and small arms at Puckett and the Rangers.
"To obtain supporting fire, 1st Lt. Puckett mounted the closest tank exposing himself to the deadly enemy fire," according to the Medal of Honor website. "Leaping from the tank, he yelled, 'Let's go!' and began to lead his Rangers in the attack."
They were hit with heavy enemy machine gun fire as soon as they moved. One platoon was pinned down.
Puckett ran across an open area, drawing enemy fire three times. He knew it put him at risk, but his actions led Rangers to pinpoint the machine gun positions, leading them to destroy the machine guns.
The company seized Hill 205. Day turned to night. Temperatures dropped to near 0.
The enemy counterattacked.
"During the next four hours, the 57-man company, inspired and motivated by the extraordinary leadership and courageous example exhibited by Lt. Puckett, repulsed five human wave attacks by a 500-man battalion assaulting behind intense mortar barrages," according to the Medal of Honor website. "Continually directing 'danger -close' artillery support that decimated attacking enemy formations, repeatedly abandoning positions of relative safety to make his way from foxhole to foxhole to check the perimeter, interceding at each point of decision in the battle, redistributing ammunition and keeping only one eight-round clip for his own rifle, 1st Lt. Puckett's encouragement and dauntless will instilled in his men an unfailing desire and perseverance to resist."
It came at a cost.
Puckett had suffered a thigh wound from a grenade fragment during the first assault. He refused evacuation. He would be wounded again in this battle.
He again intentionally exposed himself to enemy fire. This time, a sniper fired on the Rangers. Puckett exposed himself to sniper fire three times. The sniper was located and killed.
But they were unable to get artillery support. On the sixth enemy assault, the enemy overran the Rangers.
"Two mortar rounds detonated in 1st Lt. Puckett's foxhole inflicting severe wounds to his feet, buttocks and left arm," according to citations. "Though the wounds to his right foot were so severe the doctors considered amputation for several months, 1st Lt. Puckett maintained the presence of mind to report that his command was being overrun by the enemy."
Unable to move, horribly wounded, Puckett ordered his Rangers to leave him behind and go.
"Two of his Rangers fought their way to his position killing three enemy who were only 10 yards from where 1st Lt. Puckett lay defenseless. Although 1st Lt. Puckett ordered his Rangers to leave him behind, they refused.
"Later as the enemy fired at the rescuers Puckett again ordered his men to leave him to ensure their safety. Finally secure at the bottom of Hill 205 and despite the seriousness and pain of his wounds, 1st Lt. Puckett maintained the presence of mind to direct a heavy concentration of artillery fire on the enemy now on top of the hill."
The Army would say many things about his actions:
"Puckett's extraordinary courage and devotion to duty are in keeping with the highest traditions of military service and reflect great credit upon himself, his unit, and the United States Army."
"1st Lt. Ralph Puckett, United States Army, distinguished himself by conspicuous gallantry and intrepidity in action at the risk of his life above and beyond the call of duty on 25-26 November 1950 while serving as Commander, Eighth Army Ranger Company, Task Force Dolvin."
But he needed time to heal. He needed time close to his home in Tifton.
Healing factor
Ralph Puckett met a soldier who claimed he could tell people's fortunes while hospitalized at Fort Benning, Ga.
He spent 11 months there, healing from the wounds he suffered during the two days of fighting on Hill 205.
The fortune teller told Puckett he would meet a blonde and brunette, adding the Ranger would marry one of them. A skeptical Puckett told the fortune-telling soldier to move on.
A few weeks later, his parents drove over from Tifton to see Puckett in the hospital. He had told his family about the fortune teller for a laugh.
During the family visit, "two beautiful girls stuck their heads in the door. One blonde, one brunette," he said. "They were visiting people. I didn't know them but my dad said, 'he's going to marry one of you.'"
They visited for about 90 minutes. He thought the blonde, Jean Martin, was "a really good-looking girl." She visited again. A relationship developed. Ralph and Jean married Nov. 26, 1952. They had three children, daughters Martha Kinnett and Jean Raney (deceased) and one son, Thomas Puckett. They have several grandchildren.
"I could barely move but she took care of me," he said of his wife. "She's been taking care of me ever since."
Staying in the Army and beyond
Given the severity of his wounds, Puckett was offered a medical discharge.
He refused it.
His military resume grew: he served "active duty as a combat arms officer at assignments that included the U.S. Army Ranger School and the United States Military Academy, West Point. As a Ranger advisor to Columbia, Captain Puckett established the prestigious Escuela de Lanceros program. Later, after completing Special Forces training in 1960, Major Puckett commanded 'B' and 'C' teams in 10th Special Forces Group in Bad Tolz, Germany."
He volunteered for combat duty in Vietnam in 1967. Puckett served as the commander of the 2nd Battalion, 502nd Infantry Regiment (Airborne), 101st Airborne Division.
There he was assigned the moniker, "Ranger."
Puckett personally led soldiers into combat, "appearing when and where they needed him most."
For his valor, Puckett received a second Distinguished Service Cross and two Silver Stars.
His awards now include the Medal of Honor, the Distinguished Service Cross, two Silver Stars, three Legions of Merit, two Bronze Stars with V device for valor, five Purple Hearts, 10 Air Medals, the Army Commendation Medal and the World War II Victory Medal.
He has the Combat Infantryman's Badge with star, Special Forces Tab, Ranger Tab, Master Parachutist Wings, Glider Badge and Columbian Lancero Ranger Badge.
He retired in 1971 as a colonel but he wasn't finished serving.
He became national programs coordinator of Outward Bound and established Discovery, "a leadership and teamwork development program that focused on 'Personal Growth through Safe Adventure,'" according to his biography. He loved the work and said he considered a mission to help young people develop into capable people.
"I think the country would be better and stronger if all young people served in some capacity," he said. "It would be good for the country and it would make a difference in the lives of young people."
About 30 years ago, the Pucketts returned to Columbus, Ga., where he and Jean still live.
He's written a book about his military experiences. He was the inaugural inductee into the U.S. Army Ranger Hall of Fame. From 1996-2008, he served as the first honorary colonel of the 75th Ranger Regiment.
Other honors include an appointment as an Ambassador of Goodwill by the Western Hemisphere Institute for Security Cooperation, selection as a 2004 Distinguished Graduate of the United States Military Academy and a 2007 recipient of the Infantry's Doughboy Award.
And in 2021, the recipient of the Medal of Honor for actions he performed in combat 71 years earlier.
Ceremony
His friend called him with the news.
John Lock told Puckett to expect in the coming days to receive official notification that his Distinguished Service Cross had been upgraded to the Medal of Honor.
On May 21 of this year, Col. Ralph Puckett, Jean Puckett and their family, along with Lock and others traveled to the White House.
The 94-year-old Puckett was ushered into the ceremony in a wheelchair. With help, he rose from the wheelchair and was escorted to a chair. He rose for President Joe Biden who presented the Medal of Honor.
"He leads from the front. He leads by example. He leads with heart," Biden said. "He is a Ranger and that's how Rangers lead — that's how you lead."
Puckett was impressed with the President.
"President Biden was one of the warmest, positive, friendliest people I have ever known," Puckett said, adding the President and First Lady Jill Biden spent a portion of their day with Puckett and his family.
"He was very delightful," Puckett said. "I called him Mr. President, and he said, 'Not President, call me Joe.' I continued calling him President Biden."
While the Medal of Honor was a long time coming, the award exemplifies Ralph Puckett's life as much as it does his actions during two days of combat.
As retired Gen. Jay Hendrix said of Puckett: "He feared no man, he feared no situation and he feared no enemy. Clearly a unique, courageous Soldier in combat and even more importantly, in my opinion, Col. Puckett was an ultimate Infantry leader."
(c)2021 The Valdosta Daily Times (Valdosta, Ga.)
Visit The Valdosta Daily Times (Valdosta, Ga.) at www.valdostadailytimes.com
Distributed by Tribune Content Agency, LLC.